I think food is one of the only places in life where it's ok to change the rules in the middle of the game, for the most part anyway!  These Poppers were a mid-game rule changer for me because I was all ready to bake up a big pan of cheesy Jalapeno Cornbread!  A perfectly yummy, spicy & cheesy pan of Cornbread..SO good, but SO typical!  Then it hit me, H.A.R.D!
And not a moment too soon either, since I was one knife slice away from chopping up a pile of pretty & plump jalapenos into bunches of little pieces!   The voices something inside my head said "instead of slicing up of all those jalapenos and mixing them into the Cornbread batter, how 'bout using those Peppers like little Cornbread Muffin Cups..just to see what would happen?!"  Hmmm…….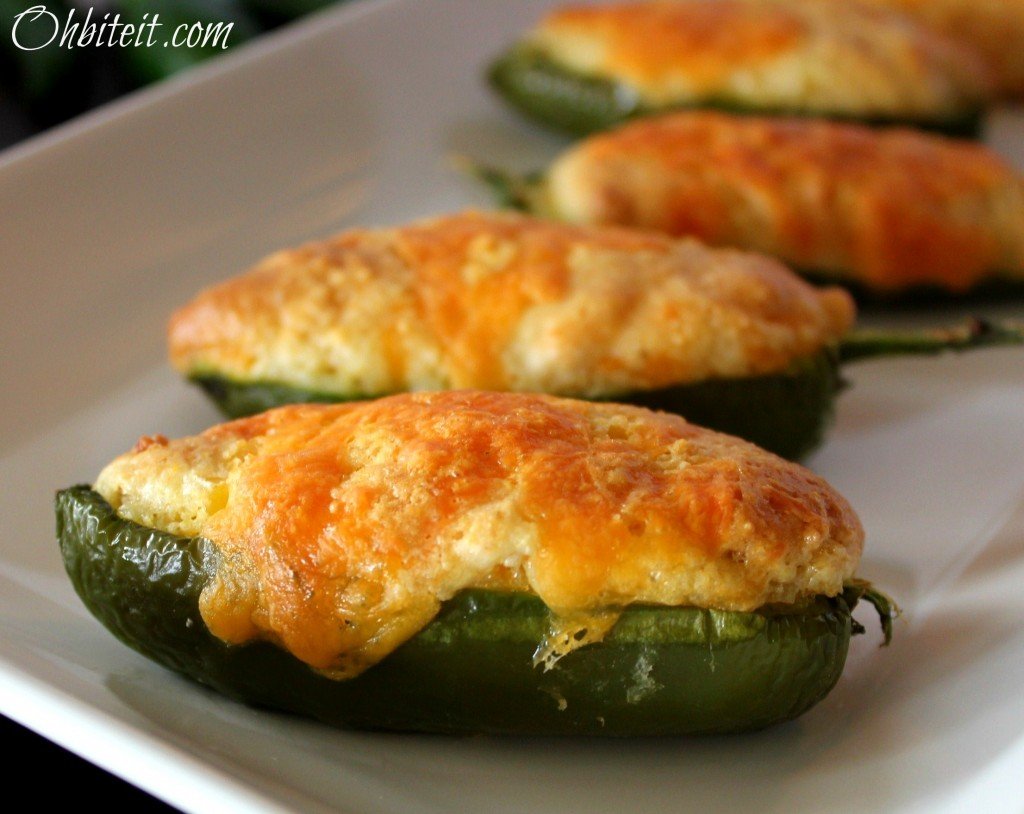 I'm so glad that I listened to the ramblings in my head because what happened was incredible..lol!  We ended up with spicy little hand-held, flavor packed poppers, filled with warm, cheesy and tender Cornbread.  As if that wasn't enough, each bite popped wtih juicy bursts of sweetness from the fresh corn kernels suspended throughout the fluffy Cornbread.  Such a perfect balance to the spicy peppers!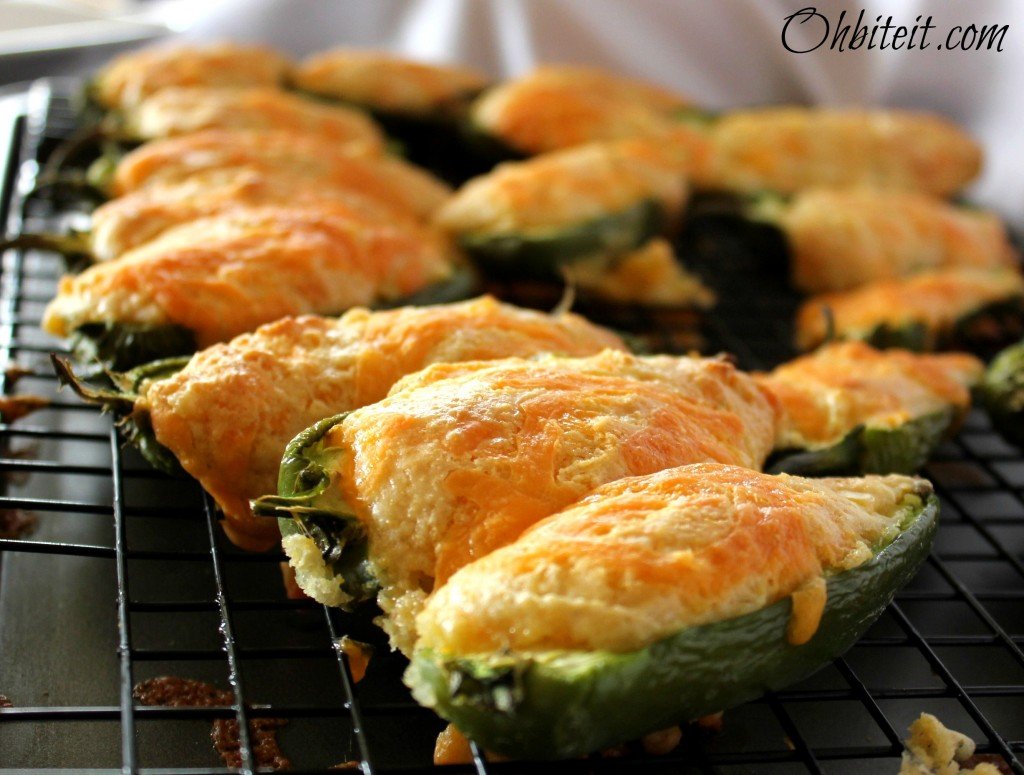 Give this unique Cornbread switch-up a try the next time you'd like to jazz up an otherwise ordinary side dish.  It totally turns plain old cornbread into a fun, two-bite Jalapeno Cornbread Popper experience!  🙂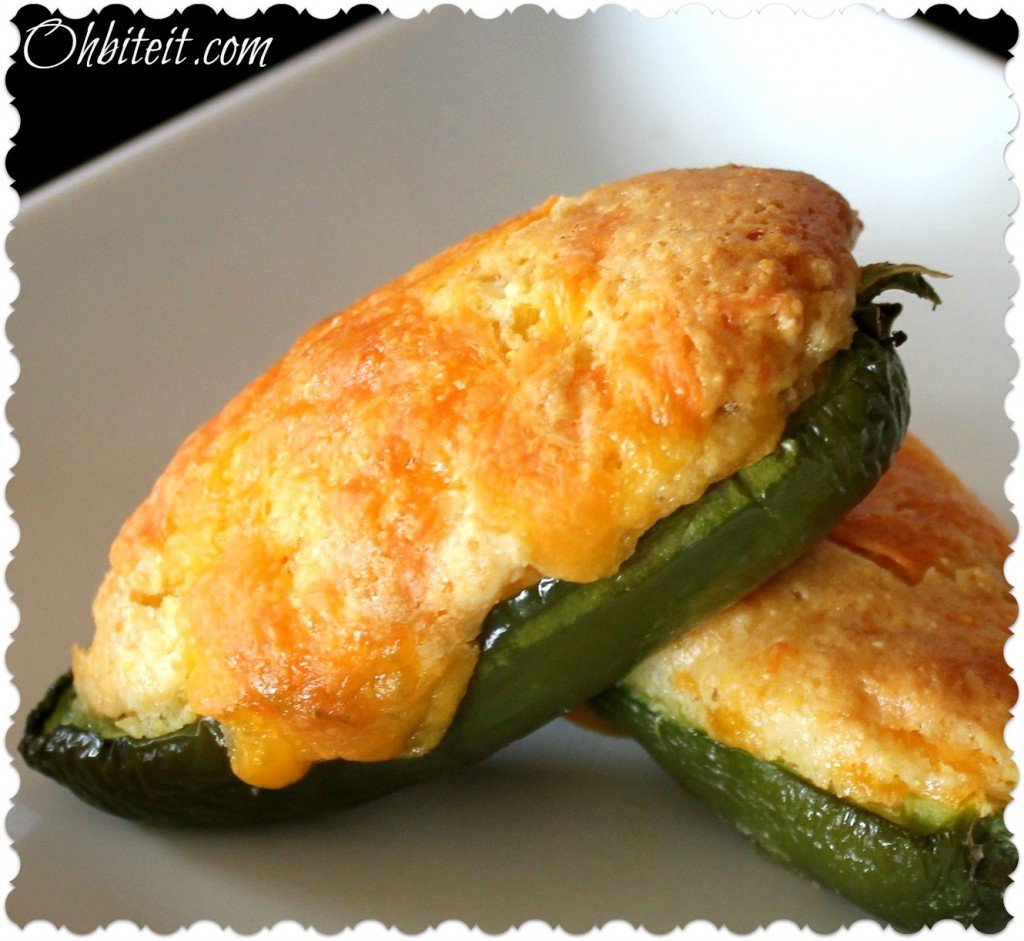 What you'll need for approx. 24 Jalapeno Cornbread Poppers:
12  Med/Large fresh Jalapenos
1 Box of Cornbread Mix (I used the Honey variety for the sweetness)
1 1/2 Cup Shredded Cheddar (1 cup for the batter..1/2 cup for sprinkiling)
1 Cup Corn..fresh OR canned is just fine
Directions:
Slice each jalapeno down the center and carefully remove all the seeds and veins..set aside
In a medium bowl, mix up the Cornbread batter according to the box instructions, add in the Corn and 1 cup of the Cheddar.
Fill each Jalapeno half with some batter!  Eh-hem, don't over fill them!  😉
Sprinkle them all with the remaining 1/2 cup of Cheddar.
Place them on a baking rack & sheet pan, bake them at 350 for about 15-20 minutes, or until the Cornbread is firm and cooked through.  They will be puffed and cheesy too!
Let them cool cuz they're HOT!
Umm, hello..manners!!  Make sure you share them with your friends & family..first!  😉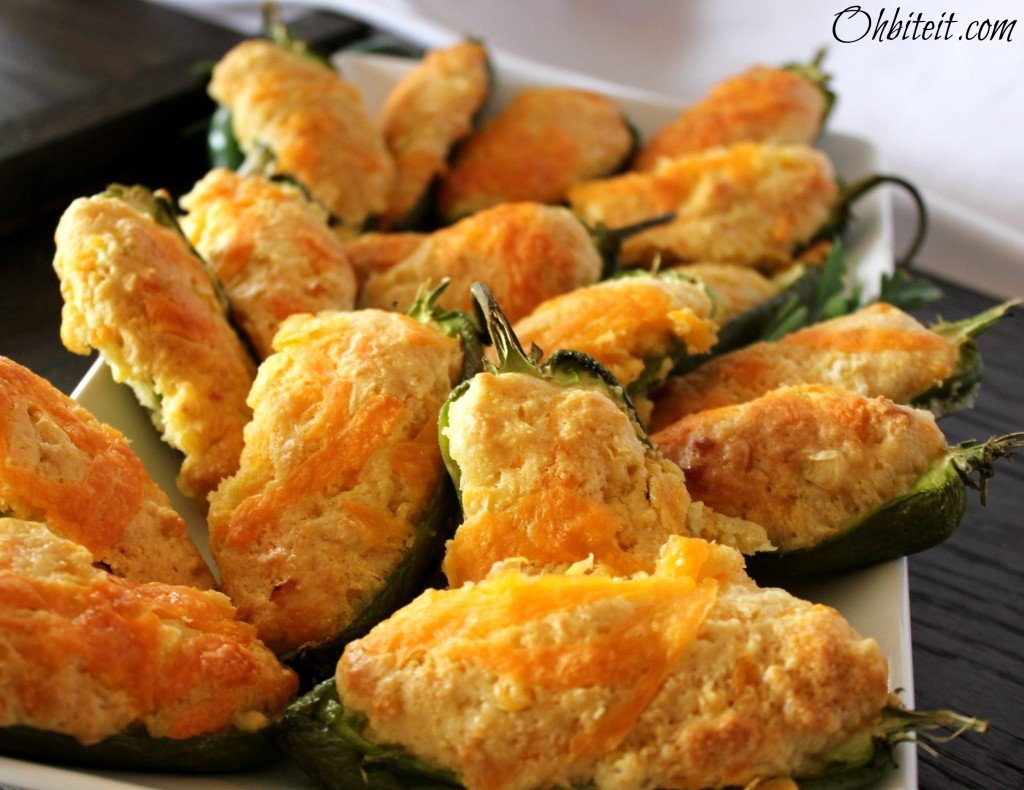 Then you can lose control and dig in!  ~Enjoy!  🙂