Oh jeez!  Why oh why must I torture myself with endless irresistible delights during the Holidays?  I mean, stretchy pants just don't look nice at Christmas parties and Potlucks..lol!  Not to mention, by the time New Year's Eve rolls around it will all have hit..and hit hard.  Sorry, but a glittery Moo-Moo won't get me a kiss at midnight!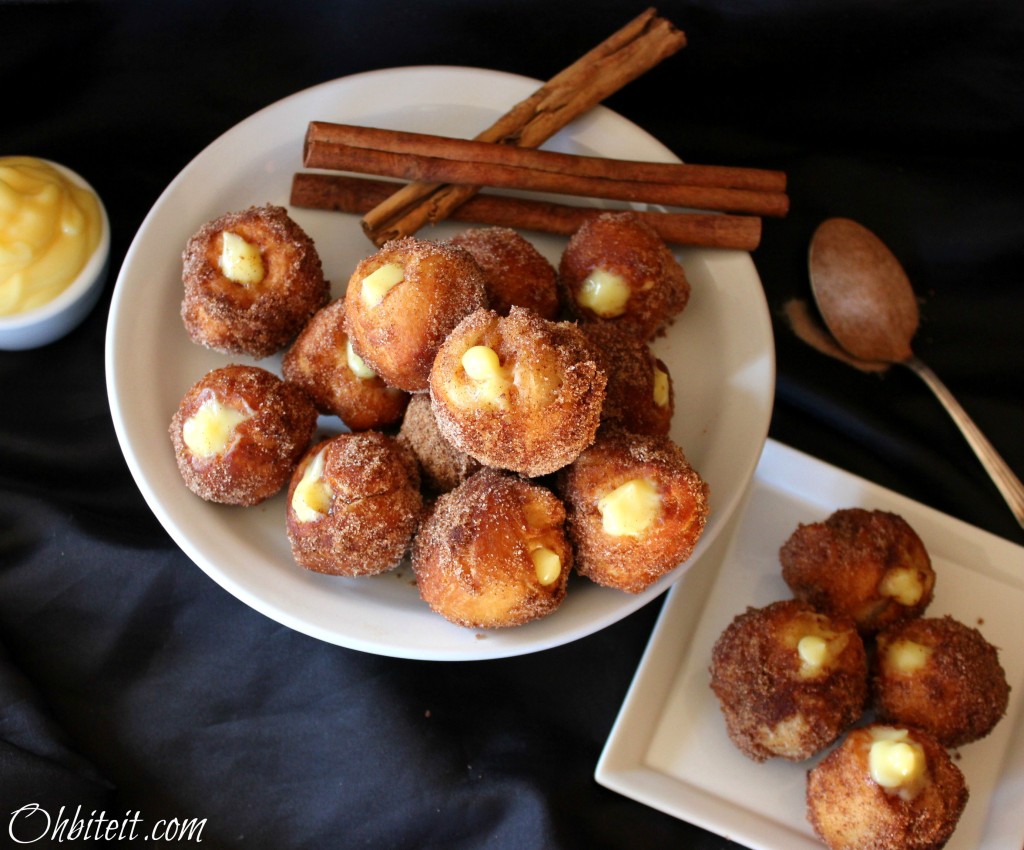 Eh..whatever, since the world clearly didn't end we can celebrate with some naughty treats!  And don't let these little, unassuming cuties fool you!  They might be small one bite wonders, but these perfect puffs are jam packed with all the flavor of a giant Snickerdoodle..that's right! 🙂
Since it's what's on the inside that counts, these Cinnamony, puffy pillows are extra special!  Why?  ..well,  they're filled with thick Pastry Cream a.k.a Vanilla Pudding, just in case you needed even more of a reason to love them! 🙂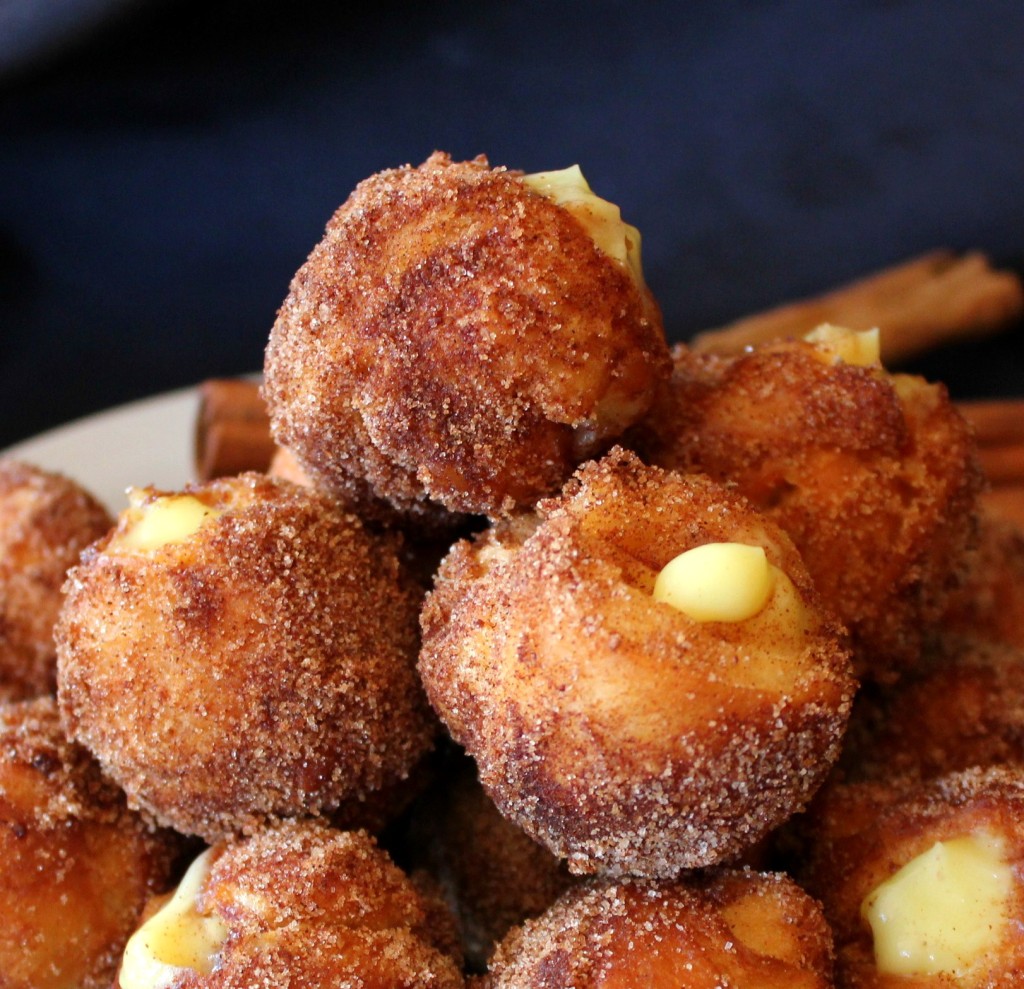 What you'll need for 32 sensational Snickerdoodle Poppers:
1 can of Pillsbury Grands Flaky Layers Biscuits
1 Box of instant Vanilla JELLO
1 1/2 Cups of Cinnamon Sugar
Oil for frying
A flavor injector (usually found by the marinades and bbq sauces) OR a pastry frosting tip will work too!
Directions:
Unroll the biscuits and cut them into fourths.  Roll each piece into a ball…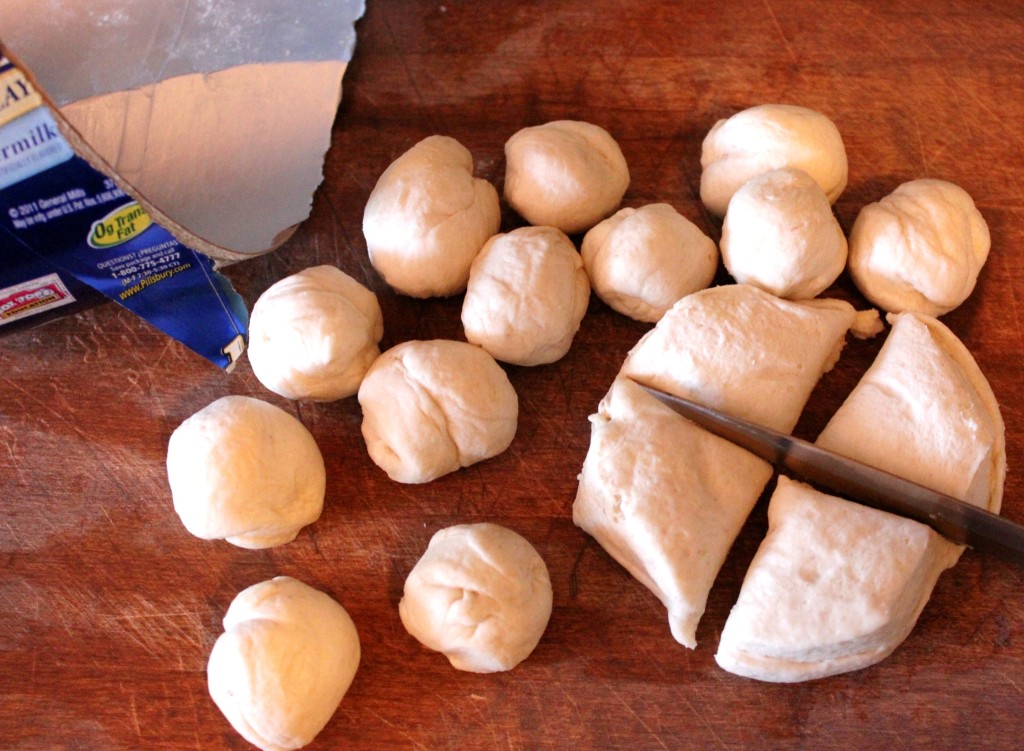 Prepare the instant Vanilla pudding according to the directions and set aside..or feel free to make your own Pastry Cream!  🙂
In a medium pot heat up about 2″ of oil (I used Canola)
Place about 4 balls at a time into the hot (350 degrees) oil and fry until both sides are evenly golden…
Straight from the oil into the Cinnamon, coat the hot Poppers in the Cinnamon Sugar…and coat them goood!
Carefully inject each popper with some of the Vanilla Pudding.
Pile up a gorgeous Snickerdoodle mountain of them…
Eat your way to the top one Popper at a time!  ~Enjoy! 🙂