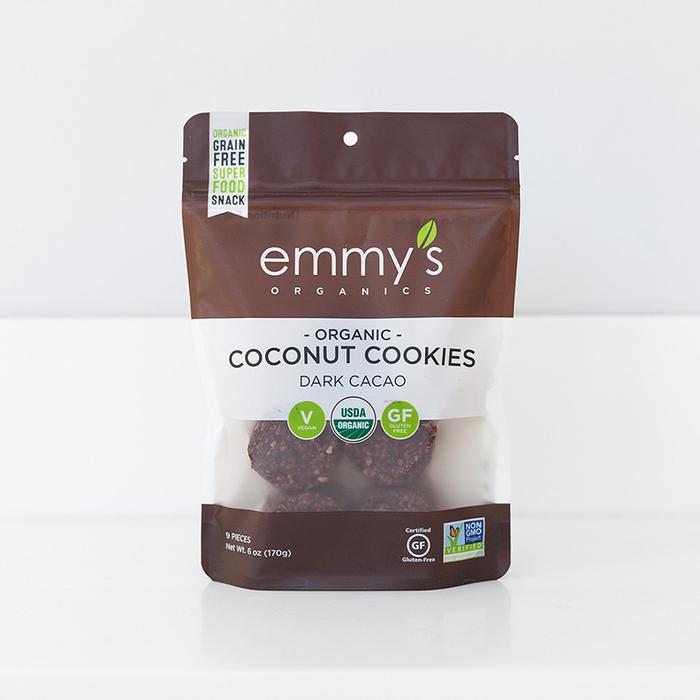 When I was offered the opportunity to try out some of these amazing and utterly incredible Coconut Cookies by Emmy's Organics, I think I got so excited that I actually screamed.  I've been a CRAZY-SUPER fan of Emmy's for as long as I can remember, and now that I've tried even more flavors.. it's safe to say that I'm obsessed!  With their extensive variety of flavors and sweet, satisfying chew.. you will take care of that sweet tooth, one healthy bite at a time.
Not only are these babies delicious, but they're also healthy and full of all natural, organic, ingredients!  Check out their story:
"Emmy's Organics, Inc. was started by couple, Ian & Samantha in 2009 in Ian's mother's home kitchen in Ithaca, NY. After struggling for many years with digestive problems, Ian had to change his lifestyle at a young age to avoid gluten, dairy and other irritants. His path led him to learn and work in a number of restaurants and cafés in New York City and San Francisco. After meeting Samantha, the couple realized that they both shared a similar passion for health and well-being. Samantha grew up as a dancer and a self-proclaimed "health nut." One night, Ian taught Samantha a coconut cookie recipe that he had developed many years prior. Seeing how clean the ingredients were and how easy the recipe was to make, a little idea was sparked that is now Emmy's.
Ian and Samantha started small, selling their goods at the Ithaca Farmer's Market and Greenstar Co-op. People really took to the coconut cookies and more people started buying them. A trip to NYC and other regional stores invited more retailers onboard. Today, Emmy's products can be found in thousands of retail locations nationwide!
Emmy's is a home grown, family-oriented company, committed to spreading the good word about healthy snacking as well as social and environmental responsibility. Emmy's B Corp Certification also shows the company's strong passion for using business as a force for good. Examples of this can be seen in the organic and non-GMO ingredients Emmy's sources, the way they give back to their community and other causes and the way they treat all people involved with their business. Emmy's products are made in a wind and solar powered building and much attention is placed on reducing their carbon footprint.
We like to summarize our commitment into three words: INGREDIENTS, TRANSPARENCY, TRUST."
Check them out across social as well, and share the sweet/sweeet LOVE!