Well, once again, it's that time of the year when we stay in, stay warm, and cozy up with a giant plate of comfort food while sitting in front of our favorite holiday movies! Thanks to the time-tested quality of Lagostina, I am able to share with you a super fun and whimsical take on a succulent meal inspired by one of my all-time favorite movies: " A Christmas Story".  
Yep~ I created what I like to call "Leg of LAMP" .. a delicious, and dare I say, silly.. take on that iconic lamp leg that we all know and enjoy.  A tender and succulent leg of lamb that falls off the bone, and melts in your mouth, with a tasty and adorable roasted squash "lampshade" simply created to look like that oh-so-famous lamp leg, ..but taste much better..haha. 
All thanks to the most beautiful set of cookware that provided form and function,, and LOTS of signature sparkles!
This leg of 'lamp' is MUCH tastier, since the quality of the Lagostina 3-qt. covered casserole provided maximum heat distribution, as the lid locked in all the flavorful juices for braised perfection!
~Just look at this fall-off-the-bone, melt-in-your-mouth, succulent meat.
However, all jokes aside, this new Opera cookware collection by Lagostina is beyond incredible, and allowed me to create this dish with style and flavor.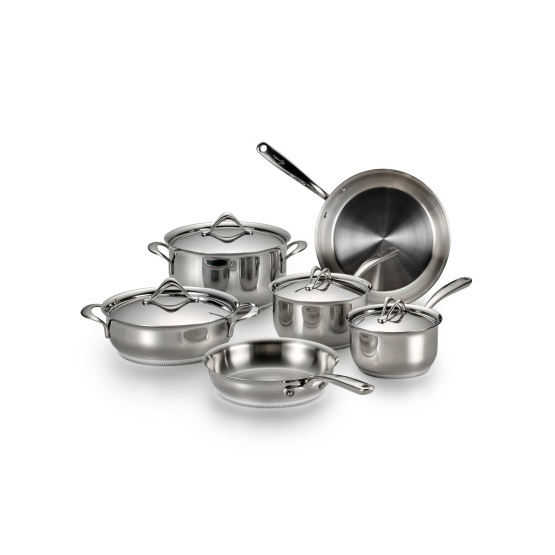 The durable, high-quality construction – 3 layer LagoFusion base consists of a thick, encapsulated layer of aluminum for fast, even heat distribution; high-heat process fuses both metals for a perfect bond between body and base, ensuring optimal heat diffusion thought.
It's that incredible technology that provided and incredibly even simmer and allowed me to make a fluffy, evenly cooked, tender side of rice that brought this dish together…
This cookware just about did the bullion distribution for me, as it quickly and evenly bubbled the flavors all around the pan…
Just look at each evenly cooked grain of rice…
Because of the amazing diffusion quality, the water comes to a fast and even simmer…
And totally rid me of my typical "sticky-rice anxiety" as it this gorgeous pan went from stovetop to a beautiful table presentation in minutes! 
The entire 10-piece set (a $499.00 value) is made in Italy and includes elegant contours, heat-resistant side and lid handles, and gleaming stainless-steel exteriors for striking beauty in any kitchen.. it's literally kitchen bling!
Each beautiful piece offers stainless steel exteriors for strength, beauty, and low maintenance.  The flared edges offer a drip-free pouring experience for all your holiday gravy and sauces.  Not to mention easy clean-up, and convenient nesting for hassle free storage in even the smallest of kitchens.
Every piece is also oven and broiler safe up to 500 degrees F.  .. safe for ALL stovetops, including induction! .. and OF COURSE, dishwasher safe.. whew!
To make this simple, yet fun & delicious holiday movie inspired dish, here's what you'll need:
Lamb shanks
Yellow Squash for the "lamp shade"
Rice.. your fave variety
1/4 cup lentils
some zucchini.. chopped, (optional)
2 bullion cubes ..beef or chicken
2 tbsp. olive oil
salt and pepper to taste
The Opera 3.4 qt. covered casserole by Lagostina
Directions:
Make the rice according to your box instructions, and add in any veggies you'd like~  I added cooked lentils and chopped zucchini.  .. set aside.
Sprinkle shanks with salt and pepper. Heat olive oil in the pot over medium-high heat, saute the shanks until golden brown, about 10 minutes, remove the meat and set aside… Cut up the squash and remove any seeds, creating what looks like a lamp shade… set aside.
 In the pan with the lid on, simmer the bullion cubes in 1.5 cups of water until well combined…
4. Add the lamb back into the bubbling pot, with the squash (lamp shade) and remove the lid, ..basting as needed to coat evenly, and simmer for approx. 20 more minutes, or until the meat and squash are tender and fully cooked.  (Remove the squash if it starts to lose its lamp shade-like color..lol)
~Serve the meat on the rice with the "lamp shade" topper.. and Enjoy! 🙂
For the giveaway~  You could win this amazing piece of Lagostina cookware! Just comment below and share your favorite holiday movie!  One of you will be chosen by Midnight EST on Friday!  GOOD LUCK!
And be sure to check out Lagostina in a store near you:
AND all across social media.. and share the LOVE!
FACEBOOK > YOUTUBE > INSTAGRAM > PINTEREST
**This post was sponsored by Lagostina, however all opinions are my own