About Us
We are Corey and Sara Meyer, owners of Little Bird. We make all sorts of strange and wonderfully curious confections in Long Island, New York.
Like many great origin stories it all began with Chocolate Covered Orange Peels. Sara made them as a present for Corey. They came out great. So Sara started candying everything in the house. She decided to try candied Jalapeños. Corey told her that she was nuts. Sara didn't listen, as usual. Good thing this time. They were awesome. Sara brought the candied Jalapeños to work and her co-workers placed orders. Little Bird was hatched.
The final touch was the name Little Bird — it comes from Corey's grandmother Fay whose name means Little Bird.
So, that's our story. We hope you enjoy our treats as much as we enjoy making them.
NO NAME TRAIL MIX 
It's a combination with just a touch of heat.
These packs of Trail Mix are a handful of salty crunchy almonds, chewy sweet dried pineapple, and bite-sized pieces of subtly-spicy-delicious chocolate.
Kosher certified.
Available to be purchased by the case
(6 x 2oz packages).
A bag of No Name Trail Mix completes every day's adventure!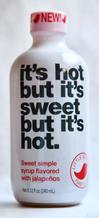 JALAPEÑO SIMPLE SYRUP.
Sweet simple syrup flavored with jalapeños
It's like honey – but with a KICK!
Everyone loves our treats! Order a case and offer Little Bird® at your store or restaurant. 
Add some Bark & Bites to your life.