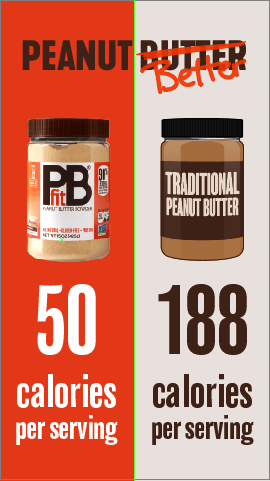 Celebrate National Nutrition Month with this one easy, healthy upgrade to your daily diet.  Switch out that fat and calorie laden peanut butter with PBfit.  90% less fat and 1/3 the calories of traditional PB and tastes great!!  It even comes in chocolate!  So good!
PBfit is a healthy alternative to traditional peanut butter—it's a powdered peanut butter that you can mix right into your smoothies or recipes. With a dash of organic coconut palm sugar and salt, Pbfit lets you keep the nutrients, along with the peanut butter taste you love, but lets you ditch the fat and calories.
See why people are turning to PBfit when it comes to this household staple:
§  90% less fat and ⅓ of the calories 
§  Made from real roasted, pressed peanuts
§  Combine with water or add to smoothies to get a natural protein boost with great taste
§  Mix into breads, pancakes or waffles to create a delicious peanut butter flavor
Now you can enjoy peanut butter without the love handles with the benefits of this non-guilty pleasure from PBfit®!