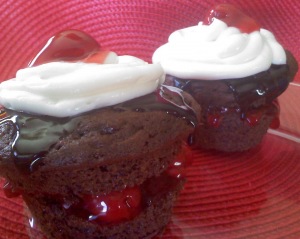 A spoon is mandatory for this cupcake that's bursting at the seems with scrumptious cherries!
In under an hour, you can be digging into an unforgettable cherry-chocolate experience!  🙂
Just mix together your favorite brand of boxed Devil's Food Cake Mix..and bake up some cupcakes!
Let them cool completely and slice them in half horizontally..fill the middles with some canned Cherry Pie Filling, put its top back on and drizzle with some Dunkin Hines Chocolate "Amazing Glazes"  (BEST product ever!)
…As if that wasn't enough, dollop the tops with Vanilla Frosting (any brand) and crown the whole thing with a gooey cherry!  🙂  ~Enjoy!
*HINT*  If you're serving these on a date of some sort..make sure to wait until the 3rd date!!  They're THAT good!  😉