This recipe excited me so much, that I literally went knocking on my neighbor's doors to share it!
And only 4 ingredients..seriously, I've been known to have a more difficult time making toast ~long story! 🙂
The following are some completely untrue statements about how these bars can improve your life..
Want a raise?  Bring them to work!
Want your in laws to love you?  Serve these to them!
Want your kids to get straight A's?  Pack them in their lunch! 
Want the Cowboys your favorite team to win?  Serve these at half time!  🙂
 The truth is, these are SO super simple and yet, one of the BEST desserts I've ever had! You just have to try it to experience how wonderful it is!
Make these when you have guests over because it serves 10-12 people, and if you're left alone with them, who knows what could happen!
What you'll need:
1 box of Strawberry cake mix
1 14oz. can Sweetened Condensed Milk
1 block of room temp. Cream Cheese
1 can of Cherry Pie Filling
A splash or 2 of milk, only if needed..not shown!
????
Just 4 ingredients!!
??
Directions:
In a large bowl combine the cake mix, sweetened condensed milk, and the cream cheese…mix well!
If it's too tight of a mixture, simply add a few splashes of milk to thin it out just enough that you can spread it evenly onto your lightly sprayed medium baking sheet!
Swirl the Cherry Pie Filling onto the top of the batter! 
See pic below! 🙂
?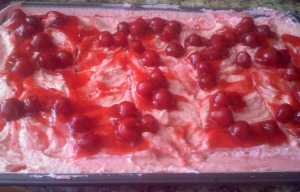 Ready for the oven!
?
Bake uncovered, at 350 degrees for about 30 minutes, or until it's firm and golden!
Cut into squares, and enjoy this yummy, chewy cherry cheese cake dessert!!
*HINT*  You could get extra creative and "Jubilee" each portion..just splash some Kirsch or Cognac over it and POOF..flambe! 
Have ice cream ready..as a safety precaution! 😉