This recipe was created to settle a Sunday morning argument!  Yep, one kid wanted French Toast..the other one wanted Cap'n Crunch..I wanted peace!
Thanks kids for indirectly being responsible for one of the best tasting breakfast dishes I've ever had! And it's so easy!!
Give this a try and you'll never want regular French Toast again!  Perfect for a peaceful weekend morning!! 🙂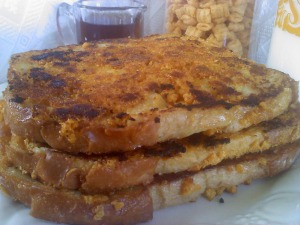 What you'll need:
Crushed up Cap'n Crunch Cereal..enough to coat however many slices of French Toast you need.
Bread..I used Buttermilk Bread, but any sliced bread will work.
Eggs, Milk and a tsp. of  Vanilla  for the custard. 
?
OH YEAH..Cap'n Crunch in every bite!!!!
? Directions:
In a medium bowl, mix the eggs, milk and vanilla.  Dip each slice of bread into the egg mixture and then coat them well, in the cereal!  Brown them in a skillet until they are golden and cooked.  Top with butter and syrup, and watch everyone lose it!  Unbelievably delicious!!
?
?
??
O-M-G!!
?
?
*HINT* You can change this up with any of your favorite cereals..the more kids you have, the more options!!  ~Enjoy!  🙂
??????????????
??