These delicious little sammies are perfect for watching the game..or anytime a warm gooey sandwich is in order!  The sweet and savory combination is awesome..and the crisp apple slices add the perfect balance of flavor!
They're so quick and easy..the oven does all the work!  Give these a try the next time sandwiches are on your menu..you'll love them! 🙂
What you'll need:
1 dozen dinner rolls
1/2 lb sliced deli ham
12 slices of provolone
1 thinly sliced apple
For the sauce:
1/2 cup butter
2 Tbsp. brown sugar
1 Tbsp. yellow mustard
1 Tbsp. Worcestershire sauce
1 Tbsp. poppy seeds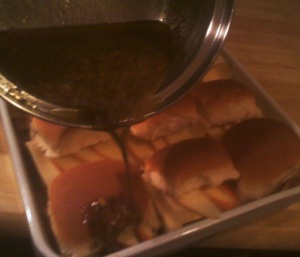 Directions:
Split each dinner roll.  Make a sandwich of the ham, cheese, sliced apples and the dinner rolls.  Arrange all the sandwiches in a 9×13 pan.
In a small sauce pan combine butter, brown sugar, mustard, Worcestershire sauce and poppy seeds.  Melt together and pour over the pan of sandwiches!  See pic ————–> 
Bake for 20-30 minutes, or until the tops are brown and crispy!  ~Enjoy!  🙂
?????
Pass the forks? Nah!  🙂
?
*HINT*  You can apply this method and use all of your favorite sammy fixins, any meats and cheeses will work, or maybe even Brie, & Pear..Mmm!  🙂