Granola can mean so many different things to so many people.  For me its definition has been directly related to my age, as a kid it meant yummy, chewy, candybar-ish treats, as a young adult it meant tree hugging and hemp sandals..being seen with any was a no-no!  And now as what I like to call, a 'mid-adult', it means a wholesome snack that while good, can use a little kick in the pants.  Is there a better kick in the pants than some Butterfinger candy?  No..I think not!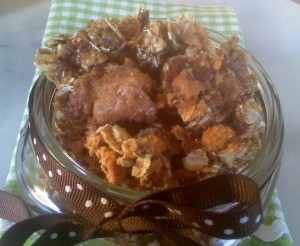 As long as I'm not yet at the age where granola means a daily fiber supplement..I'm adding some kick in the pants to it..and this is so delicious that I think it's appeal would defy age all together!
This crunchy, sweet and toasty treat can be eaten as a quick sweet- tooth satisfying snack, you can even add some to your favorite baked goodies!  You'll never see granola in the same way again..give it a try!
What you'll need:
10 mini Butterfinger Candy Bars..chopped
1 lb Granola
Directions:
On a sheet pan, spread out the granola, and mix in the chopped Butterfinger bars.
Bake at 350 degrees for 20 minutes, or until it's golden and the smell in your house is amazing!    Let it cool completely, and then crack that giant slab of yumminess into millions of pieces and dig in!
Give it a try on top of some ice cream or yogurt, or simply eat it as an amazing cereal!   🙂
But I think my favorite way to snack on it is straight out of a bag at a moments notice!  The perfect grab-n-go snack!
 ~Enjoy!!  🙂