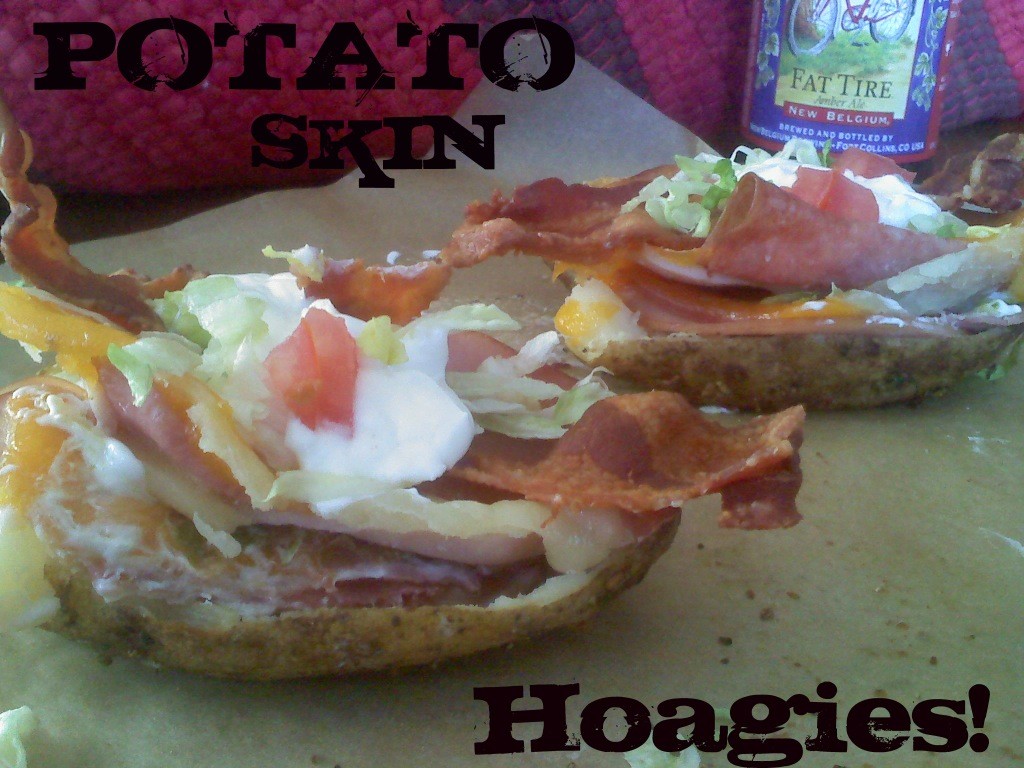 Well..who knows, I guess maybe somewhere along the way bread just became too ordinary for this hoagie, these just had to be taken to the next level to meet my kind of football snack standards..lol!  This is what would happen if a hoagie and a potato skin had a scandalous love child! 😉
I present to you, seasoned & crispy potato skins..stuffed with all the fabulous makings of an amazing hoagie sandwich, baked until hot and melty!
I don't know about you, but when can you ever go wrong with a crispy potato skin..NEVER, that's when!  However, the game watchers in my house politely ask for demand meat, so something had to be added to the skins!  This little winner packs a punch with the best of every world imaginable!  There will be silence when you serve these..it may be short lived, but silence there will be! 🙂
Your line-up:
Potatoes ..2 skins per each, so prepare accordingly
S&P to taste
Bacon
Sliced turkey
Sliced ham
Sliced Swiss & Cheddar cheeses
Shredded lettuce
The play-by-play:
Season the outside of the potatoes by drizzling them with olive oil,  salt, pepper, and Italian seasoning..bake them in the oven until they're soft, and the skins are golden.
Crisp up the bacon..set aside.
Cut them in half and scoop out the center..leaving just the skins! Save the middles for another recipe, or for snacking! 🙂
Layer the meats and cheeses onto the potato skins and bake them until the cheese is melted.
Top each one with some sour cream, lettuce and tomato, and a
piece of crispy bacon!
Grab one for yourself before you let anyone know they're ready..trust me!  😉
Now you're ready to watch the game..best of luck to your team & happy munching! 🙂