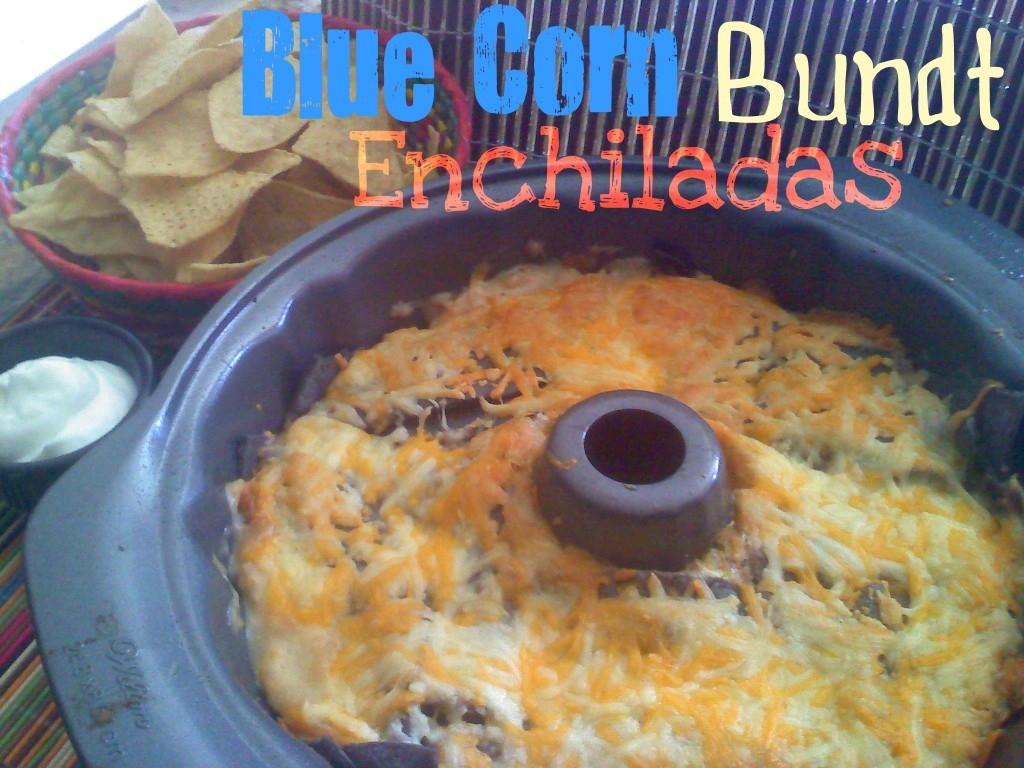 T.G.I.F!!  What are you making for dinner tonight? 🙂 
Sometimes all it takes to make a classic recipe fun again is simply jazzing up the presentation!  We all know that there's not much anyone can do to improve chicken enchiladas..especially the Blue Corn variety!  However, sometimes it's fun to change things up! 
Actually, I came across my sad and lonely Bundt pan, all covered in dust and could almost hear it speak to me.. "Why do you ignore me", it asked, "don't you think I'm cute?  I have a better personality than those flat pans that you play with all the time!"   Yep, that's what I heard!  So it was really out of guilt that this method came to be!  Oh well..Mr. Bundt is happy with me again, I totally did him proud!  🙂
And it was a dinner show stopper for sure!  Not only is this fun to prepare and to look at, but somehow the layers are a little more creamy, and the amount of crispy edges are doubled..a total WIN! 
Not to mention that the "flip-out" turns your meal into nothing short of a dinner show.  If all goes well..you'll get a round of applause! And, If it doesn't go well, no one really cares..lol!  🙂
What you'll need:
A lonely Bundt pan
2 cans of chicken
2 cans of Cream of Mushroom OR Cream of Chicken Soup
1 package of Blue corn tortillas…white corn will work too
1 container of frozen green Chile..defrosted and drained
4 cups shredded Mexican Blend Cheese
Directions:
In a large bowl combine the Chicken, Soup and Green Chile
Layer the bottom of the pan with an even layer of the tortillas
Then top that with some chicken mix
Top that with some cheese and add another layer of tortillas, repeat the layers until you reach the top
Fold over all the tortilla edges and top it with cheese.
Bake it at 350 for about 30-40 minutes, or until all the cheese is golden and melty!
Let it cool slightly, gather everyone around and flip it out onto a platter!  Add some sour cream to the center and sprinlke it with cheese & lettuce..feel free to add whatever toppings you like!  Slice a nice big wedge & dig in!!  ~Enjoy!  🙂