I know that it's Valentine's week, the time of year when everyone's proclaiming their love & affection!!  And believe me, I totally luv love!  But somethings in life just need to be enjoyed in the privacy of your own room, behind closed doors, as to not cause all of society to gag! 😉
Here are some helpful examples:
Baby talk with your sweetie..ROOM! 
Calling someone your Pooky-Wooky Shnookumz..ROOM! 
Kissing for more than 5 seconds..ROOM! 
Eating a super moist, sticky, giant, red velvet brownie covered in cherries..ROOM!  🙂
Yep, food & desserts can fall into that category, and these brownies are the perfect example.  And they're not alone, BBQ ribs need a room too..Yes, ribs!!  No matter what your level of manners are, or how carefully you tear the meat from the bone, no one wants to see it..lol!  🙂
It's not necessarily a bad thing.  Some foods can't be fully enjoyed unless you allow the mess to happen.  Leave that chocolate mustache alone, dribble on your shirt, rock those crumbs in your hair!  Just close that door so we don't have to see it, and enjoy yourself.  Make sure your Valentine is in that room with you though, messy food is meant to be shared with that special someone! 🙂
This brownie is more than just delicious, it's an experience! I've never had anything so rich, so thick & moist, almost chewy!  And omg, the combination of the Red Velvet cake & the brownies, covered in sweet and gooey cherries..ahh, NO words!! 
Go make a batch..close the blinds and  get messy together! Just please don't go to work the next day and tell us all about it, okay? ..thanks!  😉
What you'll need:
A room
A sweetie
A box of Brownie Mix
A box of Red Velvet Cake Mix
1 can of Cherry Pie Filling
A loaf pan
Directions:
Prepare both batters in separate bowls according to their box instructions
Pour enough of the cherry pie filling in the loaf pan to evenly cover the bottom
Add a layer of the brownie batter to cover the cherries
Top that with a layer of the Red Velvet batter
And then top that again with the brownie batter  (you may have some batter leftover, depending on the size of your loaf pan)
Bake that for about 30-40 minutes, or until it's firm all the way through..it takes longer than usual because of the depth of the loaf pan!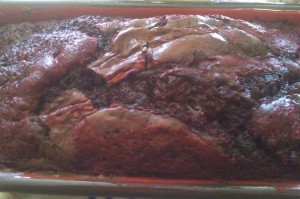 The top will be beautifully marbled with a Red Velvet/Brownie crust.
Let it cool slightly and then turn it out onto your platter, slice it up and gaze at it!
Grab your Valentine, find a room, close your blinds..and dig in!!  It will make your night deliciously unforgettable for sure!  ~Enjoy! 🙂