Warning, if you're totally against recipe shortcuts, offended by simple ingredients, feel 'unfaithful' to the history of a classic recipe by not making it from scratch, you may want to turn away..lol!
Although I have the utmost respect for the labor intensive, back breaking effort, of a great made from scratch dessert and the saints people who make them, I will always find ways to make my life easier! However I refuse to sacrifice any of the goodness, and flavor of those page-long recipes!  Here's proof!
This cake offers all the amazing freshness and lemony loveliness of a classic Lemon Meringue Pie, with no egg separating, no boiling, no whipping, no puddles of wetness and no hoping and praying that it turns out right! 🙂
Take a peek at the simple line up below..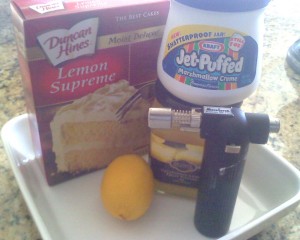 What you'll need:
1 box lemon cake mix
1 jar lemon curd
1 container of white frosting
1 container of Marshmallow Fluff
1 lemon
Directions:
Prepare the cake mix according to the instructions, zest the lemon and add the zest to the batter..bake at 350 until it's cooked through..set aside
.
While the cake is baking, prepare the "meringue-ish" topping by simply combining the jar of Marshmallow fluff, with the whole container of frosting…set aside!
Remember it's not cheating, it's creative..LOL!  🙂
Now it's time to make the poke filling..yummy!  In a medium bowl stir together the jar of Lemon Curd and the juice from the lemon you zested..yep, that's it! 
This is SO d-lish..make sure and lick the bowl clean!  🙂
When the cake is done and slightly warm, poke holes evenly throughout it and pour the lemon mixture over the top and into all the holes!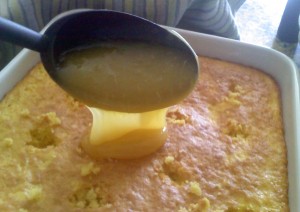 It's a beautiful thing!  🙂
Now for the fun part!  Top the cake with the meringue and make fun swirls with the spoon..and torch that baby!
Torch it good!
Stare at it for a minute before you cut it up..touch the crunchy top..be amazed! 
It tastes as incredible as it looks!  🙂
This cake rides the border between moist and totally wet with bursts of lemony flavor..you will need a utensil, especially if you're not alone..lol!
Take a big bite and  sink into your refreshingly sweet clouds of toasty-marshmallowy lemony cake!  ~Enjoy!  🙂