I can always tell when one of my creations is going to be especially fattening & not the healthiest outrageous, because it's in my idea book when I wake up in the morning!  I have this strange "thing", that most of my ideas come to me in the middle of the night.  So I started keeping a little note pad next to my bed, that way I can scribble them down, and not forget them.  Sometimes in the morning when I read them, I'm glad I wrote them down..and sometimes, my entries concern me..lol!  This recipe fell somewhere in between those two emotions! 🙂
However, in my defense, it is Super Bowl 'Snack Season' and my brain has been driving me insane with ideas..so at least this one makes some sort of sense!  Otherwise..it's just one over-the-freakin'-top hot dog, with real 'pig skin' on top of the bread!  Luv how that worked out..lol! 🙂
These are so easy to make and such a fun crowd pleaser!  Just look at those adorable, easy-to-eat individual slices!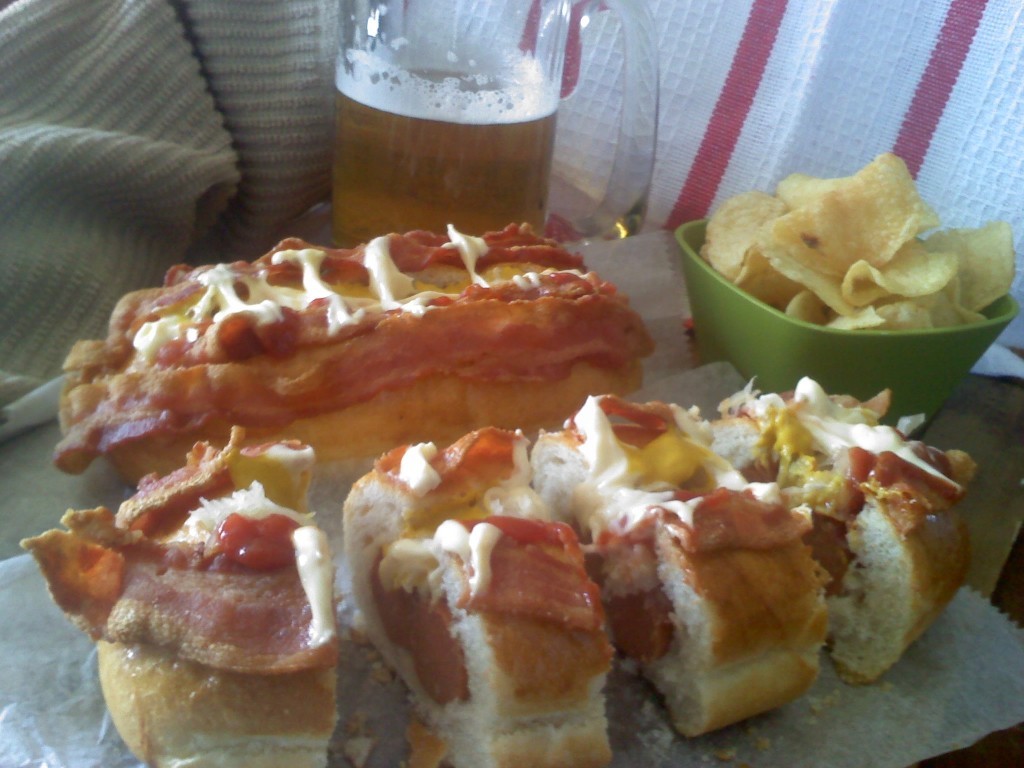 Perfect finger food for the big game!  Make a bunch of these for pennies and feed a room full of hungry game watchers!  🙂
What you'll need:
Hoagie Rolls
Hot Dogs
Salami
1 lb Bacon
1 egg (bacon glue)
toothpicks for securing the bacon in the oven.
All your fave hot dog toppings, and Mayo for the football "stitching"
Directions:
Partially crisp up the bacon
Core out the center of the hoagies, remove some of the inner bread to make room for 2 hot dogs! 
If the hotdogs are too long, trim them and then shove 'em in there,,you're the boss of them! 🙂
Fold some slices of Salami and layer them on top of the hot dogs.
Brush some egg wash (glue) on the outsides of the hoagies and secure the par-cooked bacon to the outsides of the bread, making sure they are secure against the eggwash ,
Bake them for 15 minutes at 400 degrees..or until the bacon is crisp & it smells amazing in your kitchen!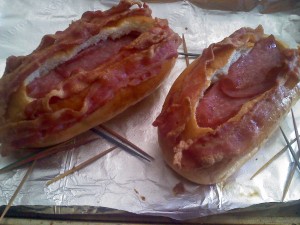 Let them cool and then gently remove the toothpicks..the bacon will stay on!
Now the fun part!!  Fill your football dogs with all of your favorite toppings!!  When you're done stuffing them, "stitch" them up with the Mayo (OR any condiment you prefer!) 
This gives them that football-ish look that everyone will just love! 🙂
After the Ooo's & Ahh's, slice them into single serving sizes and cheer on your team!  ~Enjoy & Happy Super Bowl! 🙂