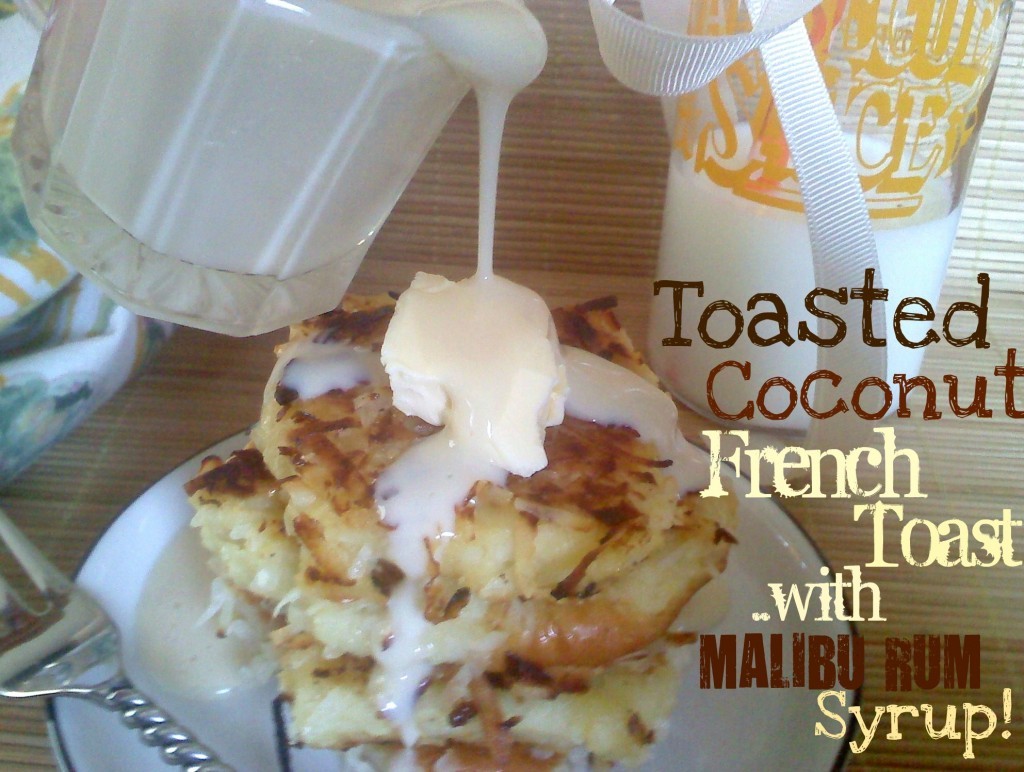 Ever feel like the next vacation is just way too far away?  I mean unless  Hawaii becomes a destination spot for Flag Day, we're pretty much all trapped in a in a Monday through Friday nightmare!  Having a breakfast that tastes like a Rum Ball is a great way to cheer us up!  🙂
Leave it to food & booze to ease our troubles..lol.  Some food has the ability to mentally take us away..even if it's only for a few minutes!  We can transport ourselves through our lips, to just about anywhere we'd rather be!  That's what this french toast does for me..instantly, I'm on the beach in a tropical paradise, being spritzed with sparkling water, by Raul..the cabana boy!  😉
It must be the sweet Hawaiian bread coated in toasted coconut, and dripping in creamy Malibu Rum syrup, flavor combinations beyond compare!  Okay, I'll try to snap out of it long enough to share the recipe..lol!
What you'll need for 8 toasts:
4 Hawaiian Bread Rolls, split in half
1 cup of milk
1 egg
1 cup Coconut..sweetened of course 😉
The Rum Syrup:
1/4 cup syrup
1/4 cup Sweetened Condensed Milk
2 tbsp. Malibu rum
Self control, so you don't put a straw into it and drink it all!
Directions:
Split your Hawaiian Rolls into 2 pieces
In a bowl mix the milk and egg
In a bowl add the coconut
Dip each piece of bread into the egg and then into the coconut and onto a hot griddle..just like french toast!  let them get an even tropical tan on both sides!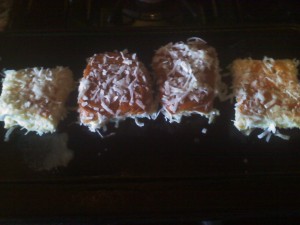 Serve nice and warm, with a drizzle of the Rum Syrup! 
 Take a big bite!! ~Enjoy your mini vacation!  🙂