I'm not sure if it's the fact that I'm ready for warmer weather and I've been having visions of a tropical paradise, OR if I've just been  on some random Coconut kick lately?!  But I thought it would be fun to whip up some Coconut Milk and see what happens.
Ohh Lordy!!  It turns out that what happens is nothing short of ahh-mazing!  It totally becomes this decadent treat that can be used in so many ways!  And it's SO easy & SO sinful tasting, but guilt free (if you use the fat-free variety..which I DIDN'T..lol!)  Once it's whipped it becomes this thick and incredible whipped cream that can be used anywhere that you'd use regular whipped cream, but with the most delicious, subtle hint of coconut!  Drizzle some over a sliced banana with a few chocolate chips & some honey..Mmm!
But it gets better!!  Put that bowl of whipped coconut cream into the freezer, and after just a couple of hours, it transforms into this frozen, smooth & silky coconutty ice creami-ish treat that's beyond compare! Add it to coffee, the tops of cakes, pies, cobblers..or all on its own with some chocolate, or caramel and a spoon!  🙂
Not to brag, but I added some Coconut Soft Serve, toasted coconut, crushed Almonds and a dusting of Cocoa Powder to my Hot Cocoa, and enjoyed a warm mug of "Almond Joy"  Hot Chocolate!
Yes I did, don't hate..lol!  🙂
What an easy, healthy alternative for satisfying that "ice cream" craving with such a subtle coconut flavor that's so creamy and perfectly sweet!
Take a few minutes and whip yourself up a big bowl, you'll be so happy!  🙂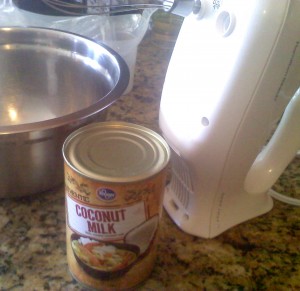 What you'll need:
1 can of coconut Milk (any fat content)
An electric hand mixer
A bowl and a freezer!  🙂
Directions:
*Keep in mind> I used full fat Coconut Milk and found that it froze in "layers"..there was a frozen top layer & a creamy layer underneath it.  So I'd give it a mix every 30 minutes to keep it freezing evenly until it became the consistency that I like!  This may not be necessary with the fat free Coconut Milk?!  🙂
Pour the entire can of Coconut Milk into the medium bowl and mix it with the hand mixer for about 5-10 minutes, until it's increased in volume, fluffy and whipped!  Feel free to add some sugar to taste, but fold it in gently so you don't "deflate" the cream!
Put the bowl into the freezer for about 2 hours, stirring accordingly,  until it's frozen the way you like it!
When you're ready to serve, scoop some Coconut Soft Serve into your bowl and top it with chocolate any toppings you like! 🙂
Store in the freezer just like ice cream!
Add a drizzle of chocolate sauce with some toasted coconut and POOF, you have a unique & healthy dessert with endless possibilities!  Super fun and delicious! ~Enjoy!  🙂