Well slap my Wranglers and call me Guy-Bob!! These crispy, spicy little coins are to die for delicious and talk about a fun way to add some kick to any meal!  Jazz up burger night or any night for that matter by replacing humdrum fries with a big ole pile of these sassy little coins.  Or just use them to keep everyone off your back while you're  preparing dinner!  🙂
Once they're fried up, most of the heat goes away, and you're left with a slightly spicy & super crispy crunch that will have you eating these by the handful!  These are so easy, make a huge batch in just minutes and park your booty in front of a "Chopped" marathon..fingers crossed it's a Scott Conant episode, right ladies??! Double spice..haha!! 😉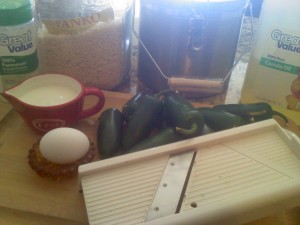 What you'll need for a big 'ole pile of Coins:
Approx. 10 good sized jalapenos
1 egg
1 cup flour
1cup Panko
1/4 Cup Parmesan
S&P to taste
Oil for frying
A Mandolin for slicing..optional, but helpful!
Ranch dressing..for dipping
Directions:
Make a "breading station"
In one bowl, mix together the egg, milk and S&P
In another bowl mix together the Flour, Panko, and the Parmesan
Start heating up about 3″ of oil in a medium pot
Slice up the jalapeno peppers super super thin
Dip the peppers into the egg mixture, and then into the flour mixture, making sure that they're evenly, yet lightly coated
Carefully put them into the oil and evenly fry them up until they're golden, drain and lightly salt them while they're hot!
Serve them with some ranch for dipping and watch the feeding frenzy begin!  ~Enjoy!  🙂