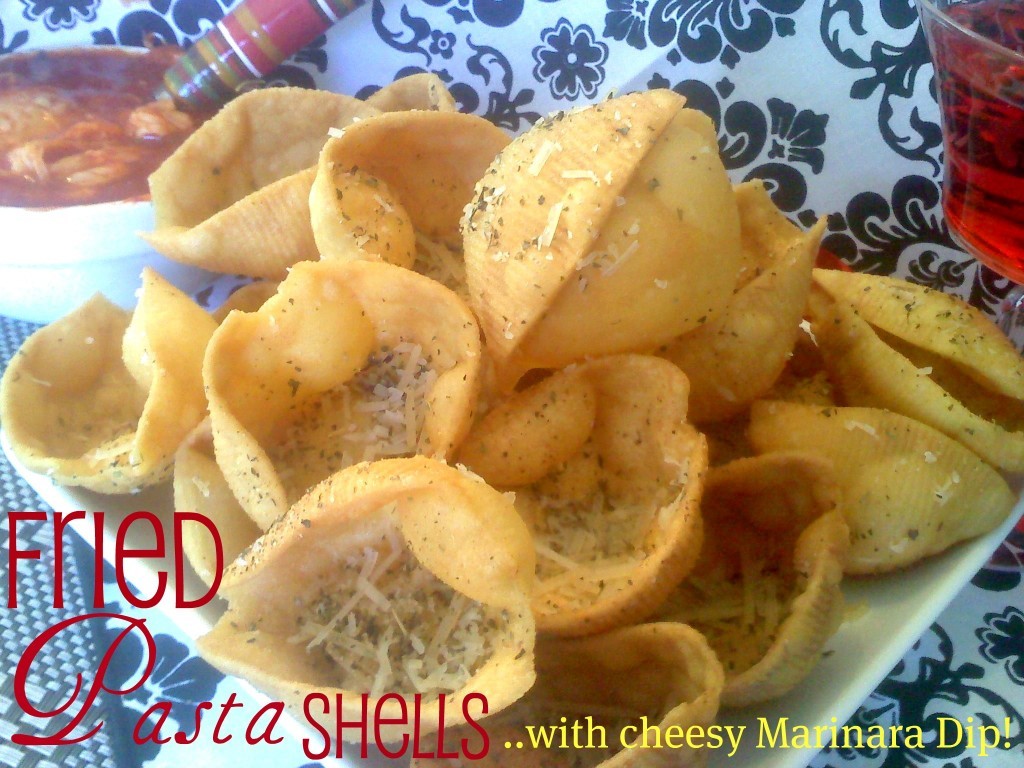 My search for a new, unique & delicious appetizer may very well be over..totally over!  Who knew that pasta could be fried?  Well..maybe a few people knew, but I sure didn't!  I just thought it would be fun to give it a try and see what happens.  Oh. My. Gosh..these crunchy, flavorful shells will give any bowl of chips & dip something to worry about!  And that's  before they're dunked into the warm and cheesy Marinara dip..whoa!
Give these crunchy shells a try the next time you're in the mood for an over-the-top snack or a fun conversation starter/appetizer, you'll love them! 🙂
What you'll need:
Jumbo Pasta Shells..as many as you want, but make LOTS!
Oil for frying
Shredded Parmesan Cheese
Oregano
Your fave Marinara Sauce
Mozzarella..to top the sauce
Dip: Warm Marinara topped with melty Mozzarella!
Directions:
Boil the shells until they're ALMOST done, and set aside to cool.  (make sure they're not stuck together)
Fill a pot about 3″ deep with the oil, making sure that there's plenty of room for the oil to expand when you fry the shells!
Fry them up about 4-5 at a time until they're puffed and golden, let them drain..they get beautifully puffy!
While they're warm, sprinkle them with some Salt, Oregano & Parmesan cheese
The Dip:
Heat up the Marinara Sauce and top it with some Mozzarella so the cheese gets all gooey and melty!
*HINT*  Make these a meal, by filling the crispy shells with Ricotta, & all your favorite fixin's to make "Fried Stuffed Shells"..how fun is that?!  🙂
Plunge a crispy shell into some warm cheesy sauce and crunch away!   ~Enjoy! 🙂