Oh yumm, this delicious creation takes the all-American Frito Pie,  and transforms it into an easy to eat, scoopable dip…Yee-Haw!  This fun and delicious dip has an outdoorsy, cowboy-ish feel since it requires no bowl..it is the bowl! 🙂  It'll make you wanna hop on a horse and ride on over to the Chuckwagon campfire for some grub!  Eh..maybe more like slap a booty and hit the couch, but either way you'll get a kick out of this  crunchy, creamy and sassy dip!
Every single bite is jam packed full of rich, meaty & crunchy flavor!  To top it off, it's slathered in hearty Chili that's been gently kissed with Steak Sauce..yeah, that's right!  🙂
Perfect for keeping all the hubby's quiet, while we force them to park it on the couch and watch Cupcake Wars..lol!  😉
What you'll need:
1-12oz container of Cream Cheese
1/2 Cup Mayo
1 tbsp. Sour Cream
1 Cup Shredded Cheddar
1 Can of your favorite Chili, Or homemade is great too!  🙂
1 packet of Ranch Dressing Powdered Mix
1/2 Cup of crispy & crumbled bacon (The "real" bacon bits work just fine for this)
2 tbsp. Steak Sauce
1 Cup Crushed up Fritos..save the rest of the bag for dipping!
Directions:
In a medium bowl mix together the Cream Cheese, Mayo, Sour Cream, Ranch Packet, Shredded Cheddar, Bacon & Crushed Fritos..set side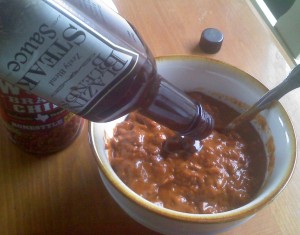 In a separate bowl mix the Chili and the Steak Sauce together.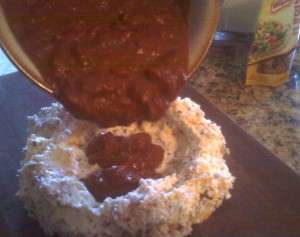 Form a sort of ball shape with the cheese mixture and create a well in the center of it..deep enough to hold all the chili
Pour all of the Chili into the Cream Cheese "well"  🙂
Top it with some Shredded Cheddar, Bacon crumbles and totally stud the entire thing with Fritos..go nuts with them!
Drop it down in front of the masses and watch it disappear!  It's sooo yummy-good!  🙂  ~Enjoy!