This recipe is an awesome way to use up all those leftover Lasagna noodles!  These adorable bundles are the perfect size for lunch, and once prepared can be individually frozen, for a little grab-n-go meal!  They're actually almost better than the original lasagna, since each one offers more of those awesome crispy edges that are all yours!  🙂
So if you ever have leftover lasagna fixin's, without having enough to make a whole lasagna..give these adorable & delicious bundles a try!
What you'll need:
Lasagna noodles
Ricotta
Sauce (meat or no meat)
Shredded Mozzarella
Olive Oil
Italian seasoning
Cupcake tin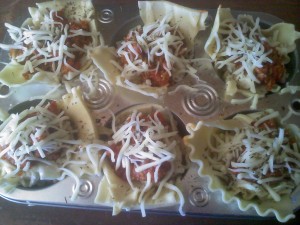 Directions:
Spray the tin with non-stick spray
Line each hole with a piece or 2 of lasagna noodles, pressing down to form a "cup"
Fill each cup with some Ricotta, Sauce & some Mozzarella.  Sprinkle the tops with some Italian seasoning and a drizzle of olive oil.
Bake them at 350 for about 15 minutes, or until they're golden and melty!
Serve them warm, dig in and enjoy your delicious & cute Lasagna Bundles!  🙂