Is there anything better than a fresh pot of coffee and a warm plate of Pancakes & Bacon..dripping in Maple Syrup??  I don't think so!  And one of my favorite things about such an amazing  breakfast is when the syrup gets all over the bacon and everything kind of becomes one!  It's the best plate combo ever!  That was my inspiration for these fun and super sticky-good pancake muffins!  They're like a big messy plate of pancakes all in a cute little syrup soaked muffin!
And with no spatula juggling, pancake flipping & bacon splattering, these coouldn't be any easier!  You will be a breakfast rock star and the kids will go cah-razzy!  🙂
What you'll need:
Your favorite Pancake Mix
1 lb Crispy Bacon
GOOD Maple Syrup
A muffin tin
Directions:
Pour enough Maple Syrup down in the bottom of the muffin tin cups just to evenly cover the bottom..(If you want them extra sticky and yummy, pour more)
Sprinkle some crispy bacon into the syrup and pour the pancake batter on top of that..almost to the top!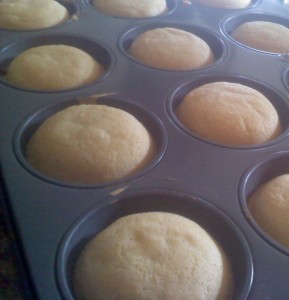 Bake them at 350 degrees for about 12 minutes or until the tops are firm and golden.
With a knife, go around the edges of the pancake muffins to loosen them up, turn them out onto a platter!  If some bacon sticks to the pan just place them onto the muffins where they belong..lol!
Serve them warm and eat lots..they're SO GOOD!  ~Enjoy!  🙂