I know it's Friday and you're probably smiling, but just in case your'e not..all you have to do is say Snickerdoodle!  See..told ya!  🙂  I honestly don't know how this recipe popped into my head, but once it was there, it wasn't going to go away until I was at least on my fourth second bite!  How do I find adequate words to describe the magnitude of Snickerdoodle deliciousness that this simple creation offers?  It's snickerdoodle-icious!  🙂
I actually think I fell in love with the word Snickerdoodle, even before I  knew about its amazing cinnamony, ooey-gooey goodness!  These buttery & flaky Snickerdoodle Crescents are off the charts because they're filled with sweetened cinnamony cream cheese and studded with tiny, soft & chewy caramel bits..yep, a warm, creamy & chewy Snickerdoodle Crescent!  To. Die. For!
I stacked a couple of them for you, just to highlight the soft, creamy & caramelly layers!
Don't lick your screen..lol! 🙂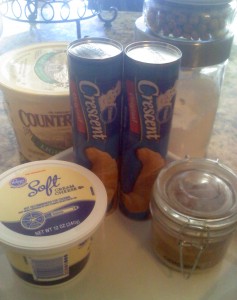 What you'll need:
2 cans of Pillsbury Crescent Rolls
1 12oz container of Soft Cream Cheese
1 cup Powdered Sugar
1 tbsp. Cinnamon
1/4 cup Cinnamon/Sugar
1/2 cup Melted Butter
1 cup of Kraft Caramel Bits
A 9×9 baking pan
Directions:
In a medium bowl combine the Cream Cheese, Powdered Sugar and  the Cinnamon..mix well!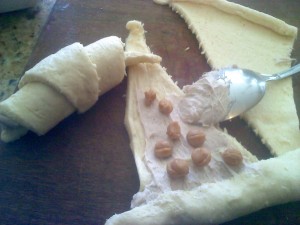 Unroll the Crescents and smear each one with the cream cheese mixture, stud them with some caramel bits and roll 'em up!
Nestle them into the baking pan and drizzle the whole shebang with the melted butter..Make Paula Deen proud!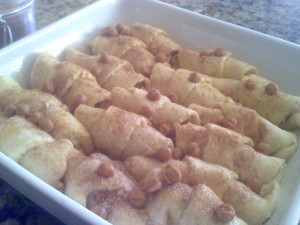 Dust the entire top with the Cinnamon Sugar, and a scattering of caramel bits!
Bake at 350 degrees, for 20 minutes, or until they're golden and the kitchen smells like Snickerdoodles!
Get your bite while they're hot!  ~Enjoy!  🙂