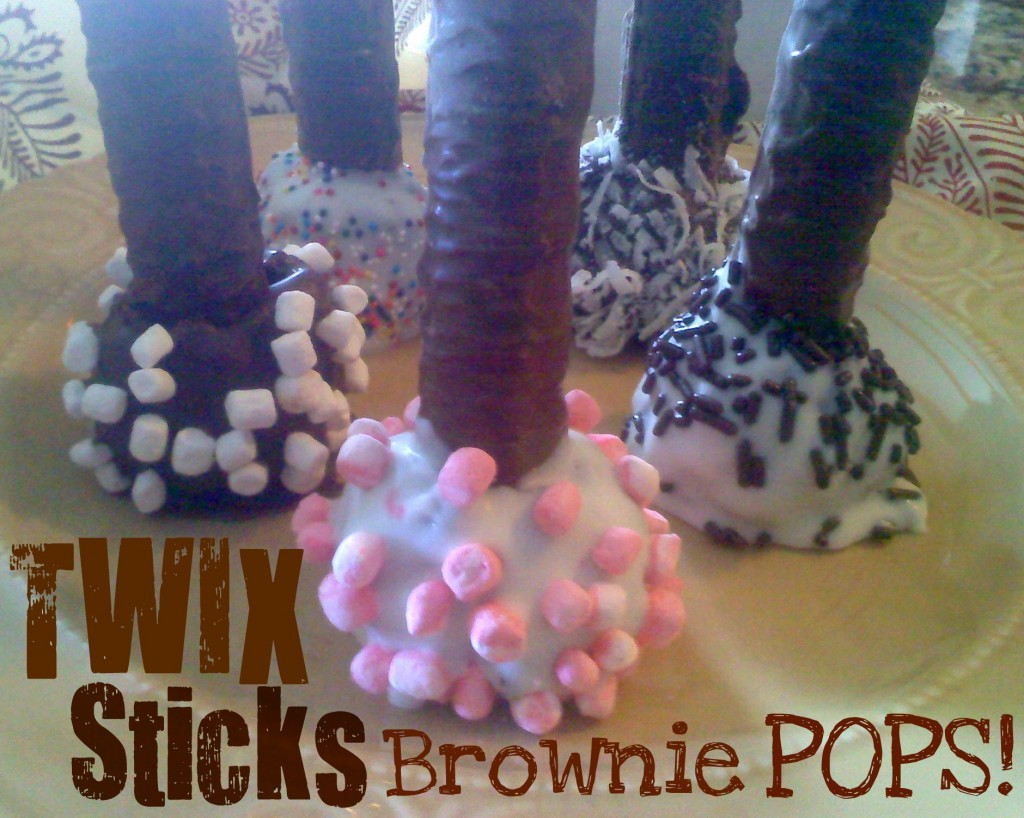 Ahh, the cake pop!  The cutest creation since the doughnut hole..lol!  I never hopped onto the cake pop train, mostly because when I eat cake, I like square & frosted edges..haha! 🙂
However, I could  totally embrace a chewy brownie nugget, especially when it has a TWIX handle..yeah, that's right!  Why should the stick be an inedible paper product, when it can be a delicious Twix..duh!  I mean the stick is responsible for getting the brownie into our mouths, it deserves to be awesome too,  right?!  Geez..if it wasn't for the stick,  we'd have to eat the brownie balls with our fingers like a bunch of pigs, and I'd totally do that no one would ever do that..lol!  🙂
Just by making the stick edible, you've turned this yummy & cute treat into something even Willy Wonka would be proud of!  🙂
What you'll need:
1 Box of Chewy Brownie Mix
Twix..one per pop
White and Milk chocolate Almond Bark for melting and dipping!
An assortment of your favorite fun toppings..sprinkles, coconut..etc.
Directions:
Bake the brownies according to the box directions
While they're still a little warm grab about a tablespoon or so of the brownie and form it into a ball with your hands.
Gently push a Twix into the brownie ball..making sure not to go all the way through it.  Yep, they will look like Twixhenge!  🙂
Set them aside.
Melt the Almond Bark according to its instructions ( if Almond Bark gets too hot, it will seize up and not work, so be careful to melt it just enough to coat the pops)
With a fork, coat each brownie pop and sprinkle your adorable toppings onto them..set them aside to dry!
Take a huge chewy brownie bite and then eat the stick!!  ~Enjoy!  🙂