Summer is right around the corner, and when I think of Summer..of course, I think of BBQ!  I think of fun in the sun and lots of backyard patio time, with table tops loaded down with burgers, hot dogs, steaks and of course side dishes!  And oh, how I adore those side dishes!  I'm not sure if it's because I like small portions..or simply because they are such a great opportunity to provide an interesting side-kick to any main course.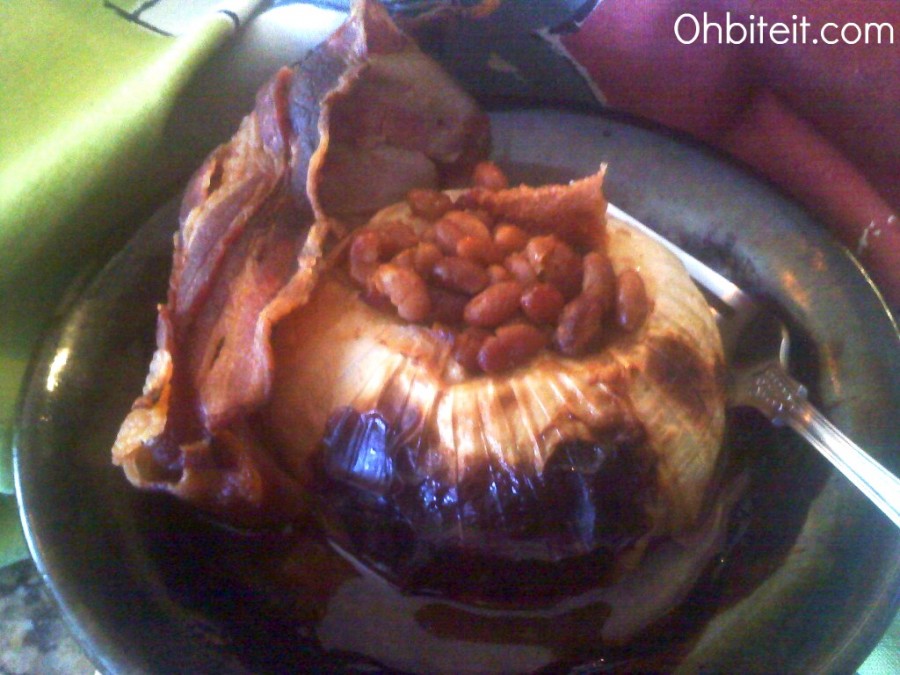 These are the perfect highlight to any meal, since they provide the veggie, the protein, and of course..the BACON!  Use a semi deep, oven safe dish, because these create the most amazing sauce EVER!!  And they're super easy too, bake them in the oven or, simply wrap the entire thing in foil and toss it onto/into the grill!  Before you know it, everyone will be oohh-ing & aahh-ing with every saucy, sweet & smoky bite!  🙂
What you'll need:
A huge-normous onion
Your fave canned beans..or you could prepare your own!
Bacon
Some extra BBQ Sauce..why?  Why not?!  😉
Directions:
Hollow out the onion, making sure to leave a thick enough wall to hold the beans and withstand the cooking process.
Fill up the onion with the beans
Bake uncovered at 400 degrees for about 30 minutes, then lay the bacon strips across the top and bake for another 20 minutes, or until the onion is tender and the bacon is crispy!
Right before you dig in, feel free to stir in some of your favorite BBQ sauce, just to add to the succulent juices and flavor!
Such a fun and unique way to enjoy an all-in-one side dish!  ~Enjoy!  🙂