When it comes to food/calorie denial, no one can pull it off quite as well as me!  Seriously, I have so much fun convincing people that it's perfectly fine to have brownies for breakfast, as long as it's before noon and eaten with a glass of Orange Juice somewhere near the plate..LOL!  But in this case, there's no need for denial!  I've created a breakfast cake that's every bit as amazing as a traditional cake..or better yet, a Blueberry Muffin, but with all the nutritional value of a sort of healthy breakfast!  It's true, this amazing cake is filled with powerhouse Blueberries, creamy Greek Yogurt and fiber packed Cornflakes!  You may not even need the glass of Orange Juice with this one!
One bite of this amazingly lite breakfast cake, and you won't believe that it's not a succulent dessert!  So to avoid any confusion,  I drenched drizzled my portion in syrup, because nothing lets you know it's breakfast like syrup!
You'll be in Sunday morning breakfast Heaven, especially when you cut through the crisp outer crust, down into the most creamy, yet fluffy cake ever!  All perfectly balanced by the hearty Cornflake crunch that's layered throughout all of the juicy, sweet, plump blueberries!  Go whip up a quick breakfast cake, and watch how fast everyone grabs a fork & gathers around the kitchen table!  🙂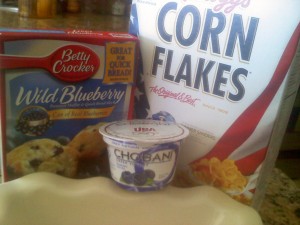 What you'll need:
1 Box of Blueberry Cake/Muffin mix (with blueberries included)  Or you'll need your own, blueberries, about a cup!
1 Blueberry Greek Yogurt
1 1/2 cups of Cornflakes
A square baking dish
Syrup..optional
Directions:
Mix the cake batter according to the box instructions, and stir in the yogurt, combining well
Gently fold in 1 cup of the Cornflakes..reserving the rest for the topping
Pour the batter into the baking pan and top with the included Blueberries and the rest of the Cornflakes
Bake at 350 for about 35 minutes, or until the smell in your kitchen is beyond intoxicating, and you're slurring your words!  🙂
Serve up a nice, big warm slice!  Such a perfect way to kick off a weekend day!  If you have any left..it's a great guilt free midnight snack! 😉   ~Enjoy!