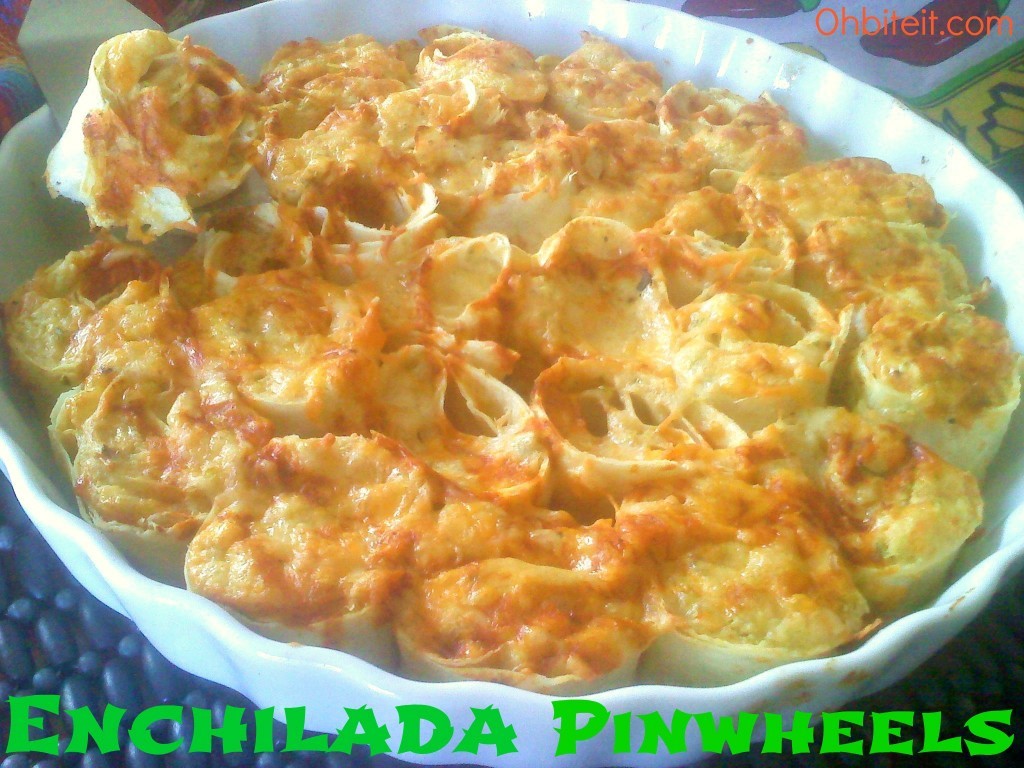 How much fun is it to take a main course and turn it into an easy to eat fun party food/appetizer?  I just love doing that, it makes appetizers so much more fun, and it can also make dinner much more fun as well!  Especially when it's typically an ooey gooey cheesy pan of enchiladas, that would under normal circumstances, require a plate & a fork..at the very least!  Well..good-bye dirty dishes, now you can pop an adorable swirly Enchilada Pinwheel in your mouth without even needing to sit down.  🙂
Heck, with this fun technique, you'll hardly even need manners in order to enjoy all the greatness of hot & spicy Chicken Enchiladas!  You can have an Enchilada Pinwheel in one hand and a Margarita in the other!  Sound good?  Well, I haven't even gotten to the good part yet.  Here it comes…Yep, it's the edges!  The glorious Sainted crispy edges!  One of the perks of transforming a typical pan of enchiladas into Pinwheels means that we all get 360* crispy edges, and that doesn't even include the totally tasty toasty bottoms…hehe!
When you crunch through the golden tortilla into the tender cheese filled spicy center, you'll want to gobble up the entire platter!  These are to die for delicious, and a total conversation starter!    Give them a try the next time it's your turn to entertain..you'll be a Pinwheel Wizard..LOL!  🙂
What you'll need for approx. 30 Pinwheels:
3 Grande Tortillas
1/4 Cup Red Enchilada Sauce (optional)
1-12.5 oz can of Chicken
1 Cup Chopped Green Chile
6 oz Cream Cheese
1 Jalapeno
2 Cups Shredded Mexican Blend Cheese
2 tbsp. Garlic Powder
S&P to taste
An oven safe round baking dish
Directions:
In a food processor (or with your muscles) combine the Cream Cheese, Jalapeno, Green Chile, Chicken, Garlic powder, S&P until well blended
.
Add that mixture into a medium bowl and stir in the cheese, (but reserve 1/4 a cup for sprinkling)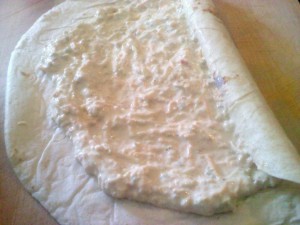 Spread the filling onto a tortilla, leaving about a 1″ border around the edge and roll her up!
Drizzle the bottom of the baking dish with some of the Red Chile Sauce, this will give the pinwheels an amazing bottom crust!
Slice the roll into 1/2″ slices and place them sliced side up into your baking dish.  Make all the pinwheels nice and snug until the dish is full.
Sprinkle the pinwheels with the reserved shredded cheese..
Drizzle the top with some of the Red Chile Sauce, before it goes into the oven.  It adds excellent color & flavor to the finished Pinwheels, and makes them look GOR-JUS!
Bake them at 350 degrees for about 25-30 minutes, or until they're golden and bubbly!  Pull apart yourself a warm, cheesy Enchilada Pinwheel and savor a crispy, spicy main course meal all in one bite!  ~Enjoy!  🙂