Ahh, weekends!!  I just love them, they're the best time to enjoy a real breakfast.  Not shoving a handful of cereal into our mouths as we run out the door breakfast.  I'm talking about a warm, comforting, make the house smell great breakfast!  Combine that great breakfast with the refreshing perk of Lemons and it equals pure morning heaven!  You're left with no choice but to have an amazing day after a start like this! 🙂
I haven't even mentioned the sweet, thick Lemon Zest Glaze yet…Oh. Em. Gee!  You could literally pour this glaze over a tractor tire, and it would taste good..lol!  Once I discovered the limitless possibilities of French Toast, I was hooked!  If you can slice it~ you can French Toast it! And to be honest, there really isn't a cake, muffin, doughnut or bread that doesn't improve once it's dipped in custard and grilled until golden & toasty!
So the next time you pick up that convenient box of cake at the local market bakery..take it home and transform it into something beyond incredible!  In a matter of a couple of minutes, you'll have a Bed & Breakfast style treat on the table, ready to kick off the weekend in the best way ever! 🙂
What you'll need:
Lemon cake..sliced approx. 1″ thick..store bought or homemade is fine!
1 cup milk
1 egg
1 cup powdered sugar
The zest of one Lemon
The juice of one Lemon
Directions: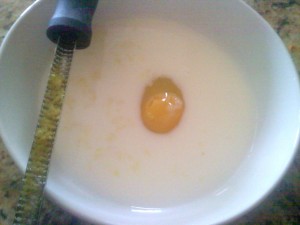 Zest the whole lemon and add half of the zest into a mixture of the 1 cup of milk and the egg..mix well to make the custard!
Quickly, dip each slice of the cake fully into the custard mix and place on a heated skillet, grilling them until both sides are golden brown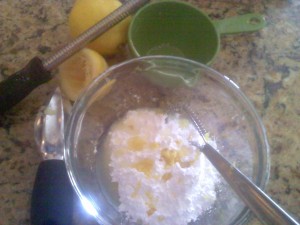 Make the Lemon Zest Glaze by combining the cup of Powdered Sugar, and all the juice of the Lemon with the rest of the zest..mix well, until it's thick!
Pour some of the glaze down onto the warm slices of Lemon Cake French Toast…you may involuntarily moan and groan, so be prepared! 🙂
Make sure to dig in while they're warm..and the glaze is all melty!  The warmth brings out all of the intense lemony flavor and takes this French Toast to uncharted breakfast territory!  Happy Weekend! ~Enjoy!  🙂