Bunny Day is almost here..YAY!  But I must admit,  I'm not the biggest fan of Peeps.  I can't explain why, I have no good reason, it's not them, it's me..haha!
The only time Peeps bring me any joy is when I'm watching them melt, burn, smush or  char..haha!  🙂  So for that reason I buy them!  Although, I must say that turning them into a Whoopie Whoopeep Pies has rekindled some love for the poor Peeps!  When in doubt smush 'em!  🙂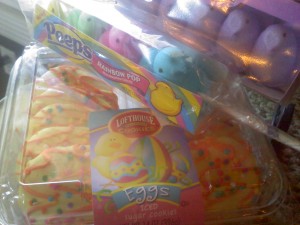 What you'll need:
Feel free to bake up your own Whoopie Pies! 🙂  But I was too lazy bought some soft Easter-ish, fun colored cake cookies, just because I wanted to..lol!
You'll need 2 cake/pies per each Peep!
PEEPS..one per Whoopie!
Directions:
On a baking sheet, lay out one pie, and place a Peep onto it
Bake them at 350 for literally 3-ish minutes, just until they start to melt!
Put the other cookies/pies on top of them, and squish the life out of those Peeps  🙂
Serve these ooey-gooey beauties warm!  ~Enjoy!  🙂