Ahh YooHoo!  There's just nothing like an ice cold, properly shaken YooHoo!  What other beverage can make us feel 8 years old again, just by saying its name?  It's the world's best drink, the drink that no one can explain!  Is it dairy? ..who cares!  Why doesn't it have to be refrigerated? …who cares!  YooHoo needs no explanation, …it's 'The most interesting drink in the world!'..LOL!
This is not a grab & go Brownie!  Nope, these brownies are so moist that you will need a plate and a fork!  Unless of course it's 2am and everyone is sleeping..in that case, by all means, shove two one in your mouth by the non-judgemental glow of the refrigerator light!  🙂
In fact, if you thought you loved brownies before..just wait until your brownie batter is filled, poked and topped with the most amazing YooHoo glaze!!  You will never experience such moist, flavorful and decadent brownies as these!  Heck, wash the whole thing down with a YooHoo!  🙂
What you'll need:
A box of your fave Brownie Mix
1 Can of YooHoo
2 Cups of Powdered Sugar
Directions:
Mix the Brownie Batter according to the box instructions, but replace the water with yep..YooHoo!
While the brownies are in the oven..prepare the YooHoo Glaze: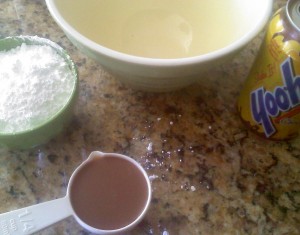 In a medium bowl mix together the Powdered Sugar and 2 tbsp. of YooHoo!  (Adjust these amounts accordingly to reach your desired glaze consistency)
While the Brownies are still warm, poke some holes in them and fill them with the luscious glaze!  Use all of the glaze and let it set up.
After the glaze has set up, serve a YooHoo soaked, ooey gooey chewy, chocolaty brownie & die a million deaths..they are To. Die. For!  ~Enjoy!  🙂