Do you have a bucket list? Do you like buns? Umm, the baked/sticky edible kind of buns..haha!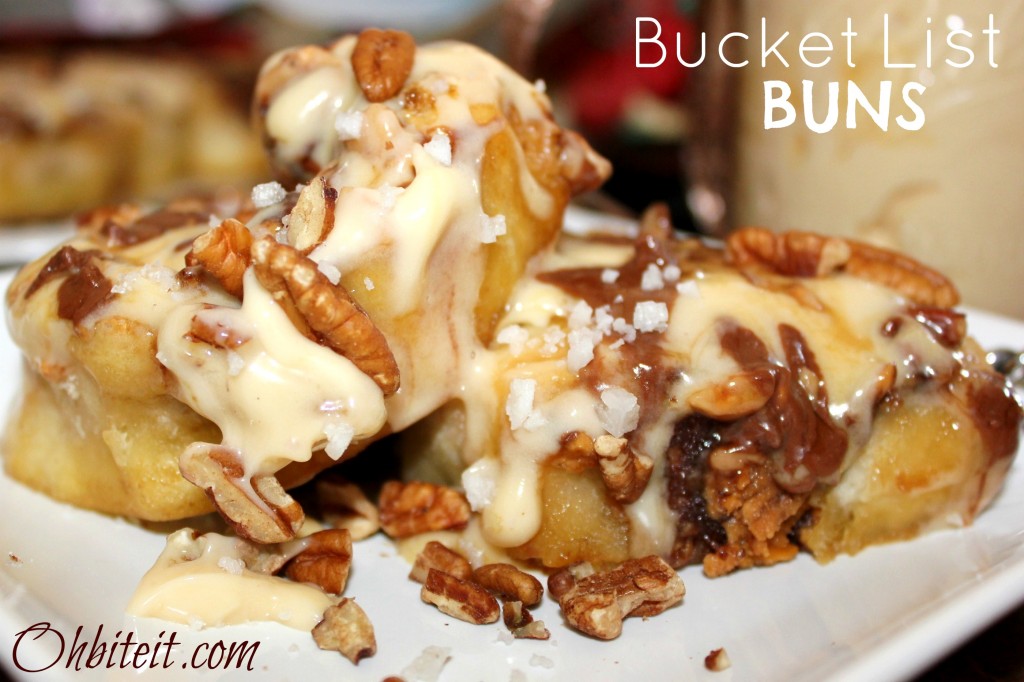 Is your bucket list filled with the hopes of one day indulging in sinful, delicious food fantasy treats like mine is..lol?
For those of you who don't know me personally, you might be surprised to know that I'm actually a health nut!  You'd NEVER be able to tell by looking at my blog creations, but it's true! That's what makes it so much fun for me to come up with 'no limit' recipes..lol!  Most of which are happily consumed by everyone else but me!  However, once in a while I do allow myself to enjoy a "One serving per lifetime" treat!
Something so outrageous, SO delicious and off the charts bad for me, that I limit myself to just five two bites!  A treat that's just too good to go your whole life never tasting!  Needless to say, my bucket list of tasty temptations is filling up fast! 🙂
Why, you ask, do these Buns qualify for a spot on your Bucket List? To be enjoyed only once per lifetime?
Ok, here's why…
The buttery dough is lovingly rolled up with layers of:
Peanut Butter, Hot Fudge, Carmel Sauce, Coconut, White and Milk Chocolate Chips, Butterscotch Chips, Toffee Bits, Pecans, topped with  Brown Sugar & baked in a pool of Butter & White Sugar.  Just in case that's not crazy enough, I top them off with more Toffee Bits, Pecans and globs of…
Salted Caramel Cream Cheese Frosting, a.k.a. "Bucket List Bun Frosting"!  Yep..the frosting needs to go on the list too!  🙂
See..ONE serving per lifetime!  Into your bucket these Buns go! 🙂
What you'll need:
1 Can of Pillsbury Pizza Dough (OR you can make or use your favorite dough)
The following ingredients & amounts are up to your taste, but this is what I used!  🙂
1 Cup of Creamy Peanut Butter
1 Cup of Hot Fudge Sauce
1/4 Cup Caramel Sauce
1/2 Cup White Chips
1/2 Cup Chocolate Chips
1/2 Cup Butterscotch Chips
1/2 Cup Heath Toffee Bits
1/2 Cup Chopped Pecans
1/2 Cup Sweetened Coconut
1/4 Cup melted Butter
1/4 Cup White Sugar
1/4 Cup Brown Sugar
A round baking dish
Bucket List Bun Frosting:
1 Block of Cream Cheese..ROOM TEMP.
1 Cup Powdered Sugar
1/4-1/2 Cup of Caramel Sauce..to taste
1 Tbsp. Kosher Salt..(I used Gray Salt)
Food Processor
Directions:
Melt the butter and pour it into the bottom of the baking dish.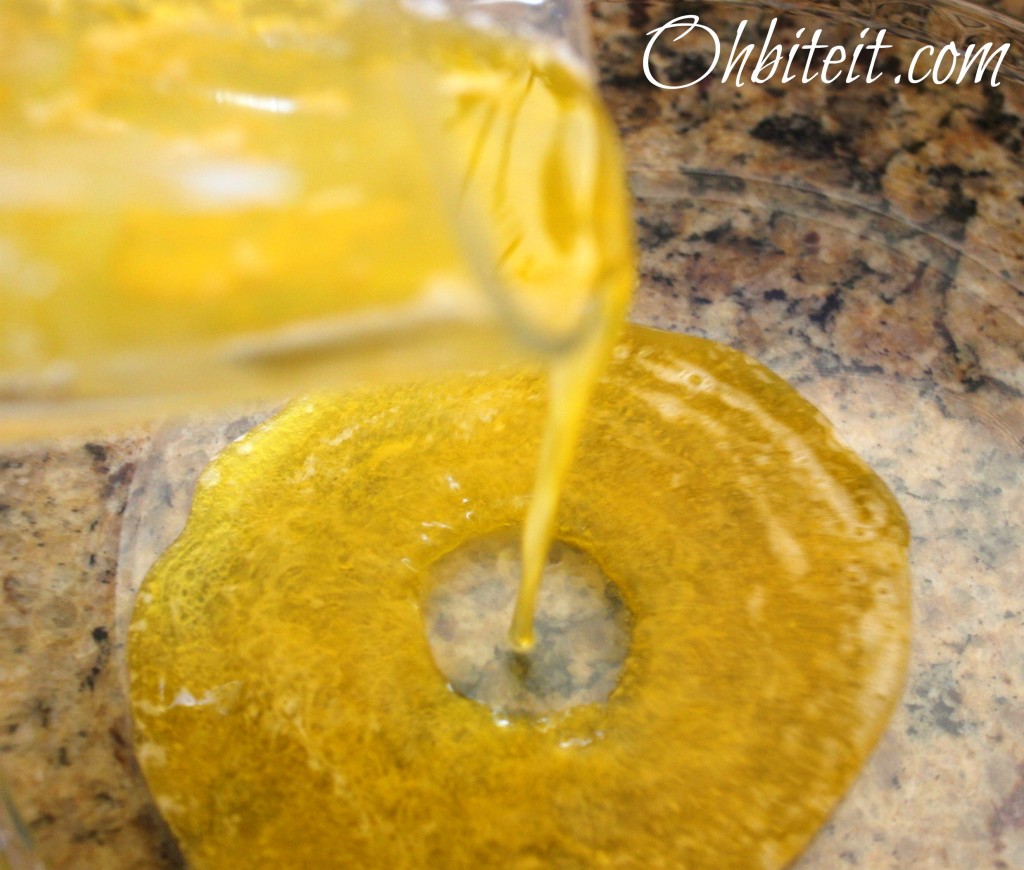 Sprinkle the White Sugar into the butter, mix and set it aside.
Roll out the dough, into a rectangle-ish shape
Smear the dough with a nice layer of the Peanut Butter
Top that with the Hot Fudge Sauce
Start sprinklin'~~
All of the white, chocolate, toffee & butterscotch chips
Layer on the coconut and pecans
Drizzle the top with the Caramel Sauce
Roll the dough into a log..nice and snug
Cut the log into about 1″ buns and lay them, cut side down,  into the buttered baking dish.
Sprinkle the tops of the un-baked buns with the Brown Sugar
They're gor-JUS even before they're baked!
Bake at 350 for about 25 minutes..or until the buns are golden and bubbly! …like this…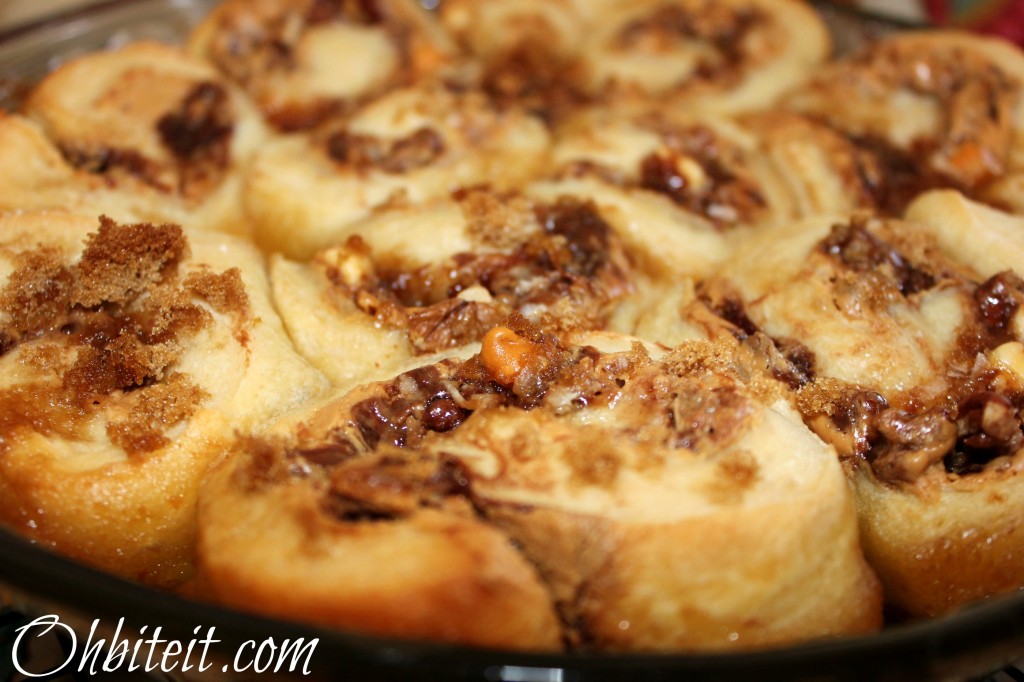 While they're baking, make the Bucket List Bun Frosting..you will never taste a better frosting..ever!
Just add all of the above listed Frosting ingredients into a food processor, and pulse until smooth!  (Reserve a tiny bit of salt for garnish)
Now the Buns are done, and it's time for my favorite part!  Top the buns with the Bun Frosting..or I should say: 'THE' Bun Frosting of all bun frostings!
Just think Salty Caramel Cheesecake in frosting form..O Lordy!  🙂
Serve yourself your loved ones a great big plate full!
Take a warm, salty, caramelly bite..or get a pen and add it to your Bucket List ASAP!  ~Enjoy!  🙂