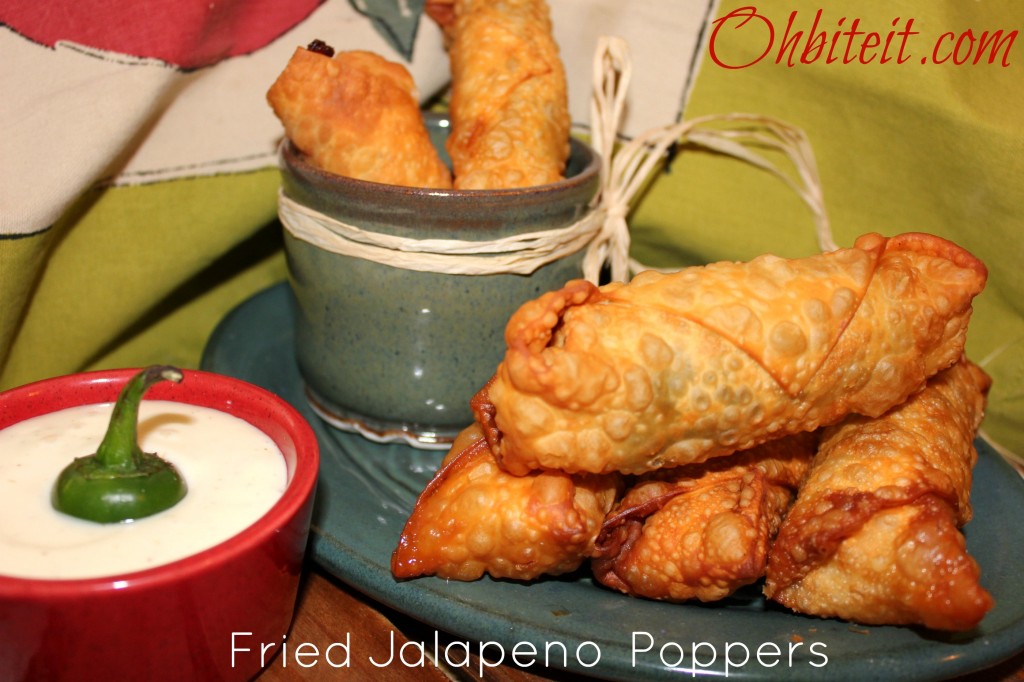 And..once again, my 'Sassy Southwest Senorita' alter ego, makes an appearance with yet another version of a Jalapeno Popper..lol!  What can I say…I like it spicy!  I'm convinced that I could survive on a deserted island with just Jalapeno Poppers, and a few itty bitty other things, like~eh hem..Chocolate & Chocolate! 🙂
These are the perfect little snacks to spice up any occasion!  They're the easiest poppers I've ever made (and I've made LOTS), they're also the most unique, and definitely up there with the very best I've ever had!
The crispy crunchy crust is the perfect little snuggie for the slightly spicy Pepper & super Cheesy filling!  As a bonus, you can customize these and stuff them with anything you can imagine!
And just to seal the delicious deal, go ahead and plunge them deep into a pool of Ranch dressing..Oh yeahhh! 🙂
*Leftovers?  Simply reheat them in the oven and they're good as new!
What you'll need: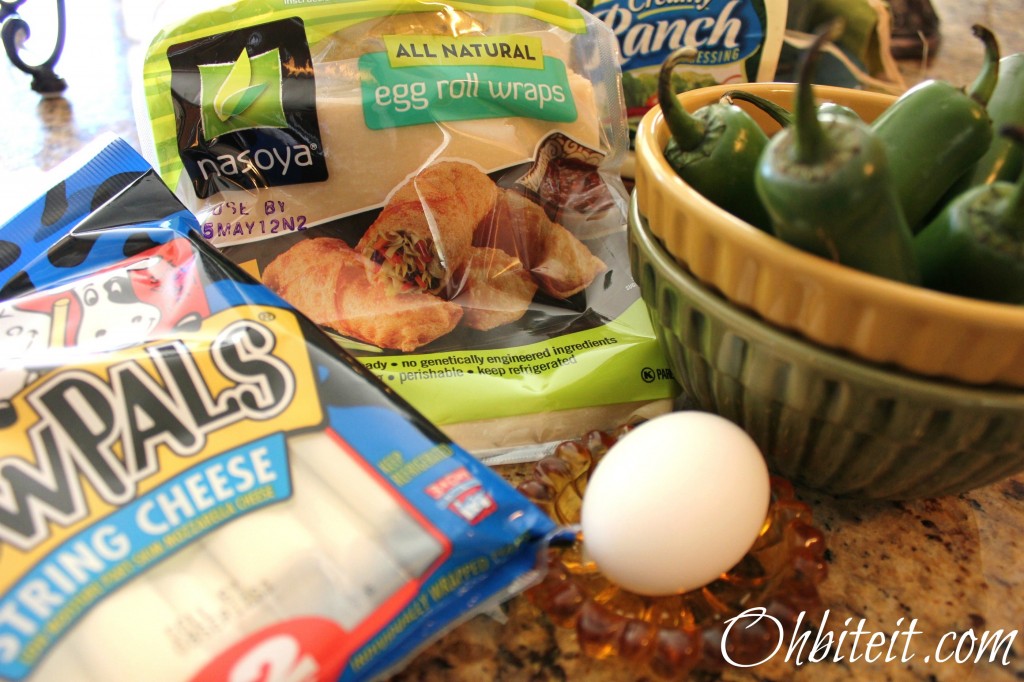 Canola or Peanut Oil for frying..not shown
Large egg-roll wrappers (1 per each Popper)
One egg..to seal the edges
String Cheese (One stick per Popper
Fresh Jalapenos (One per each Popper)
Ranch Dressing..for dipping!
The quantity is up to you..but make TONS!!  🙂
Directions:
Side Note:  In hindsight I'd have par-cooked the Jalapeno somehow before stuffing & frying them.  Either a partial char over a flame, or even a quick blanch in boiling water, just to take the rawness out of them.  They were still d-lish, but I'd prefer the finished product to have a little softer Pepper inside!  🙂
If you choose to par-cook your Peppers..do that now however you'd like.  Then skip to stuffing them with the Cheese!
Cut off both ends of each Jalapeno & slice them in down the center in half, creating 2 pieces.  *JALAPENOS ARE H.O.T.~~act accordingly!  😉
Remove all the "stuff" from the insides of the Jalapeno halves..making sure to get all those seeds out!
Add a stick of String Cheese in between those 2 pieces of the Jalapeno, putting it back "together" with the cheese inside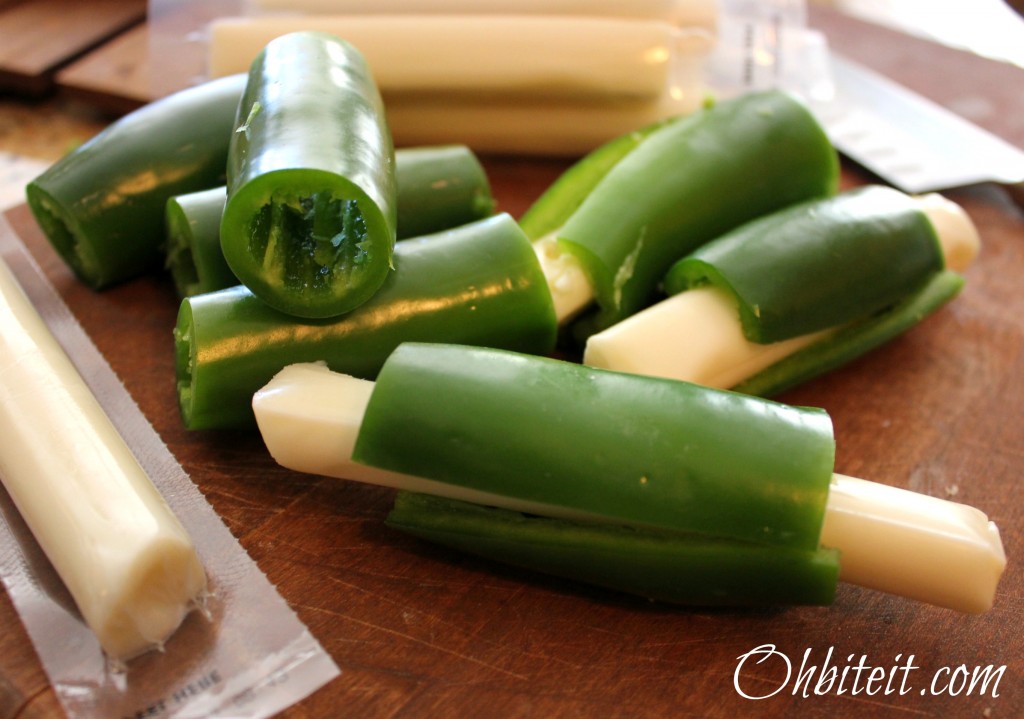 In a small bowl, mix the egg-wash (1 egg beaten with a splash of water)
Lay out a egg-roll wrapper and brush all of the edges with the egg-wash
Roll up the cheese filled pepper inside the wrapper..at a diagonal, just like an egg roll..making sure to fold in the sides good and tight!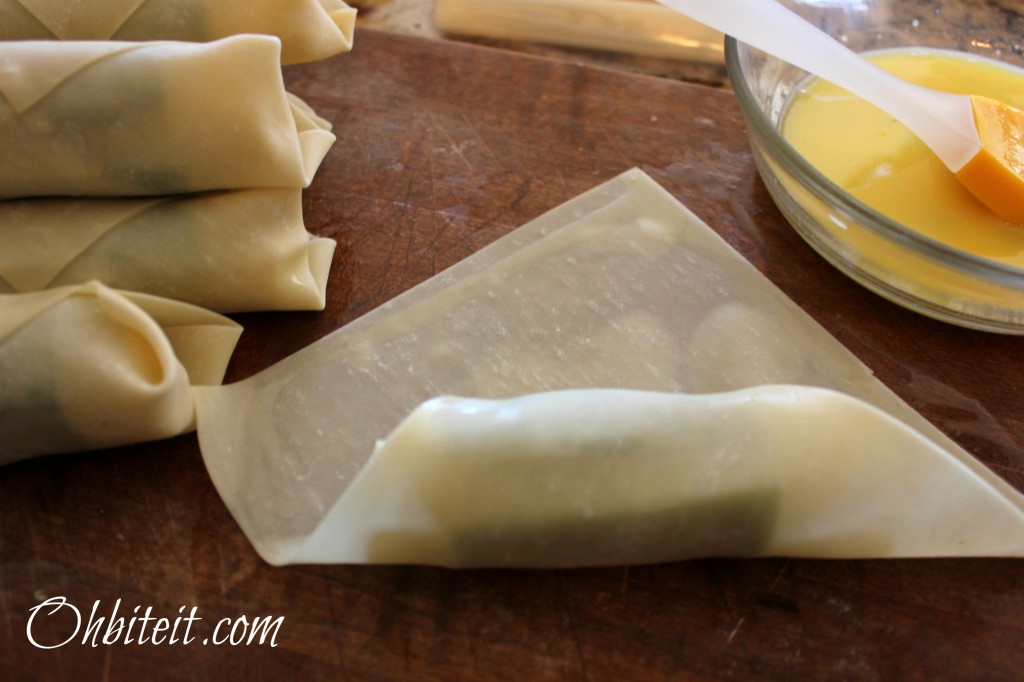 In a large pot, add about 3″ of oil, and get it good and hot!
Carefully drop in a couple of Poppers and roll them around in the oil, until they're evenly crispy and golden!  Put those old take-out chopsticks to use..they're PERFECT for Pepper Popper rolling! 🙂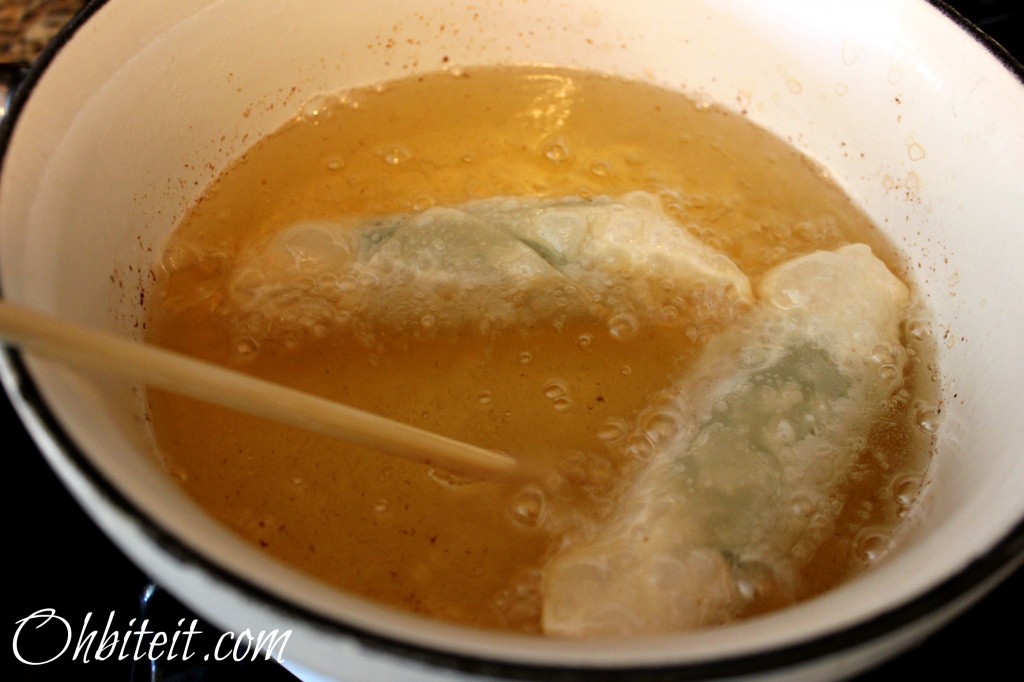 Drain them on some paper towel
Serve them nice & warm, so they're ooey gooey D-lish!
Dip them in plenty of Ranch
Take a heavenly bite
Repeat & Enjoy!  🙂