What could possibly make Mac-n-Cheese any more comforting than it already is? (Keeping in mind that "comforting"  just means fattening in food denial language..LOL)  Good old Lay's potato chips blanketing a bowl of melty cheese & crispy bacon makes it more comforting..that's what! 😉
And let's face it, with this horrible economy, global warming, the impending demise of the planet coming soon, & Justin Bieber's new song, we need all the comfort we can get, don't we?! Normally one bowl would be fine, but with that new song in there..2 bowls may be necessary..lol! J/K   😉
This isn't your mommy's Mac-n-Cheese..Oh nope!  We're talking, warm Macaroni,  3 creamy cheeses, crispy bacon, all baked together and topped with the most golden & crunchy crust of  Lay's Potato Chips you've ever seen!  No blue box here (not that there's anything wrong with that..you know me..lol)  But I figured that the epic combination of Lay's Potato Chips AND crispy Bacon deserves only the very best homemade Mac-n-Cheese, at which to showcase their perfect marriage of deliciousness!
What you'll need:
1lb of elbow Macaroni
2 Cups of heavy cream
1 Cup whole milk
1 1/2 Cups buttermilk(not shown)
2 tsp. all purpose flour
1/2 tsp. salt
1/4 tsp. pepper
2 Cups packed & grated Fontina cheese (in the deli case)
3/4 Cup grated Parmesan
3/4 Cup grated Mozzarella
1/2 Cup shredded Cheddar (not shown)
1lb crispy bacon
3 Cups Lay's Potato Chips!
Directions:
Grease a 9″ baking dish and set aside..
Cook the Macaroni in a large pot of boiling salted water, until tender..yet still firm to the bite..drain.
Crisp up the bacon, crumble it up and set aside..
In a large bowl mix the cream, milk, buttermilk, flour, S&P and blend well.
Stir in 1 Cup Fontina, 1/2 Cup Parm, 1/2 Cup Mozzarella, and all of the crispy bacon
Add the Macaroni and toss to coat
Transfer the Macaroni mixture to the baking dish and top with the remaining cheeses EXCEPT the shredded cheddar.
Bake it at 350 for about 20 minutes, until it's golden…see below, it's on its way to becoming amazing!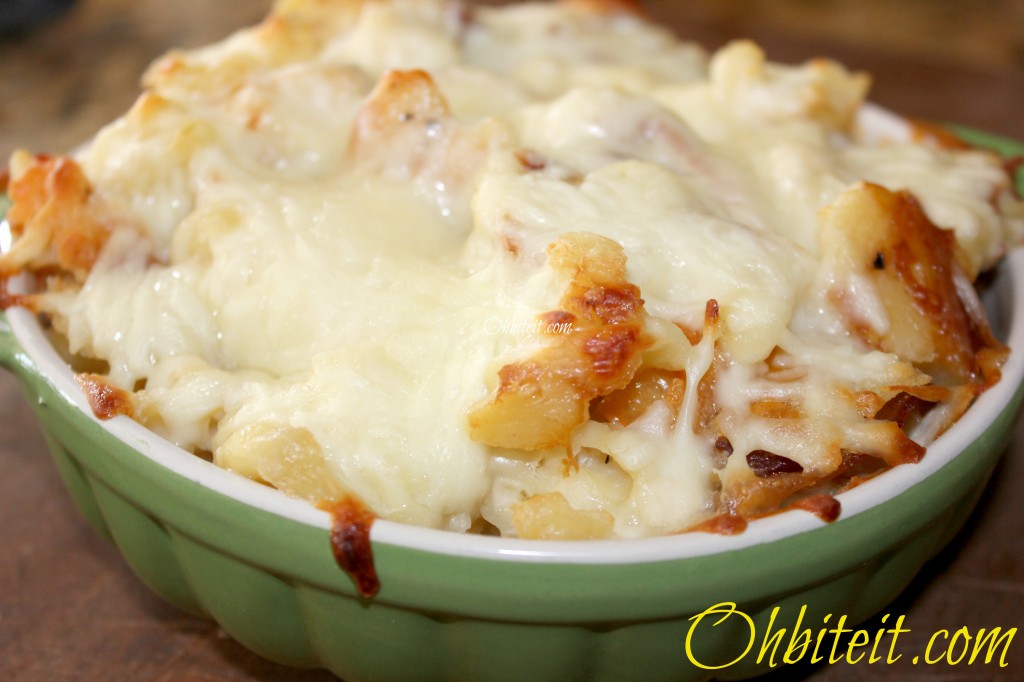 Take it out of the oven, and top it with the Lay's.  Sprinkle the tops of the Lay's with the shredded cheddar and continue baking until the cheddar is melty and toasty!  Now it's only a few minutes away from totally awesome!  🙂
Serve when it's toasty chipy, ooey gooey, cheesy pleasy!!
NOW it's awesome!! DIG IN.. ~Enjoy!  🙂