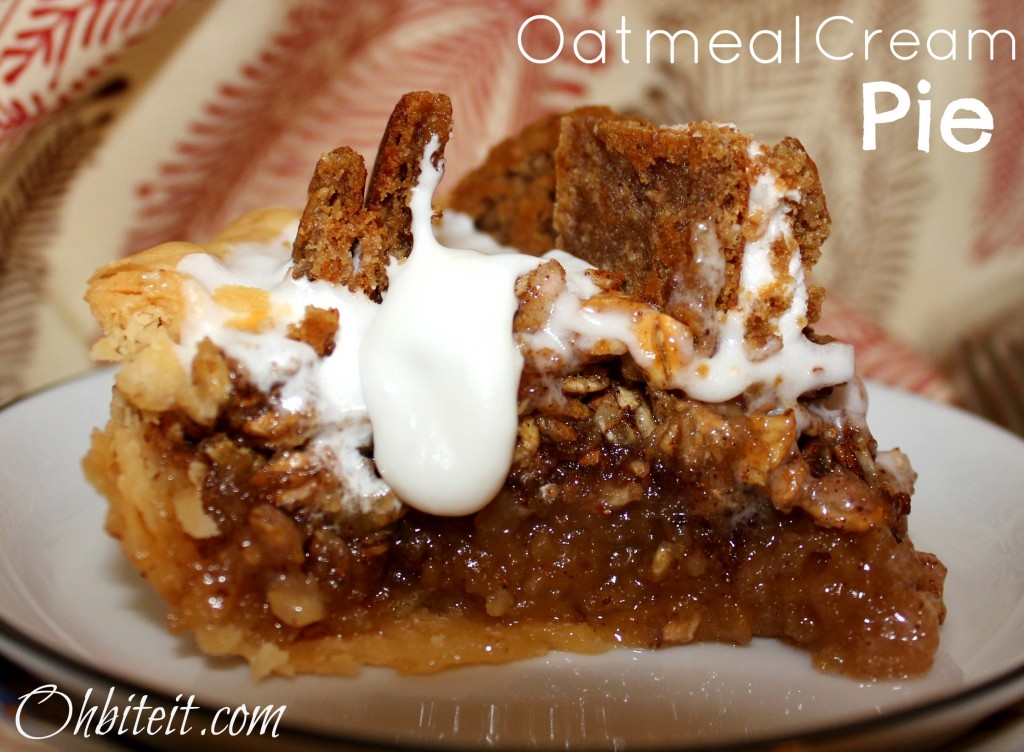 This recipe was embarrassingly inspired by my love for snack cakes!  And I don't mean the super classy snack cakes, like Fried Apple Pies, or  Swiss Rolls..haha!  I'm talking about "Hillbilly Handcakes"  "Ghetto Goodies",  if you will.  You know..good old, plastic wrapped, 100 for a dollar..Oatmeal Cream Pies!  Yep, the ones in the (usually dusty) box, at the dollar store, next to the generic Pork Rinds..uh huh, that's them!
Tell me those little pies aren't delicious..go ahead, you'd be lying..lol!  There's nothing quite like tearing that wrapper open with your teeth like an animal, and finishing one off in 2 minutes flat..in the car, still sitting in the store parking lot.  ..Not that I've done that!  😉
But since I'm a mom, I must set a good example for my daughter, so I came up with a slightly less embarrassing way to enjoy all the goodness of that treat..minus the plastic wrap and the dusty box.  Everything I love about those snacks is taken up a few notches and incorporated into this decadent pie that's classy enough to eat in public, yet trashy enough to still be delicious..woo-hoo!
Even down to the thick, creamy filling of the little packaged treats. Yep..I duplicated that epic white cream, but I didn't just use a tiny little layer..oh no!  I piled it high on top of the pie & used it as frosting..yeah, that's right!  And wowza!  Every bite is like sinking your teeth into a super thick, soft & warm, just out of the oven Oatmeal Cream Cookie!   🙂
What you'll need:
4 individually wrapped Little Debbie Oatmeal Cream Pies (optional for garnish)
1- 9″  Sheet of frozen pie crust
4 eggs
1 Cup sugar
2 tbsp. flour
1 tsp. ground cinnamon
1/4 tsp. salt
1 Cup light corn syrup
1/4 Cup melted butter
1 tsp. vanilla
1 Cup quick cooking Oatmeal
Ghetto Cream Filling Duplicate..a.k.a The Frosting!  🙂
1 Cup Powdered Sugar
1-12oz container of Whipped & Fluffy White Frosting
1-7oz container of Jett Puffed Marshmallow Fluff
1 tsp.Heavy Cream (or half-n-half is fine too)
An electric hand mixer..or lots of muscles!  😉
Directions:
Place the pie crust into your pie pan and crimp the edges.  My edges are ugly "rustic"..lol!
Unwrap the Oatmeal Cream Pies and cut each of them into 9 pieces and set aside.  I may or may not have eaten some of my cut up pieces.  🙂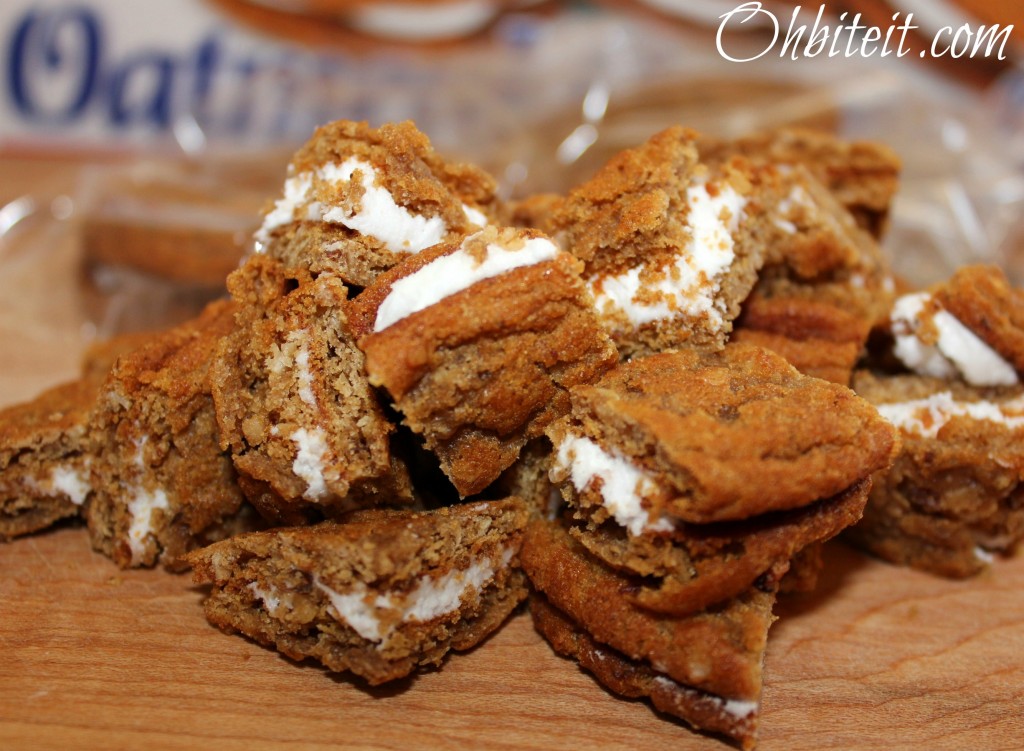 In a med. bowl, beat the eggs until frothy.
In a small bowl, combine the sugar, flour, cinnamon and salt..add into the eggs and mix well.
Stir in the corn syrup, melted butter, and vanilla.
Mix in the Oatmeal until fully incorporated.
Pour it into the pie shell.
Bake at 350 degrees for about 45 minutes, or until the pie is golden & firm.  The smells that this pie creates in your kitchen are incredible!
Let the pie cool COMPLETELY before you add the frosting!  The Oatmeal become this sticky, nutty & chewy top crust..ahhmazing!  You could totally eat it like this…if you had to!  😉
While it's cooling, make the frosting!
In a med. bowl add the powdered sugar, frosting, fluff and heavy cream.  With a hand mixer, mix on low speed, until it's blended, thick and smooth!
Top the cooled pie with a nice thick layer of the frosting..don't be shy!  🙂
Stud that pure white frosting with all of the Oatmeal Cream Pie pieces!
Slice a big warm, hearty serving!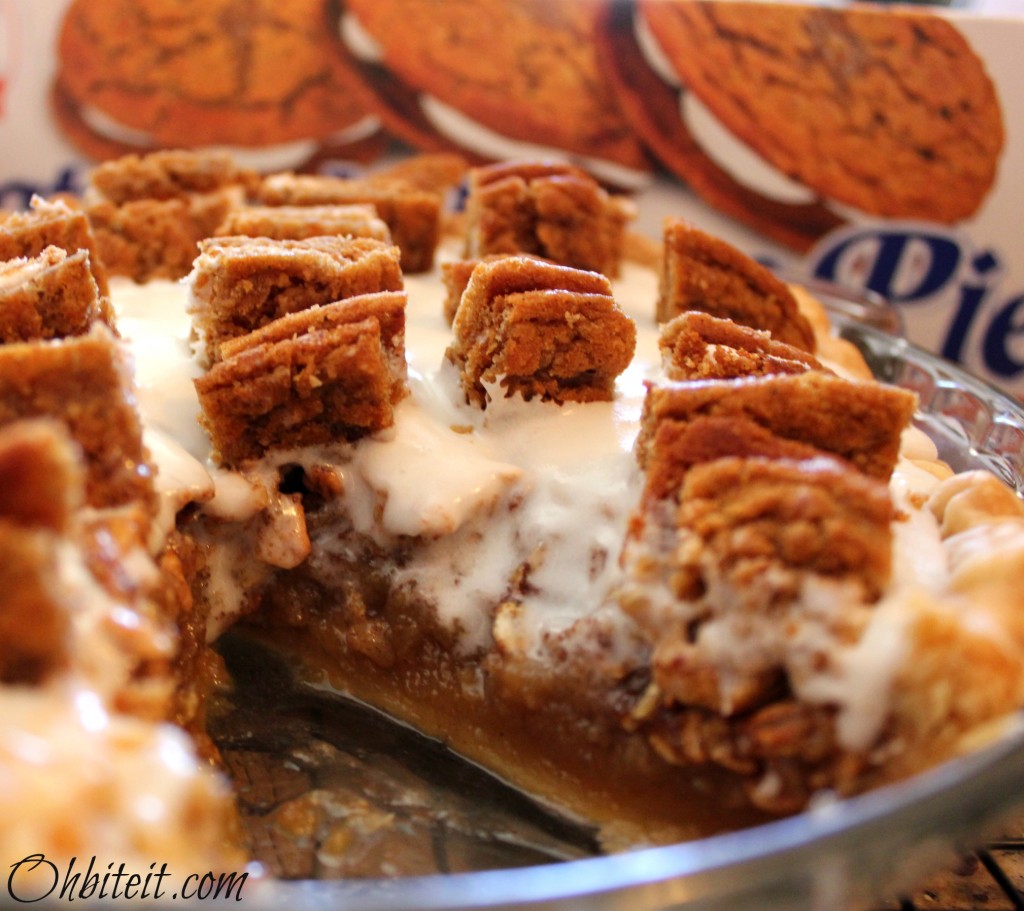 Open wide..and enjoy the richest, creamiest, & yummiest treat ever to not be individually wrapped! ~Enjoy! 🙂