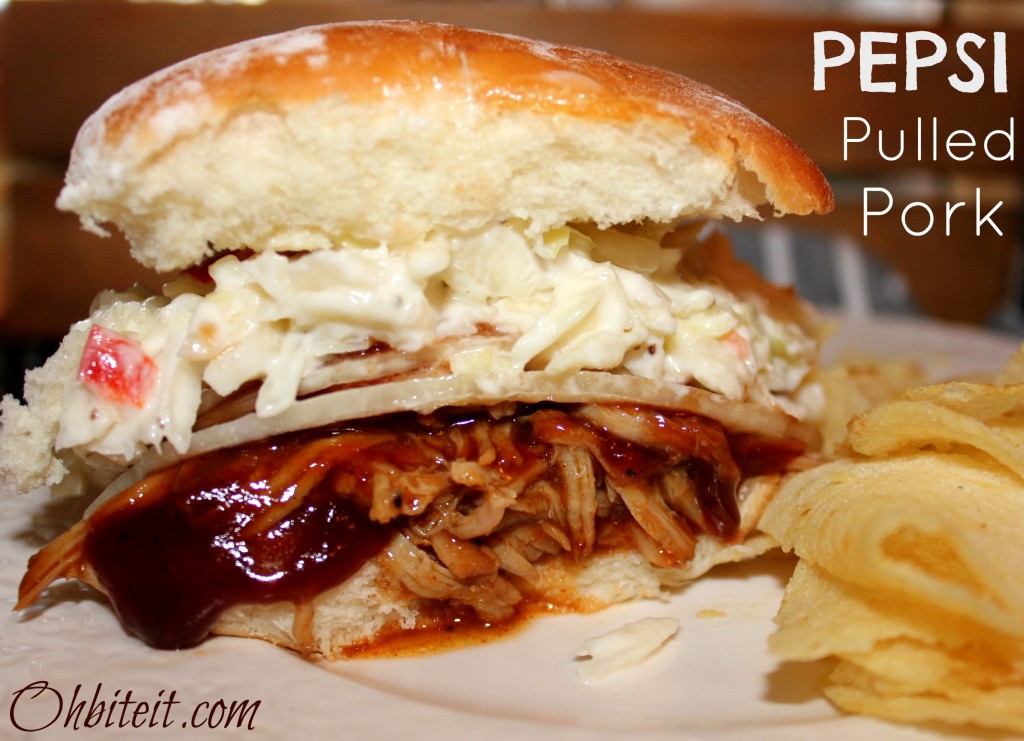 I'm fairly new to the world of pulled pork..but so far I love it!  First of all, who knew that it could be SO affordable to make this much food?  I didn't!  Second of all..who knew that it was SO delicious?  Apparently everyone but me..lol!  Until now! 🙂
This recipe is even that much greater because the Crock-pot does all the work..it's ready and waiting for hungry hands and mouths!  The perfect no fuss, make-ahead meal!
I seriously think that using Pepsi to make a BBQ sauce is almost better than pouring it into a tall glass and guzzling it down!  The way it thickens up and compliments the succulent meat is incredible!  It must tenderize it as well..because it literally melts in your mouth!  The crock pot & the Pepsi will do all of the work for you..how great is that?
Once the Pepsi is reduced with the spices, it becomes this thick, sweet & amazing sauce that takes each bite over the top!  The subtle sweet & slightly spicy sauce balances out the richness of the pork.  Pile it up nice and high onto a soft Potato Roll to soak up all of those golden juices! It'll leave everyone wondering..hmm, what is that amazing flavor in the sauce?!  Shh..it can be our secret..lol!  🙂
What you'll need for the Pork: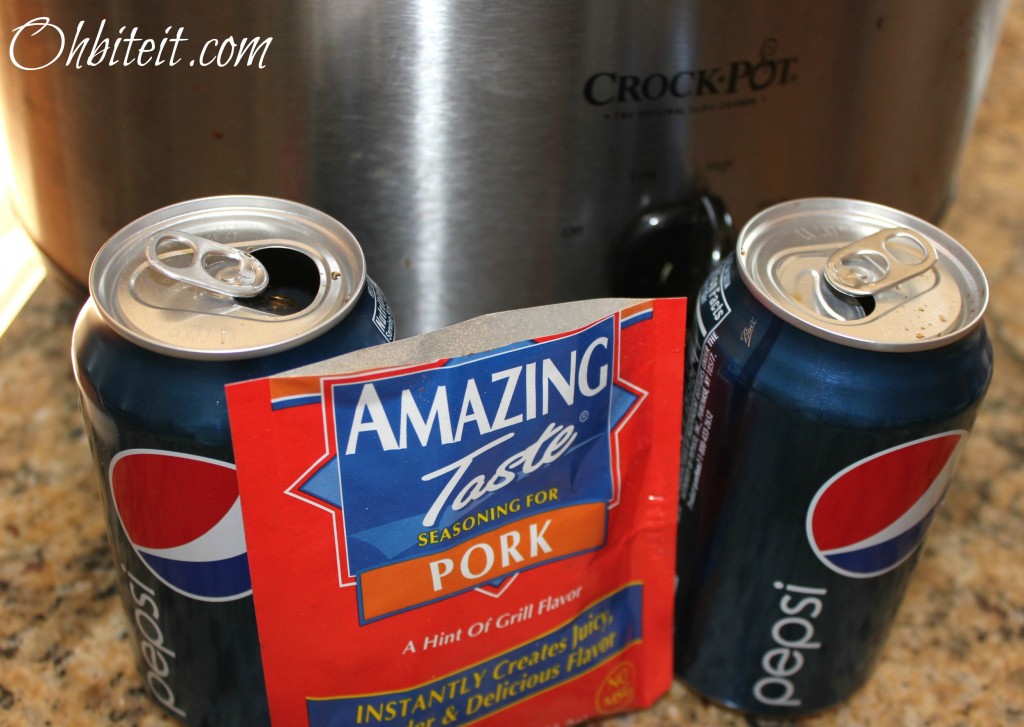 1 Pork Shoulder..any weight
2 Cans of Pepsi
1 Packet of Poultry/Pork Seasoning
Potato Rolls..or your fave rolls! (not shown)
Cole Slaw
Thinly sliced Onions
Directions:
Add the 2 cans of Pepsi and the seasoning packet into the Crock Pot (Stove top will work, but it will require attention)..on high for about 4-6 hours.  Baste it occasionally to keep it all moist!
It's done when the meat is falling apart with a fork.  With two forks, shred it all up..just fork it!  🙂
Transfer all of the Crock Pot juices into a medium sauce pot and simmer them until the sauce is a dark amber color & super thick!  I never knew that Pepsi could be this amazing…l
The Pepsi Sauce:  Simmer the juices with: 1 tbsp. Ketchup, 1 tbsp. Chile Powder, 1 tbsp. Steak Sauce, 1 tbsp. Corn Starch, S&P to taste (and any other spices you like)  Be patient, it will get thick!  🙂
Let the sauce cool slightly and add in some of the Pulled Pork, coat it all evenly!  Build a giant sammy with some slaw & onions, or simply dig in with a fork! Either way, it's a first class ticket to a luscious & saucy Pepsi Pulled Pork Paradise!  ~Enjoy!  🙂