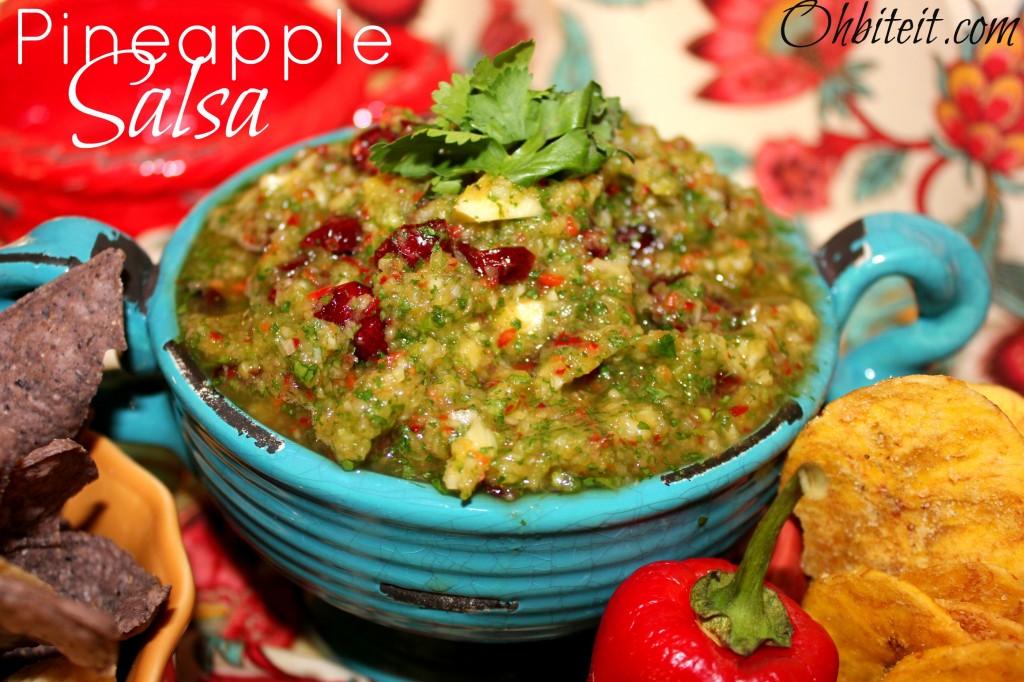 Well Summer has arrived, and here comes another salsa recipe..I just can't help myself!  🙂  Because I'm about to unleash one of the very BEST, most refreshing, totally unique salsas I've ever had!  And remember, I live in NM, where salsa is everywhere, so I'm pretty much an expert..lol!  I mean, you can get salsa at the gas station here if you want to.  And not just inside the gas station,…but it's literally sold out of a creepy van car in the gas station parking lot too..haha!  That's New Mexico for ya!  🙂
And how cute is it, that the Pineapple is totally it's own bowl?!  We know what that means..less dirty dishes!  🙂
But, let's face it, no matter how good something is, or how much we love it..variety is always fun!  I really wanted  to create a new fun and fruity salsa that offers sweet spice and cool crisp flavors!  I think I totally nailed it!  The refreshing Pineapple is perfectly balanced by the spicy peppers.  Then there's the sweet pop of the dried cherries that plump up in the salsa, they add such an amazing juicy & chewy texture!
However..if you're not going to gobble up every last drop right away, use an adorable glass bowl to serve it in!  The Pineapple will become soggy & sad after a while..poor thing!
So give this a try if you're looking for a summery, light & refreshing sweet change of salsa pace!  Not to mention, it's so beautiful and full of bright vibrant colors!   Add a tropical twist to your Turkey Burger, or even your favorite fish..YUM!  But be careful, because serving it with these Salty Plantain Chips is a blessing and a curse…no one could stop eating it!  I highly recommend finding some Salty Plantain Chips ASAP (TJ Maxx/Marshals..less than $3/bag)  😉
What you'll need:
1 fresh whole Pineapple
3 green Jalapenos & 3 red Jalapenos (to taste)
1/4 of a purple/red onion
1 cup of dried cherries/Craisins
1 bunch of Cilantro
The zest of one Orange
Your fave chips..and some Salty Plantains!
Directions:
Slice the pineapple down the center and scoop out all of the fruit, leaving a half inch border (If you want to use it as a bowl)
Take all the seeds out of the Jalapenos, and add them into the food processor with the pineapple, onion, cilantro & orange zest.  Blend it up!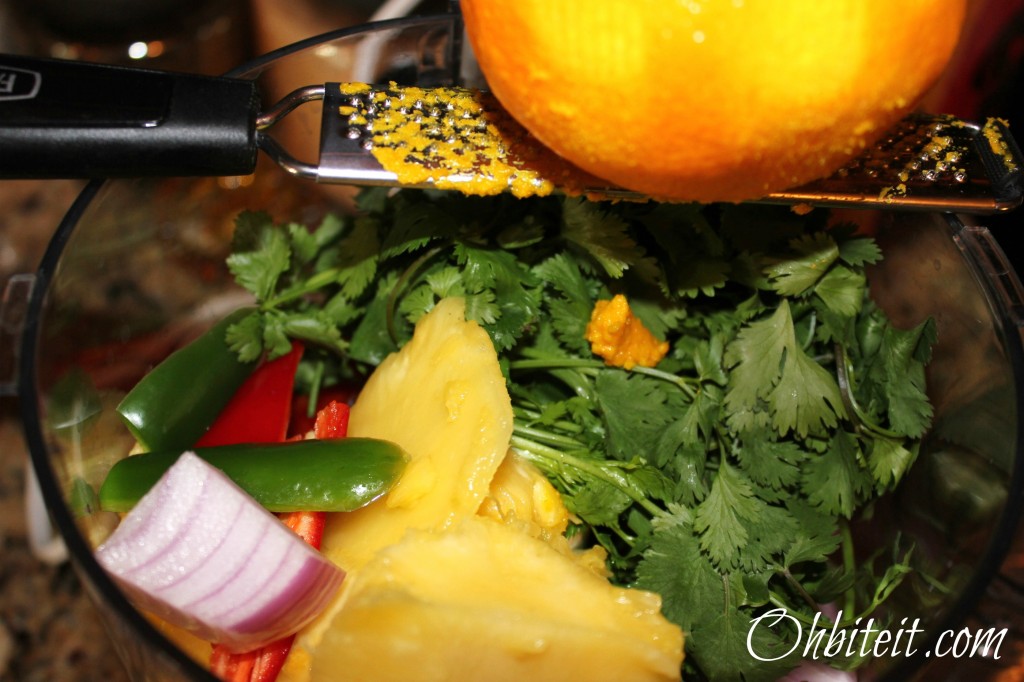 Transfer the salsa to your serving bowl and stir in the Dried Cherries.  It's the plump burst of those cherries that really makes this salsa special!
Grab a handful of Plantain Chips & dig in!  ~Enjoy!  🙂