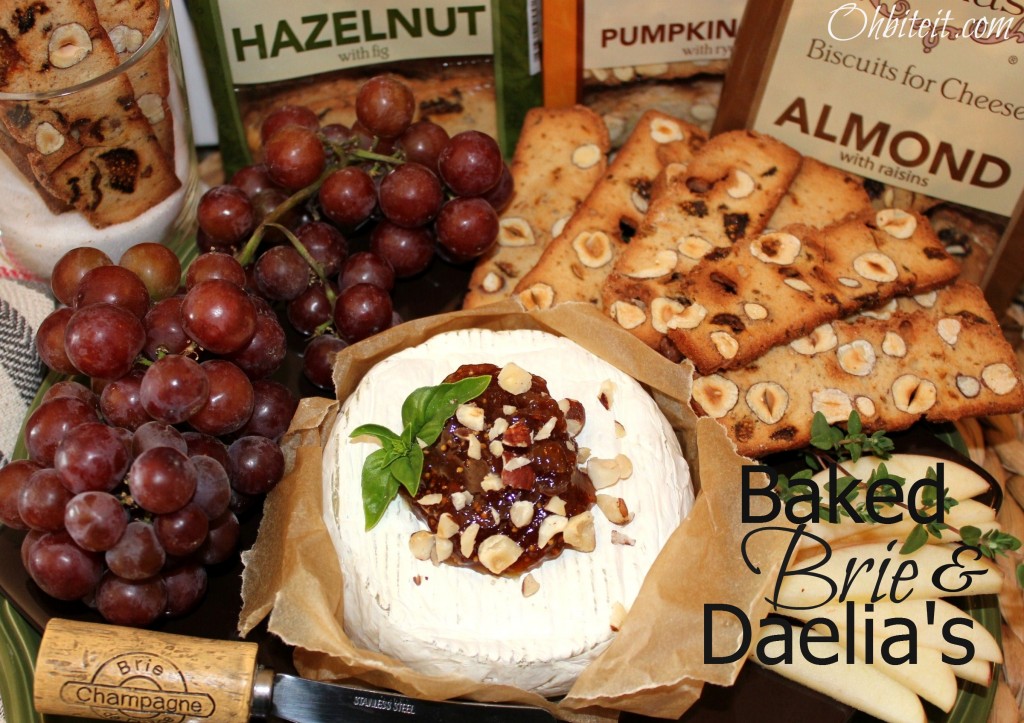 When Daelia's Biscuits for Cheese contacted me and offered me a chance to review their product, I go SO excited!  As soon as I realized that their delicious biscuits are made with the sole purpose of being paired with cheese, my mind started pumping out recipes like crazy!  I mean, how amazing is it, that a biscuit is dedicated to cheese?  Finally cheese gets its chance to be a front & center player on the plate..and not just a delicious side-liner!  🙂
A couple of runner up recipes that I thought of were,  a "Melty Apple-Swiss Bruschetta" on Daelia's Pumpkin Seed with Rye Biscuits, and maybe a "White Wine & Cheddar Fondue" using Daelia's Almond with Raisin Biscuits for dipping..YUM!  But for me there was only one clear cheese winner…Brie!  The king of all cheeses, in my opinion!   I just adore Brie, and if I'm given a chance to create with it..I take it!  🙂
So Baked Brie with Fig & Hazelnut Jam was created!  The perfect biscuit paring for this amazing hot & gooey cheese, is of course, 'Daelia's Hazelnut with Fig Biscuits'!  And a nice glass of wine!!  🙂
First of all, the size and shape of these crispy biscuits are almost custom made for topping, dipping & dunking!  I was pleasantly surprised at how thin, lite and crisp they are, yet they're still filled with intense flavor, crunch and a unique chew!  I think I can easily use these biscuits as spoon replacements from now on!  🙂
They offer the perfectly sturdy 'hand-to-mouth' snack experience, with no awkward fumbling or crumbly breakage at all!  And the flavors are incredible!  With each toasty bite, you really taste every fresh ingredient that each biscuit offers.  The way that they compliment the cheese is perfection!  Hold one up to the light…they're gorgeous too! 🙂
What you'll need: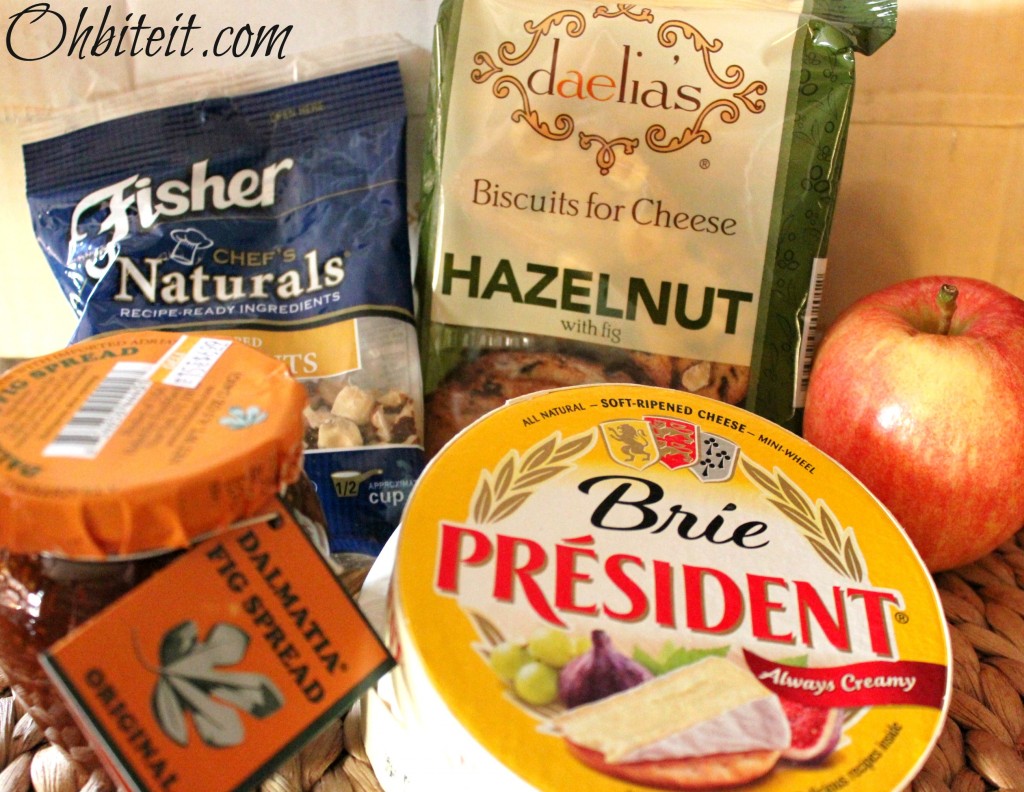 Daelia's Biscuits For Cheese (Sold at Whole Foods..OR you can win some here!)
An 8 oz.  wheel of Brie
Fig Jam (store bought, or homemade)
Toasted & Chopped Hazelnuts
Parchment Paper
Fruits and dippers of your choice..Apples, Grapes..etc.
Directions:
Simply cut some Parchment Paper into a square, big enough to completely wrap the Brie.
Place the Brie, top side down in the center of the square and wrap it up!
Bake with the folded sides down, on a sheet pan, at 350, until hot & soft, it took about 12-15 minutes for my sized Brie!
While it's warm, slice open the Paper and top the Brie with the Fig Jam and a sprinkling of the Hazelnuts!  Removing the rind is optional!  🙂
Grab a Daelia's Biscuit and dig down deep, into warm, gooey, Brie & Biscuit heaven!  ~Enjoy!  🙂
And now for the giveaway!  ALL of this deliciousness can be yours…
Daelia's was not only super generous in providing me with an amazing supply of their biscuits..they're also going to share a carton full of them with one lucky 'Oh, Bite It' reader as well! WOO HOO!  You will LOVE them..I promise!  What a great treat to have on hand throughout the summer, when you need some lite and satisfying snack quickies! Each pack is loaded with tons of gorgeous & scrumptious biscuits! 🙂
Here's all you need to do for a chance to have a huge box of assorted "Daelia's Biscuits for Cheese" ring your doorbell:
1.  Become a facebook fan of "Oh, Bite It" if you're not already..right here: Oh, Bite It
2.  Share this post on at least one (or more) social networks of your choice..
3.  Like "Daelia's Biscuits For Cheese on facebook..right here: Daelia's 
AND/OR follow them on Twitter: @DaeliasBiscuits
MAKE SURE TO COMMENT ON THIS POST SO WE KNOW YOU'VE ENTERED!
This giveaway closes at Midnight Sunday June 10th, 2012!
The winner will randomly be chosen and notified on Monday June 11, 2012.
~GOOD LUCK! 🙂