Oh, what a refreshing change it would be if just once..ONCE, a fabulous salad recipe would pop into my head at 2am and wake me up.  I'd fumble around for my "sleepy-time recipe note pad" (don't ask..haha), and jot down a long list of healthy ingredients for the next day's blog prep..lol! But as long as there's such a thing as over the top, sugar filled, sinful treats, I really don't see that ever happening!  Visions of lettuce just refuse to dance around in my head at night.  However, visions of thick, gooey caramel, gently smushed between 2 layers of the most incredibly soft & chewy Blondie will wake me up out of  a coma even the deepest of sleep!
First of all, let's admit that those Caramello candy bars are seriously one of the all time BESTEST candy bars ever?!   If you don't agree, it's only because you've forgotten all about how fabulous they are.
Here's a gooey Caramelly reminder..you're welcome! 😉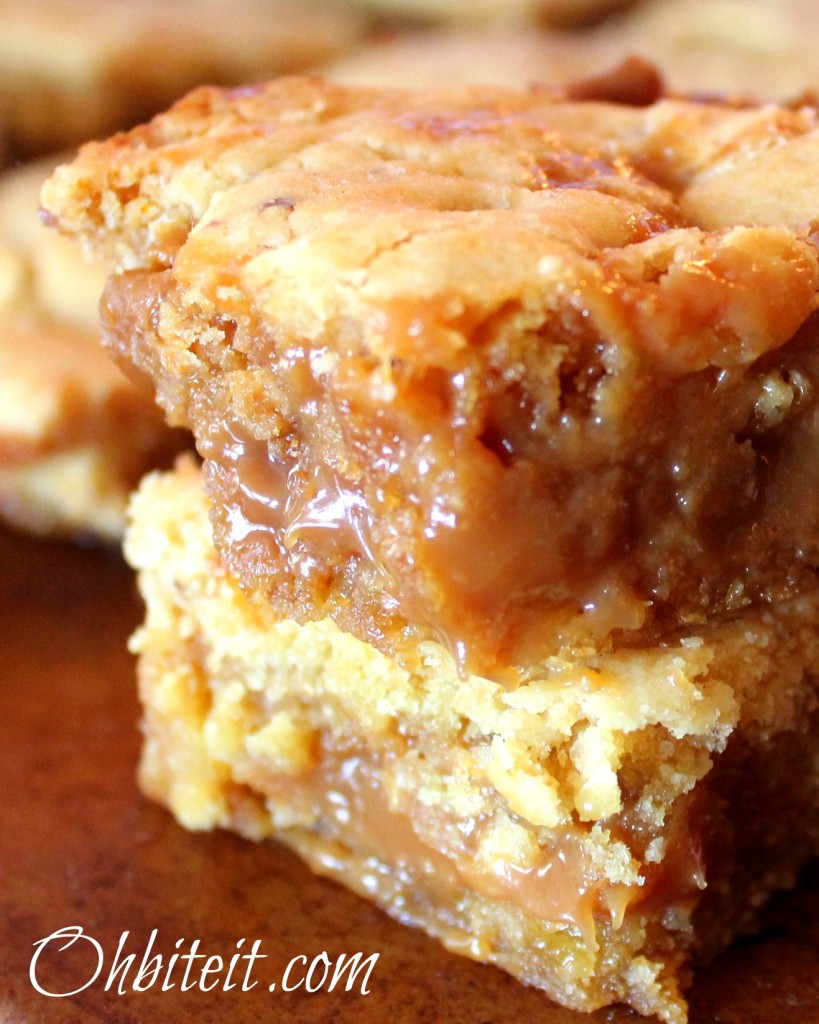 I used the amazing Caramello as my inspiration for these Blondies!  I recreated the sticky pull of that thick, melt in your mouth Caramel, and lovingly sandwiched it between 2 warm layers of To. Die. For. Blondies!  You'll be in sweet treat, caramel, blondie heaven!  In fact, before you take a bite, make sure your mom isn't close by, because you just might slap her, they're that good..lol!  🙂
What you'll need:
1 Box of Yellow Cake Mix (18 oz)
60 individually wrapped KRAFT Caramels..a full bag plus 10, I think!!
1 cup finely chopped Pecans
1/2 cup white Chocolate Chips
1/2 cup of butter…melted
1/3 cup Evaporated Milk
1/2 cup Evaporated Milk (additional)
1/4 cup Powdered Sugar..for dusting
Caramello Candy Bars for garnish..optional
A square 9×9 baking pan.
Directions:
In a medium bowl combine the cake mix, Pecans, Butter, White choc. chips, and 1/3 cup of Evaporated Milk..mix well!
It will be a very thick dough!
Spray the baking pan with non-stick spray!
Split the dough in half and press one half evenly down into the baking pan.
Bake it at 350 for about 8-10 minutes.
While that's baking, melt the caramels in a double boiler with the 1/2 cup of Evaporated Milk.
Stir to keep it melting evenly, it's done when it's smooth and amazing!
Pour the caramel onto the bottom Blondie layer…set aside.
Now, take the other half of the dough and form  it into a sort of square-ish shape.  I used some flour and a rolling pin to help me!  Use parchment paper under the dough, so  it's easier to lift onto the Caramel layer.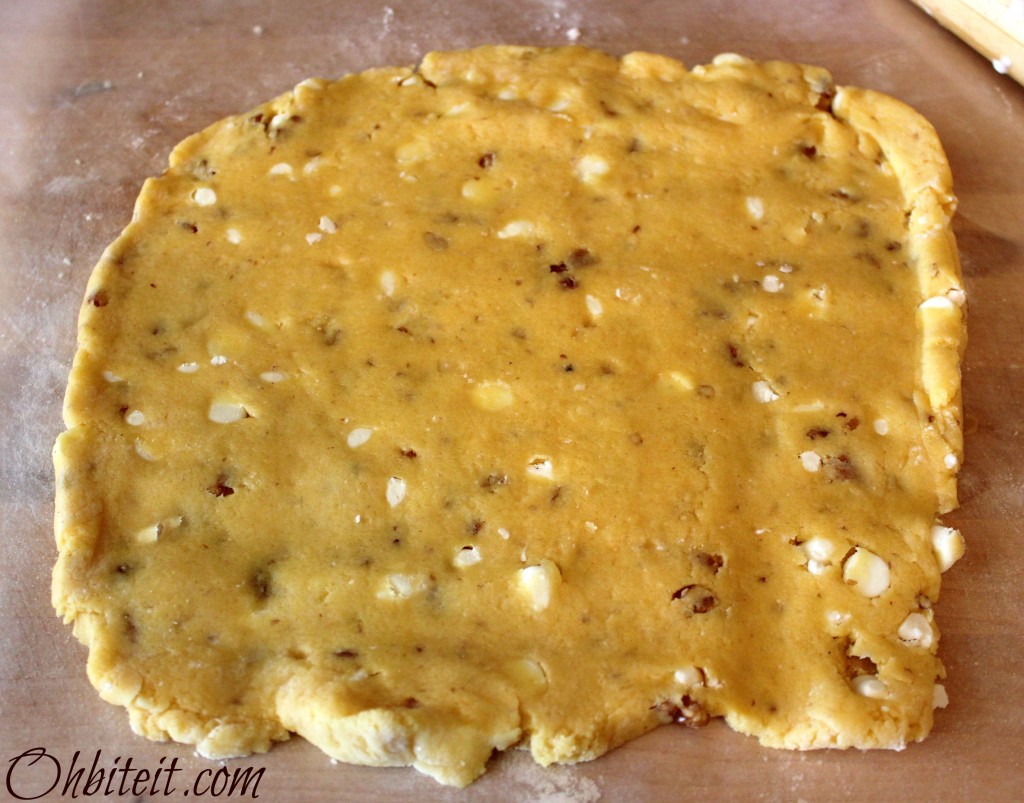 Place the dough on top of the caramel.  It's ok if it doesn't totally cover the top..it will expand as it bakes!  Bake it at 350 for about 20 minutes, or until slightly golden and firm.
Let it cool, and put it in the fridge for about 1-2 hours to set up!
Then you can easily cut into it & plate up a nice big portion!  Top each serving with a Caramello, just for fun!
Have yourself a bite of the ooey-est, gooey-est, caramelly-est Blondie ever..a Caramello Blondie!  ~Enjoy! 🙂
PS..remember to enter for a chance to win a variety 4 pack, of amazing PB Crave Peanut Butter, contest is open until Sunday, June 24, 2012 at Midnight!  🙂