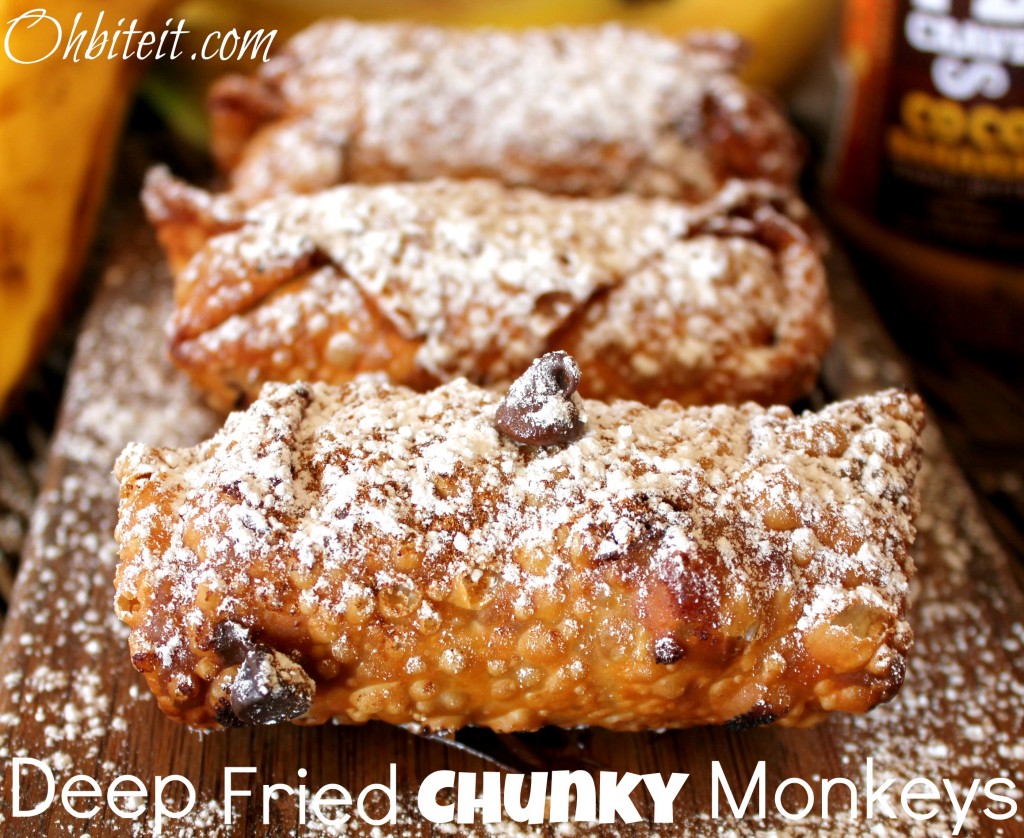 I'm a new fan of all things Chunky Monkey!  Somehow I've managed to  make it my entire life never actually tasting anything with that exact amazing combo.  And that's probably a good thing, because had I discovered it any earlier in life, I'd be wedged between my doorway right about now..waiting on a forklift removal..LOL!  🙂
Dang, is that a winning mix of flavors or what?!  The only thing that might improve the Chunky Monkey experience would be to …{wait for it}……………….fry it up!  I know you're all shocked!  Yeah, I'm pretty much obsessed with crunchy exteriors.  Especially, when inside that crispy crust waits a warm Banana totally dripping in PB Crave  CoCo Bananas Peanut Butter, Crunchy Walnuts, Chocolate Chips and gooey Caramel ..wipe your chin!  🙂
What you'll need:
Large Won-ton/Egg Roll Wrappers..one per each Monkey
Bananas….cut in half, one half per each Monkey
PB CRAVE CoCo Bananas Peanut Butter (or whatever you have)….2 Tbsp. per each Monkey
Chocolate Chips..one tsp. per each Monkey
Chopped Walnuts..a sprinkling per each Monkey
Caramel Sauce..one drizzle per each Monkey
Oil for frying
Powdered Sugar for dusting
Someone who loves you to keep you from eating every last one!  🙂
Directions:
In a medium pot start heating up the oil..about 3″ high, make sure there's room for the oil to bubble up without going over!
Take an Egg Roll wrapper and smear the Peanut butter on it, leaving about a 1/2″ border
Place half a banana at a diagonal on top of the Peanut butter
Sprinkle it with some Chocolate Chips and Walnuts, and a drizzle of Caramel Sauce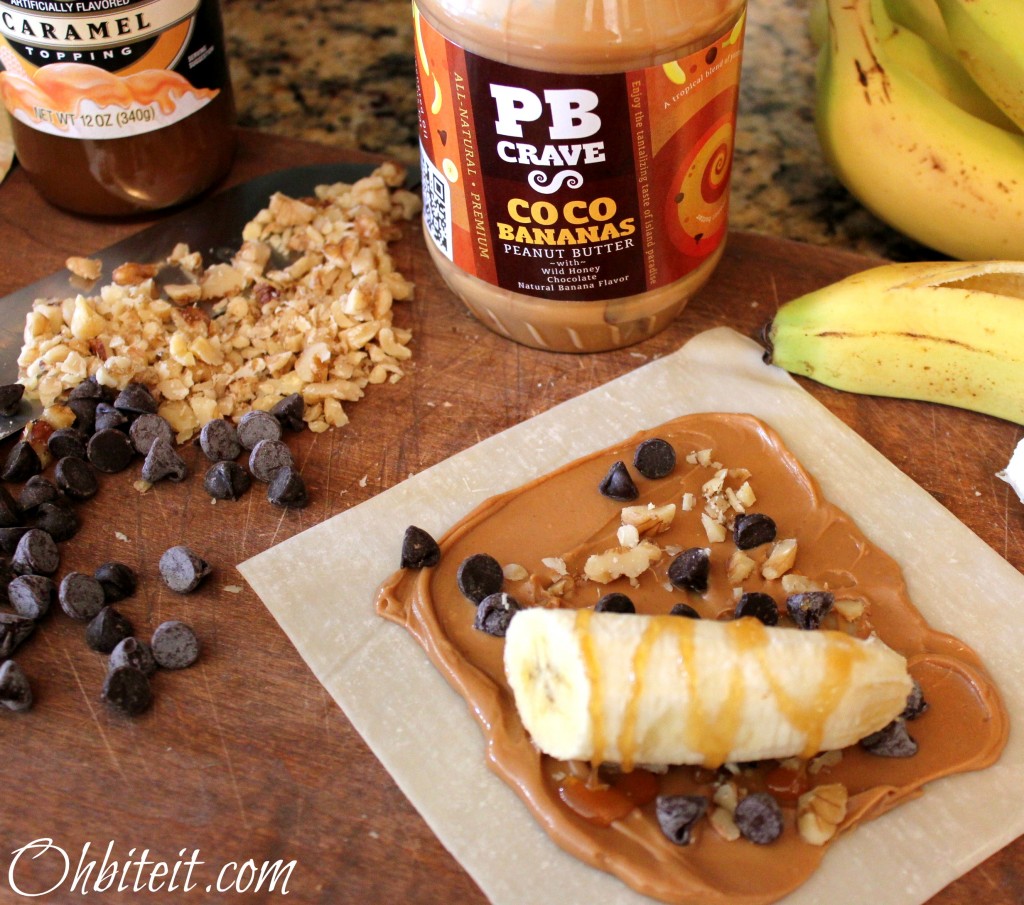 Moisten the edges with water and roll it up, tucking in the sides and making sure it's sealed very well!
Fry them up until golden and crispy..roll them around with some Chop Sticks to gently give them an even tan!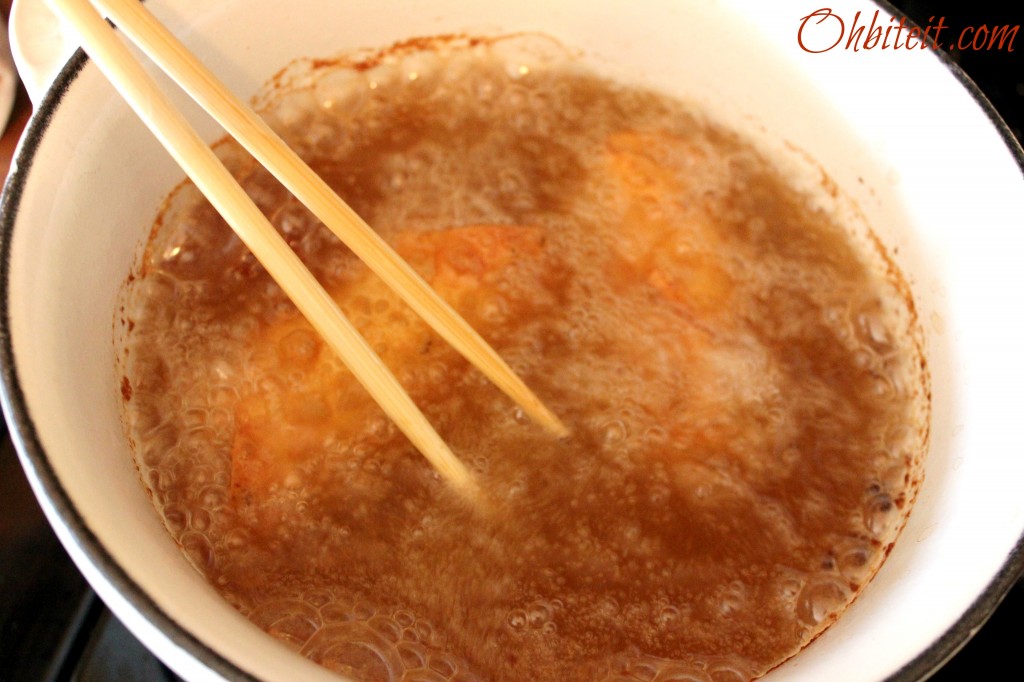 Dust them with some Powdered Sugar and serve them warm!  ~Enjoy!  🙂
And now for the BEST part!!  The GIVEAWAY!!!  This isn't just any giveaway..but the most amazing, fresh & creamy Peanut Butter I've ever had!  And it can all be yours!  🙂
What a variety..just check out these incredible flavors!  I totally plan on having tons of fun with these, and you can too!  PB Crave has been generous enough to offer an amazing 4 pack of their Peanut Butter delivered to one lucky "Oh, Bite It" reader..it can be YOU (as long as you live in the lower 48 states)!   All you need to do is:
1.  SHARE THIS POST..any Social Network is fine..but share you must! 🙂
2.  LIKE PB Crave on facebook..here–> PB Crave
3.  Follow PB Crave on Twitter..here–> PB Crave
4. Leave a comment below so we know that you've fulfilled your duties..haha!
Contest ends at Midnight on Sunday June 24th..2012!  Winner will be notified the next day!  ~Good Luck!  🙂 *CLOSED!*