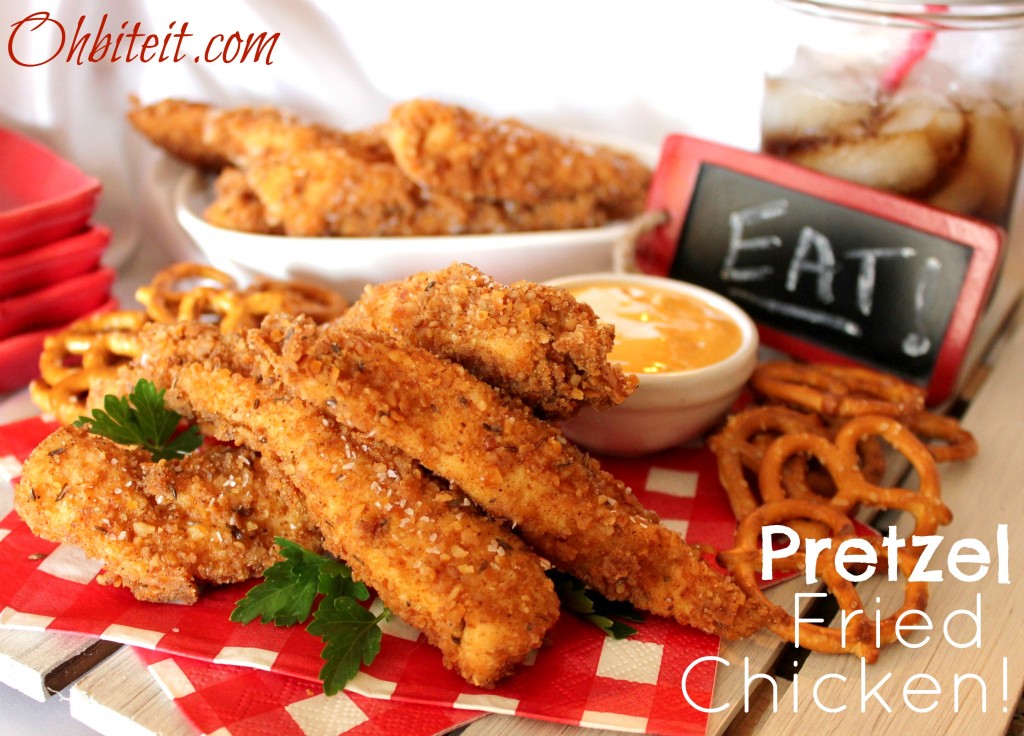 Wait..wait, don't go anywhere..you don't have to fry it, you can totally bake this Chicken!   And you don't have to dip it into warm & spicy Queso Cheese Dip, you can eat them dry..lol!  😉 No worries!  But, if you're willing to indulge, you'll never have such a fantastic & unique way to serve and enjoy fried chicken!
Trust me, I'm no stranger to crazy fun and interesting chicken ideas.  There was this and this oh..and this!  But, I really think that this Pretzel Fried Chicken is my favorite so far!
This time I actually created Pretzel Flour/Meal/Crumbs.. and what an amazing, all-purpose, delicious addition to food it is!  I can't wait to use it in all kind of things!  🙂
Not only did it make for a crispy, moist & incredibly flavorful chicken, but it's potential uses are endless!  It crisps up and becomes this golden, amazingly nutty & super crunchy coating!  The perfect use-up for those neglected Pretzels!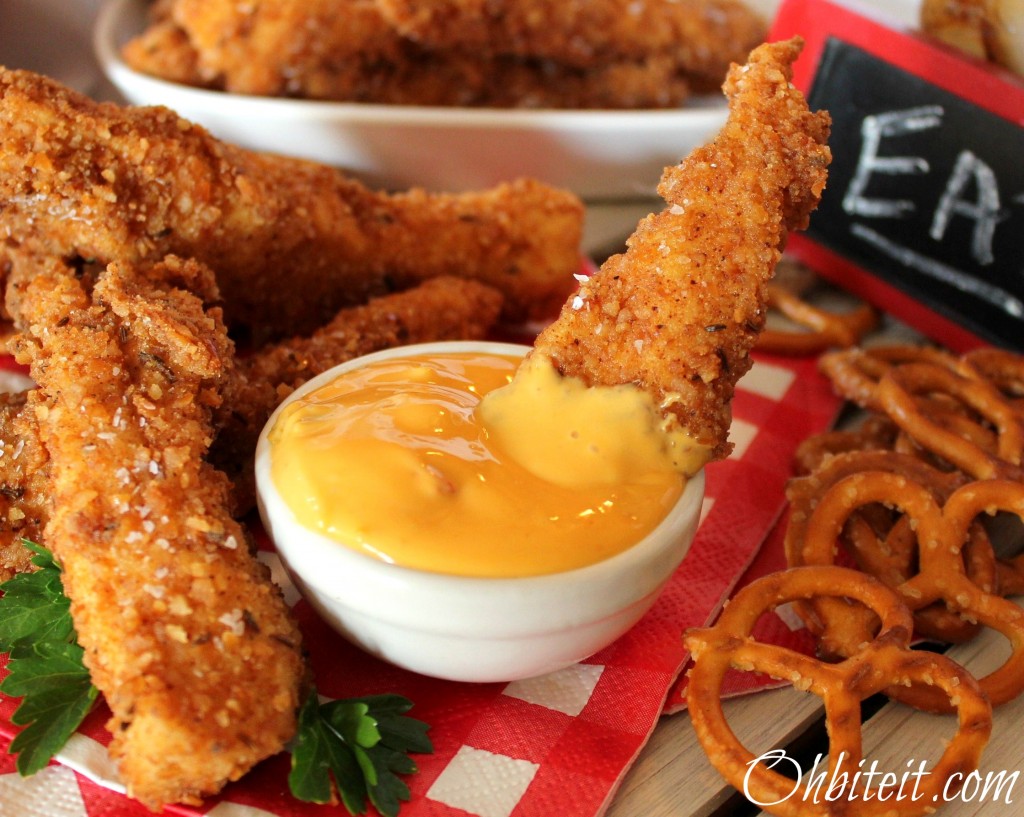 If you're feeling thin, make sure and plunge them deep into a puddle of hot and cheesy Queso!!  If you're not feeling thin, then it won't change anything..dip away! ,,like what I did there?  Haha! 😉
What you'll need:
1 lb of Boneless/Skinless Chicken Breast
3 cups of oil..for frying
2 Cups of ground up Pretzels
1 jar of Cheese Dip..any brand
2 eggs (not shown)
1/8 cup Buttermilk (not shown)
1 tsp. Caraway Seeds
1tsp. Cumin
1tsp. Chile Powder
S&P to taste
A food processor..or lots of anger and a rolling pin!  🙂
Directions:
Process the Pretzels with the Cumin, Caraway Seeds & Chile Powder..grind 'em all up good!
Create a 'breading station"..
Bowl one:  Eggs, Buttermilk, S&P, mixed well..
Bowl two:  The Pretzel Crumbs
Cut the chicken into approx. 1″ strips..
Dip each strip into the egg and then coat them well with the Pretzel Crumbs
You can bake them on a sheet pan at 350 until golden and cooked through…OR>
Fry them up in the hot oil until they're golden and crispy!
Drain them, salt them…dip them deep into some Cheesy Queso!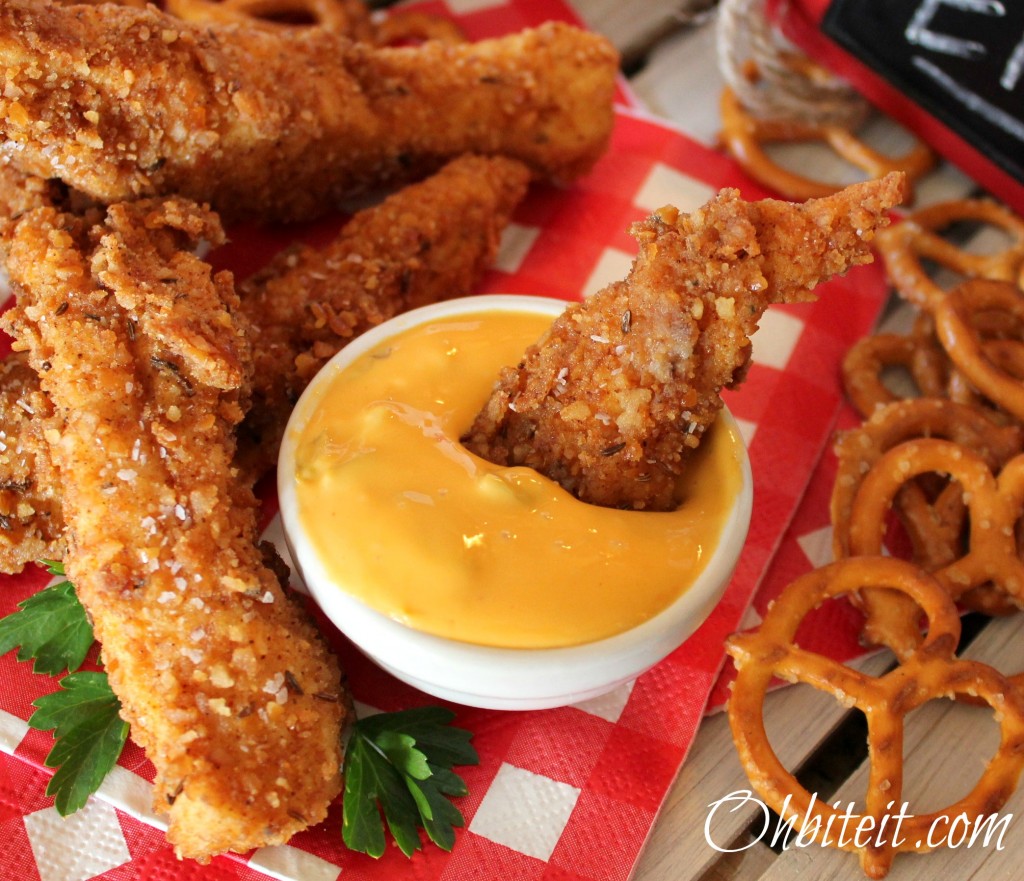 Eat them!  ~Enjoy!  🙂