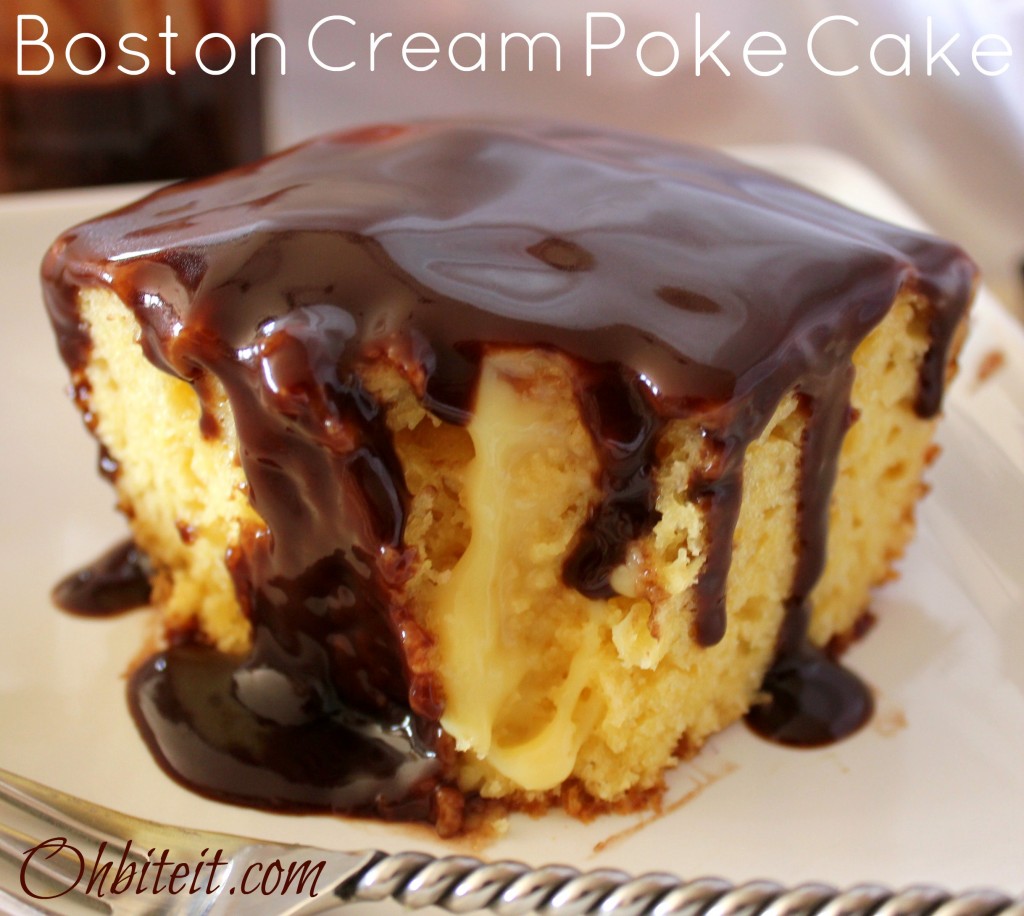 Holy Cow, how crazy good is anything 'Boston Cream'?  I mean, Creamy Custard & Chocolate Ganache..really?!!  That right there is a combination of awesome and more awesome!  The only thing that could possibly make it any better, is this dumbed down recipe I've created for people like me, who wouldn't know how to make a 'Pastry Cream' from scratch, if their life depended on it..lol!
In fact, the only 'Ganache' I've ever made (and by made I mean purchased), came out of a jar labeled "Fudge Sauce"!  So figuring out how to duplicate this classic was a happy day for me! 🙂
One decadent bite, and you'll never believe that this is a 'shortcut' recipe, and neither will anyone else..so shhh!  As far as anyone knows, you've been in the kitchen all day mixing your Pastry Cream and juggling a double boiler for your Ganache!  In fact, might as well get the husband to do the dishes..because you'll be "exhausted!"  HAHA!  😉
What you'll need: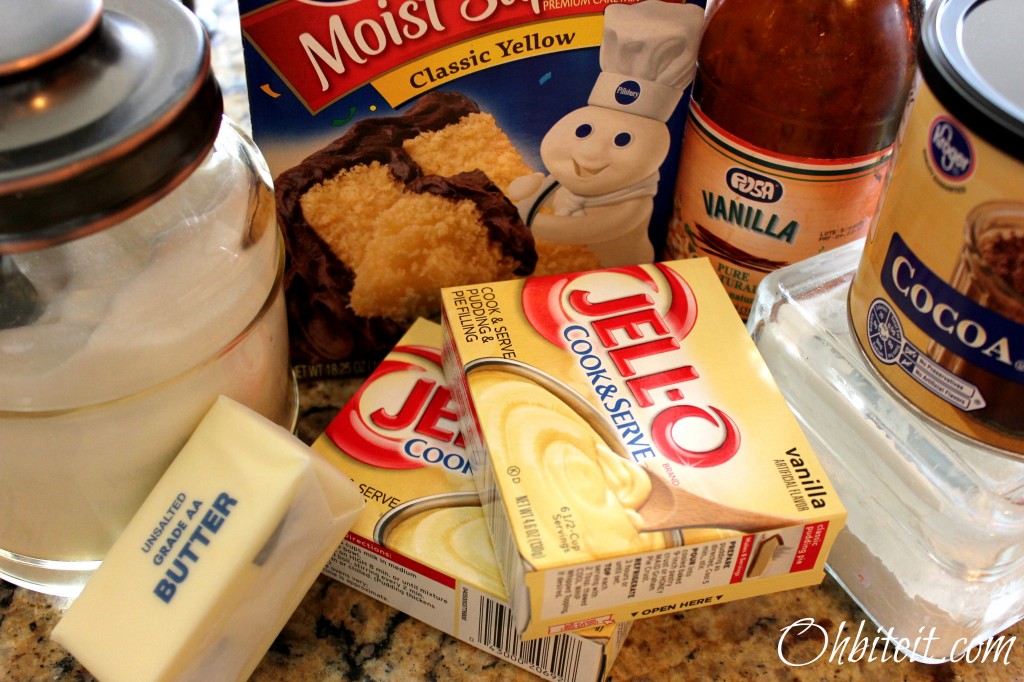 1 Box of Yellow Cake Mix
2 Boxes of JELLO Vanilla Pudding..You could get by with just one, I had leftover Pudding!
A square 9×9 baking dish
For the 'Ganache':
1 1/2 Cups Sugar
3 tbsp. Cornstarch
4 1/2 tbsp. Cocoa
1 1/2 Cups Boiling Water
1 tsp. Vanilla
1 tbsp. Butter
A Microwave..yep!  🙂
Directions:
Mix the cake batter as directed on the box
Bake it until it's done..set aside to cool!
Make the 'Ganache':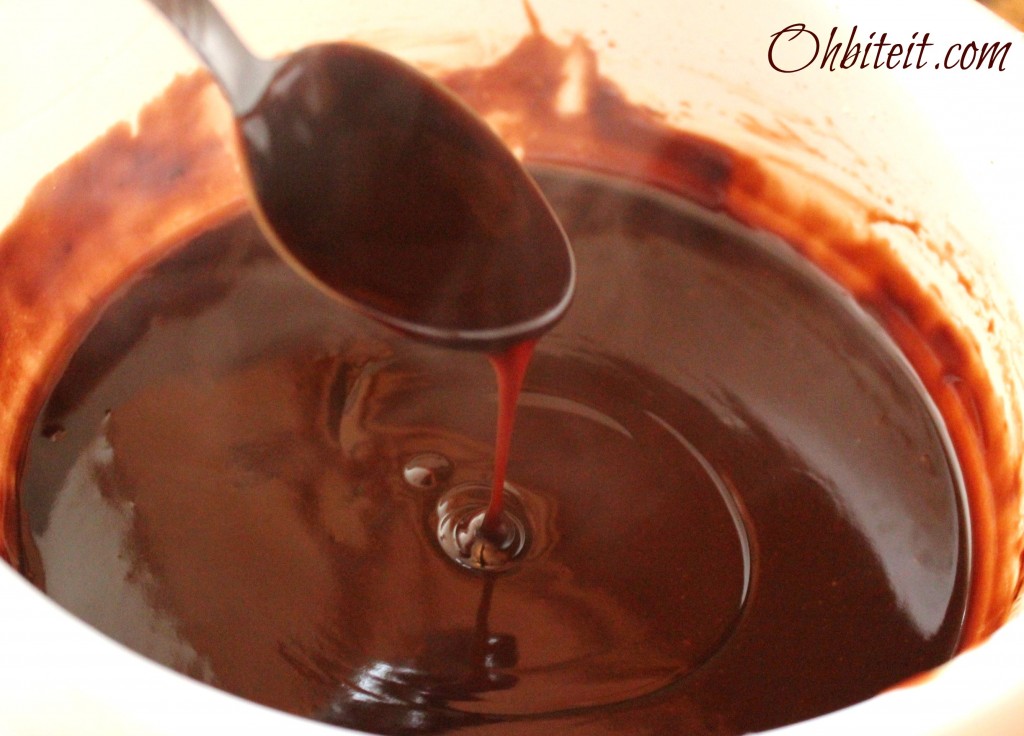 Combine the sugar, cornstarch, cocoa and boiling water in a large microwave (yep Microwave) safe bowl, mixing well to combine.  Microwave on high for 3-4 minutes, stirring occasionally.  The mixture will thicken and rise..it will become almost pudding like!
Once the mixture has thickened, remove it from the microwave, stir in the vanilla & butter.  Allow it to cool for a minute or two before applying it to the cake.  Stir the mixture before applying to the cake!
Make the 'Pastry Cream':
Follow the directions on your Pudding box..and remember, one box is plenty..I had leftovers!
Time to get to pokin'!
Poke the cake all over and spoon the thick Vanilla Pudding over the top, getting it deep into those pokes!
Put it into the fridge for about 10 minutes to chillax!
Now cascade that beautiful Ganache all over the Custard filled cake!
This ganache stays kind of wet, so it self-drizzles onto each slice..BONUS!  🙂
Serve up a creamy, chocolaty slice!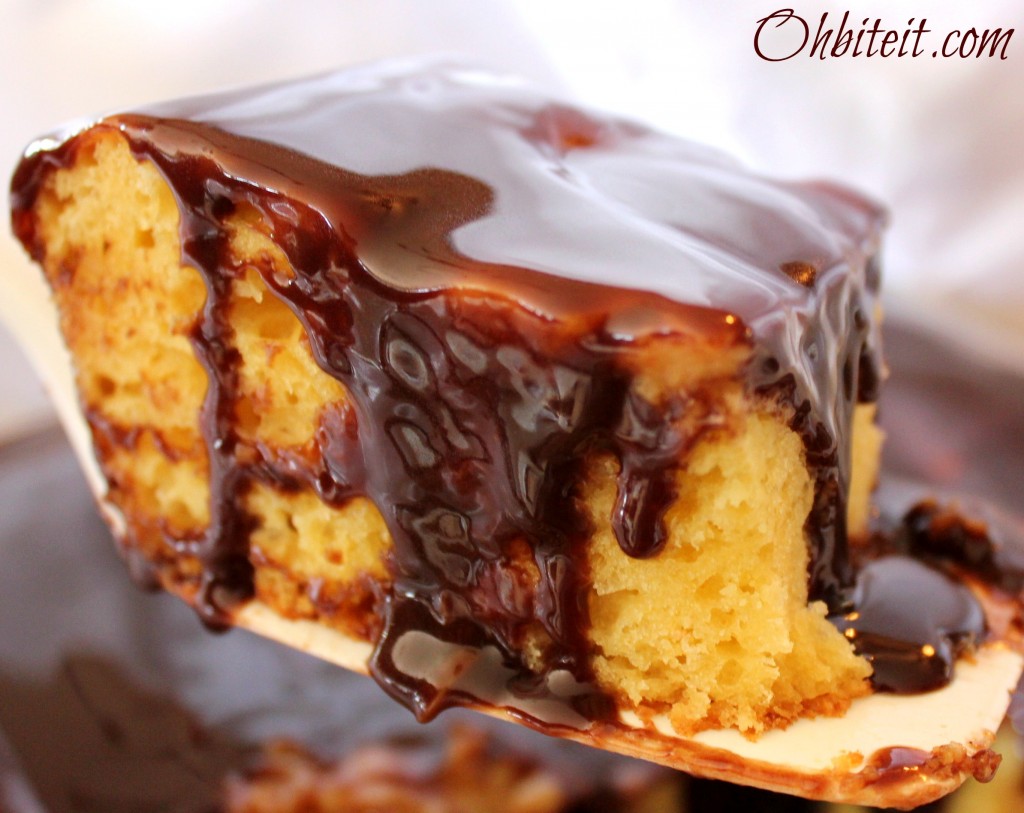 Now have a delicious and decadent bite!  ~Enjoy!  🙂