This isn't Grammy's Pound Cake, nope!  Not that there's anything wrong with that!!  But let's face it, sometimes those recipe classics need a tiny kick in the pants to keep them interesting.  I chose Lemon (lots of Lemon) and Poppy Seeds as my kick in the pants of choice.  And then I kicked it in the pants again with a thick Lemon Poppy Seed Cream Cheese frosting that could serve as crack detox if necessary..LOL!  Heck, if you're feeling a bit lazy, skip the cake all together and simply make the frosting, grab a spoon, close the blinds and call it a day!  🙂
You can even eliminate dirty dishes, and bake that zesty cake directly inside of the Lemon!  It adds an extra Lemon zing, and it's SO pretty too, I think Grammy would be proud!  🙂
Let's not pretend that the name "Pound Cake" isn't horrifying!  I mean, 'Pound' and 'Cake' should NEVER be in the same title!  However, I found a way to take the high calorie stigma out of that title, simply by adding Lemon to the cake!  Yep, Lemon lightens everything up and in my mind literally removes calories..!  Not only that, but these are tiny little personal servings, and duh..when food is tiny, it's not fattening at all!  So between the Lemon & the tiny servings, these are almost diet food..haha!
Now you can have 2 guilt free servings..you're welcome!  😉
What you'll need: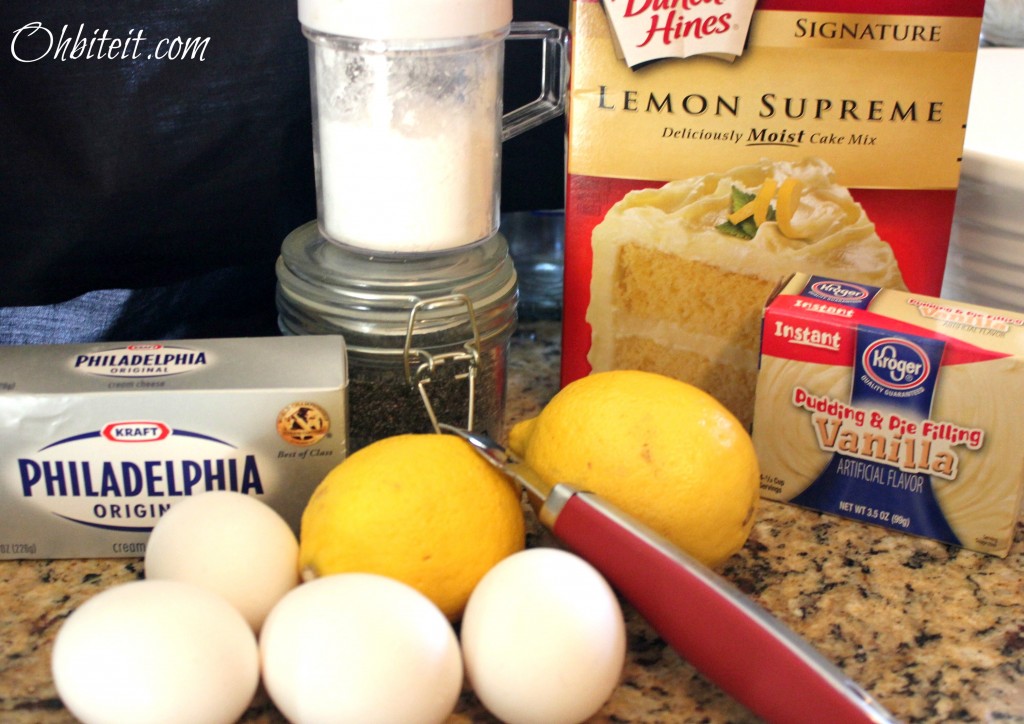 1 Box of lemon cake Mix
1 Packet/Box of Vanilla or Lemon instant Pudding Mix (dry)
4 eggs
1/3 cup of oil ..not shown
2 Lemons (more if you want to hollow them out & use them as Lemon Cups)
1 tbsp. of poppy Seeds (for the cake batter)
1 tsp. of Poppy Seeds (for the frosting)
1 Cup powdered Sugar
4 oz. Cream Cheese
A mini Bundt muffin pan, or any cupcake pan, or you can use the hollowed Lemons!
A food processor/blender
Lots of self control….
Directions:
In a medium bowl add the cake mix, Pudding Mix, eggs, 1 tbsp. of the Poppy Seeds, oil, the juice and zest of 1 lemon and 1 cup of water..mix very well, until smooth!
Fill your cups of choice,  1/3 of the way up with the batter!
Bake at 350 for 12-15 minutes or until fully cooked through!
While they're baking, make the frosting:
In a food processor/blender add the cream cheese, lemon juice and zest, 1 tsp. poppy Seeds and Powdered Sugar.  Pulse until thick and smooth!  ..set it aside!
Once it's all smooth, it will look like this..and yes, you'll want to dive in!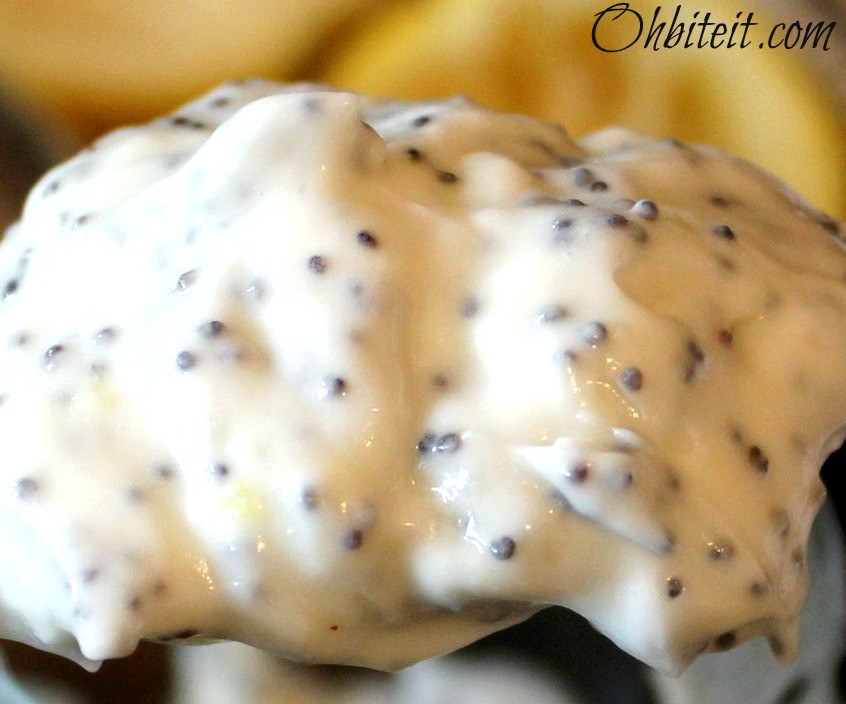 Make sure to hide store the extra frosting in a jar…In the fridge…On the top shelf…Behind the milk, where no one will ever find it but you! 😉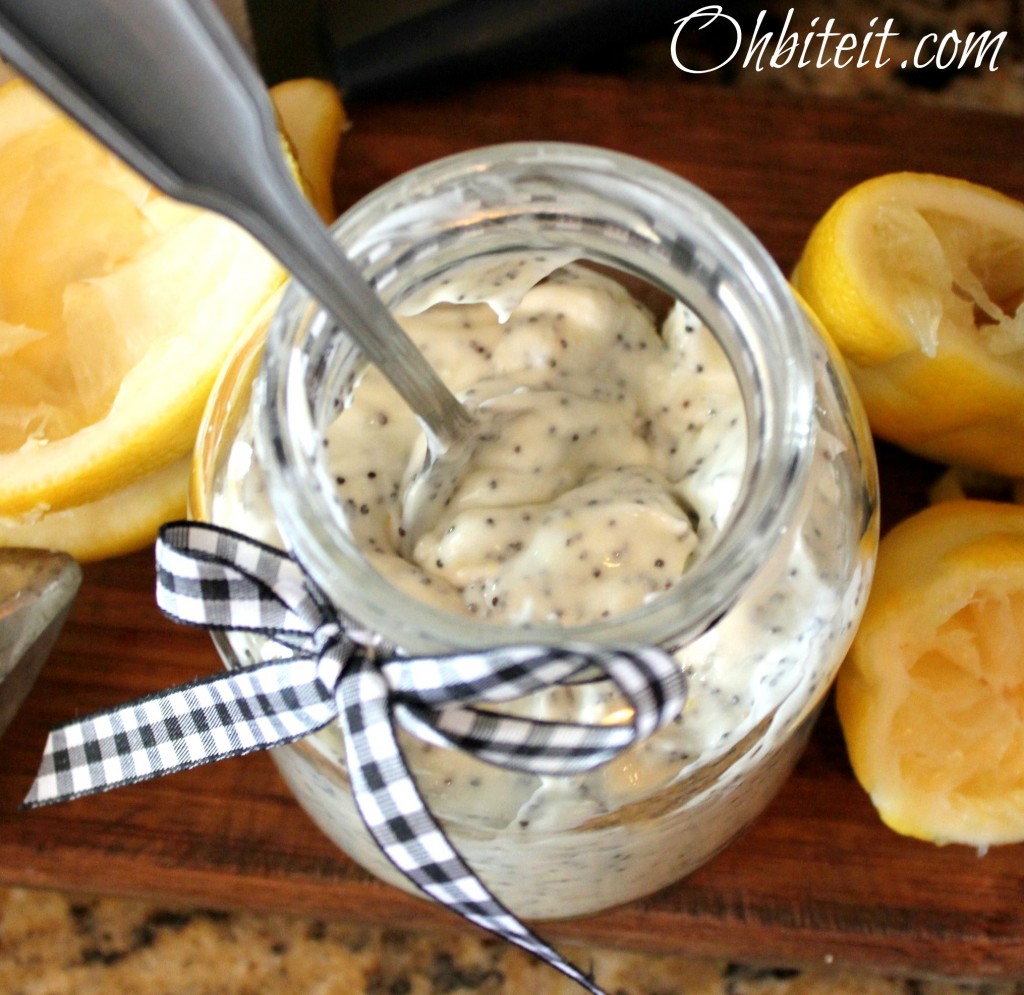 After the cakes have slightly cooled, top them with some frosting!!
Savor each moist, refreshing & sweet bite!
And remember, these are filled with healthy Lemon..you can have 2 servings!  ~Enjoy!  🙂