Finding Mystic Blue Spice Co. is the perfect example of pure cyber-luck in this amazing online universe of ours!  Nothing makes me happier than supporting small batch brands!  Products that are made with time, care and by approachable people that don't need to have a board meeting before they can respond to you..lol!  🙂
Those are usually the best products anyway..as proven here in this recipe!  These Orange Dream Puffs are just that..Dreamy!  Lite and fluffy Angel Food Cake laced with fresh Orange Zest and gently glazed in a drizzle of refreshingly sweet Orange heaven!
These beauties are baked inside of the actual orange for a fresh citrus essence throughout the entire cake.  Not to mention a show-stopping presentation and over the top wow factor!  Made even more special with a sparkly sprinkle of fresh, hand packed, Mystic Blue Spice 'Orange Sugar'!
What you'll need for 4 Dream Puffs:
1 box of Angel Food Cake
3 large Oranges
1 tbsp. Orange Extract (not shown)
2 tbsp. Mystic Blue Spice Orange Sugar..(Orange Zest & Sugar)
1 Cup Powdered Sugar
Directions:
Zest one whole Orange..set the zest aside.  If you'd like a few orange Ribbons, make those as well, with the same orange..then juice that Orange.  Set aside!
In a large bowl, mix up the Angel Food Cake Mix, Orange Extract, half of the Orange Zest and replace some of the water with orange juice.  Making sure to reserve 1/4 cup juice for the glaze!
Mix that gorgeous batter well!  It will fluff up, so light and airy!
Now hollow out the other 2 Oranges, if necessary..slice a flat surface on the bottom of the oranges so they stay level!  Save the actual Orange 'insides' for snackin'!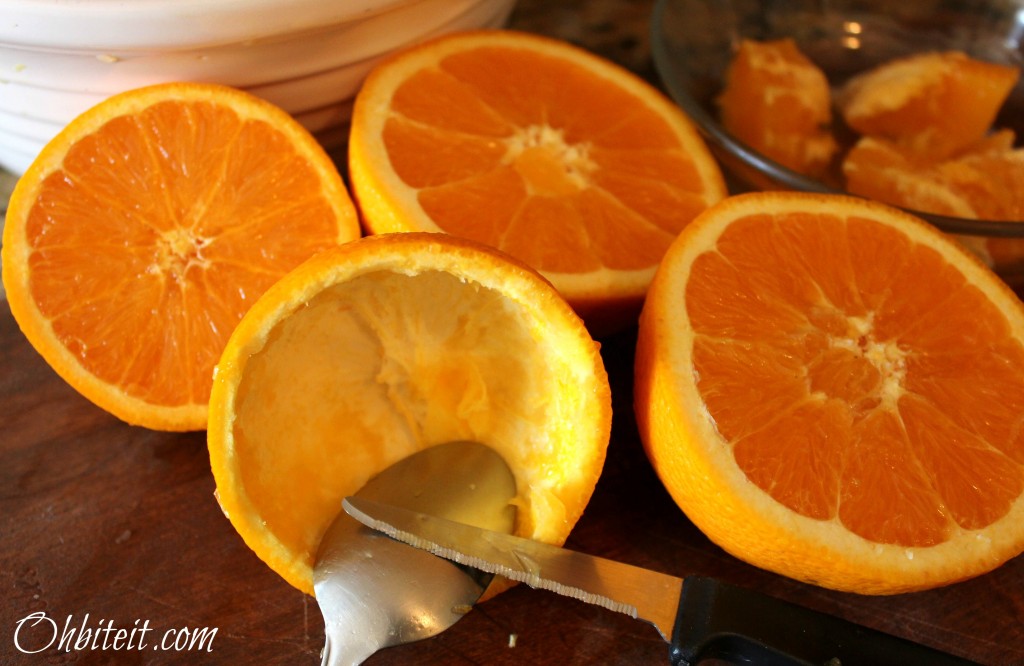 Fill the hollowed oranges 3/4 of the way up with the Angel Food Cake batter.
Bake them at 350 for about 12 minutes..or until they're golden and puffy!  These were not the easiest cakes to make..not gonna lie.  The Angel Food batter kind of has a mind of its own..so just keep an eye on them.  They're totally worth the effort though!  😉
While they're baking..make the Dreamy Glaze!
In a medium bowl add the powdered Sugar with the 1/4 cup of reserved Orange juice and the other half of the Zest!
Let the Dream puffs cool and then drizzle them with some glaze and a sprinkling of Mystic Blue's Orange Sugar!
And sink your fork into the lite and sweet, dreamiest cake bite ever!  ~Enjoy!
Here's how YOU can win your very own Mystic Blue Spice 'Sugars & Spice' pack!  They will come to you in gorgeous Cobalt Blue Jars, presented in their adorable Black Box Collection!
Simply:
1.  Like "Oh, Bite It" on facebook by clicking here—>  I LIKE OH BITE IT!
2.  Like "Mystic Blue Spice Co. on facebook by clicking here—-> I LIKE MYSTIC BLUE SPICE CO.!
3.  Share this post on any social network of your choice!!
4.  Lleave a quick message on Mystic Blue's Timeline , letting them know that "Oh Bite It!" sent you!
5.  Comment below so we know you've fulfilled your duties..haha!
This contest closes at Midnight on Sunday August 5, 2012!
The winner will be notified via email and shout-out on Monday August 6, 2012~
~GOOD LUCK!! 🙂