So, have you started melting yet?  Unless you're in that small, but lucky part of the country that's managed to stay in the chilly 90's, you've probably 'sweated' away at least half of you.  It's been so hot here in NM, that even Ice Cream sounds to thick and heavy to be refreshing!  Clearly, it was time to take matters into my own hands and come up with tasty ways to enjoy umm.. ice!  🙂
Since plain old ice isn't what I would consider yummy,  I've included my favorite summertime fruit..Watermelon!  The combo of icy cold Watermelon shavings with the sweet bite of chocolate chips, balanced by the rich splash of cream is beyond decadent!  Not only is this treat super girly, pink & SO pretty, it's healthy too!  But, in all fairness to the guys out there, I "manned" it up with some dark mini chocolate chips and a splash of cream, you know, just to make sure it wasn't toooo pink and pretty!  I'm so nice like that..haha! 🙂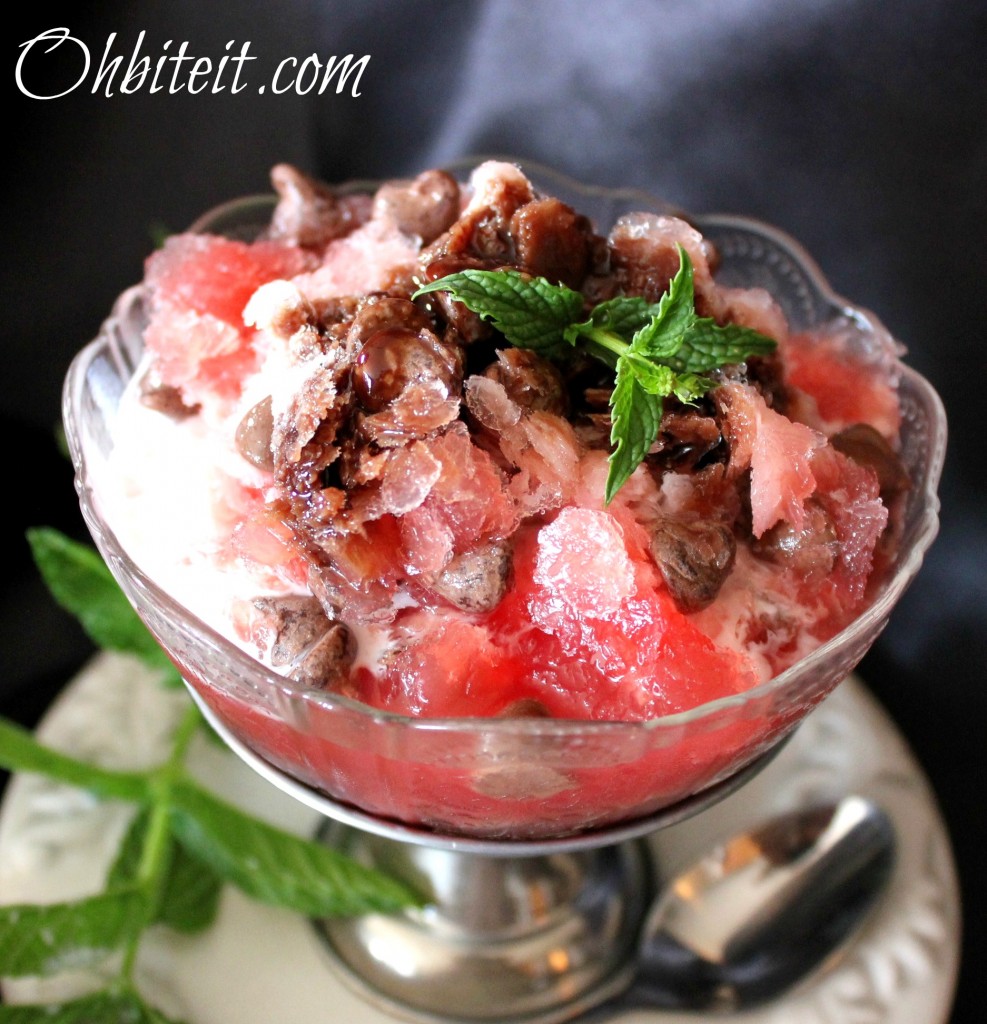 What you'll need: 
Approx. 3 cups of cubed Seedless Watermelon
1/2 Cup of Mini Chocolate Chips
A splash of Cream
A drizzle of Chocolate Sauce (not shown)
A food processor
A freezer
Directions:
Slice up the Watermelon and cube it up!
Don't waste that rind..save it and make this!!  🙂
Process the cubes until it's smooth..
Strain the pulp…optional!
Add the Chocolate Chips into the strained juice and mix them up!
Pour it into a shallow pan and even out the chips!
Cover that baby up..and freeze it for about an hour..
After an hour, it's time to scrape!  Then it's back into the freezer for one more hour!
Now, scrape it with a fork to fluff it up!  Scoop some into a bowl & add a splash of Cream,  a drizzle of Chocolate Sauce & some fresh Mint!
Grab a spoon and dig in, for an instant cool, creamy & chocolaty sweet summer treat!  ~Enjoy!  🙂