It happens every. single. day.  Usually around 2:30-ish in the afternoon, I'm scrambling in the kitchen for a mood enhancing snack!  I don't even want to know how many quick & not so healthy, hum-drum snacks I've grabbed over the years, desperately trying to shut up that annoying snack monster screaming inside my head, and making me cranky..lol!  🙂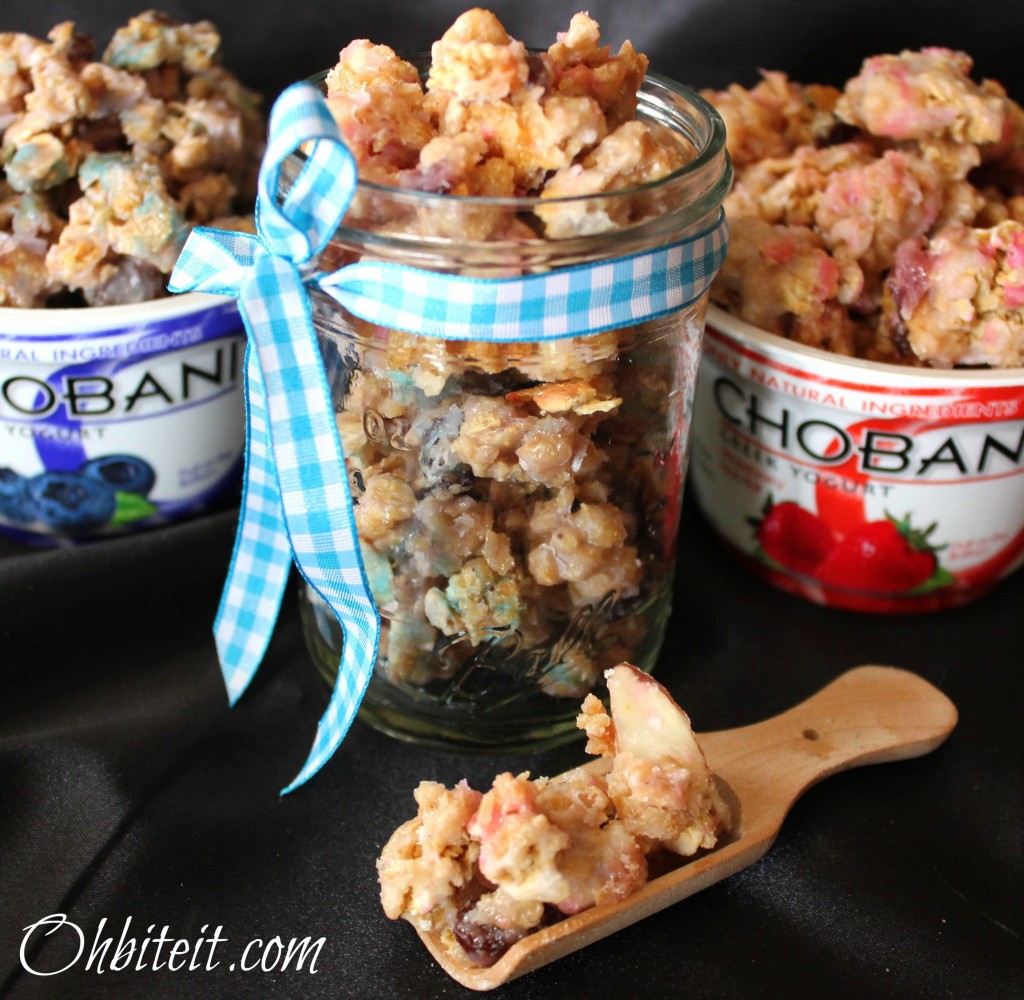 It's so funny how it's never a  satisfying celery stick that does the trick..right?! LOL!  Well, I've discovered an amazing healthy snack that offers super sweet crunch, and can be grabbed at a moments notice..such a life changer!  I've totally figured out how to make the very best little sweet, crunchy and satisfying snack EVER.  And it's actually pretty healthy!  The best part is..it's NEVER boring!
Chobani has insured a lifetime of super fun snacking with their HUGE assortment of Greek Yogurt flavors!  The possible yogurt glazed granola varieties are endless!  You can make a batch of creamy & crunchy assorted Yogurt CHOgurt Covered Cereal/Granola Clusters, and grab a handful anytime you need a boost of happiness! The colors alone will put a smile on your face…and then when you taste them..WOW!  🙂
What you'll need:
2 cups of your favorite granola..
1 container of your favorite Chobani Greek Yogurt
2 cups Powdered Sugar
1 drop of pink food coloring (for strawberry clusters)..just for vibrancy, totally optional!
1 drop of blue food coloring (for blueberry clusters)..just for vibrancy, totally optional!
Directions:
On a large, parchment lined sheet pan, spread out the granola
In a medium bowl, gently mix together the Yogurt, Powdered Sugar, and drop of coordinating food coloring, blend until it's smooth..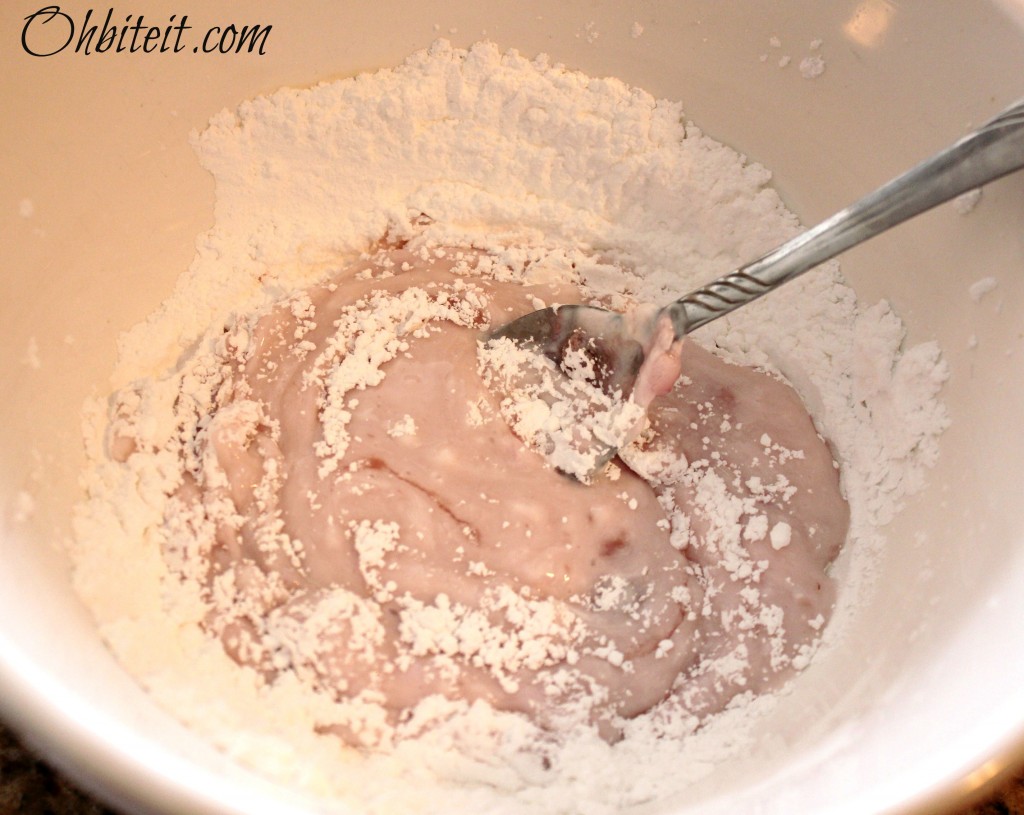 Pour the glaze over the granola..Mmm!
Make sure to evenly coat the granola.
Place the pan into a 250 degree oven for about 12 minutes..or longer, depending on your oven! You'll know when it's ready! 🙂
Then turn the oven off and slightly open the door, let the granola sit in the oven for about 2 hours to cool and get crunchy!  Break apart the clusters!  🙂
Serve it up!
Be prepared for for hungry hands to start scooping like crazy!
Be quick and getchya some before it's gone!!  Stash some in the yogurt containers, they make the perfect little bowls! 🙂
There's nothing quite like this deliciously sweet, crunchy, creamy & healthy yogurt glazed granola!  The Granola will take on whatever flavor yogurt you prefer..have fun with it!
Keep it fresh and on hand at all times in a cute jar with a scoop…
Just in case someone stops by and you're forced to share..lol!  ~Enjoy!  🙂
Why not take a few seconds and give yourself the chance to win a huge, no..HUUUGE, assorted case of Chobani yogurt, all for yourself!
**CLOSED!**
As always, my giveaways are simple!  All you need to do is:
1. Like "Oh, Bite It" on Facebook: click right here—> I LIKE OH, BITE IT!
2.  Like Chobani on facebook: click right here—> I LIKE CHOBANI!
3.  SHARE THIS POST..on one or more social networks of your choice!
4.  Comment below so we know you've done all of the above  🙂
This giveaway closes at Midnight on Sunday July 15, 2012!  The winner will be contacted on Monday July 16, 2012 ~Good Luck!!!!!!!!!!!!!!!!!  🙂