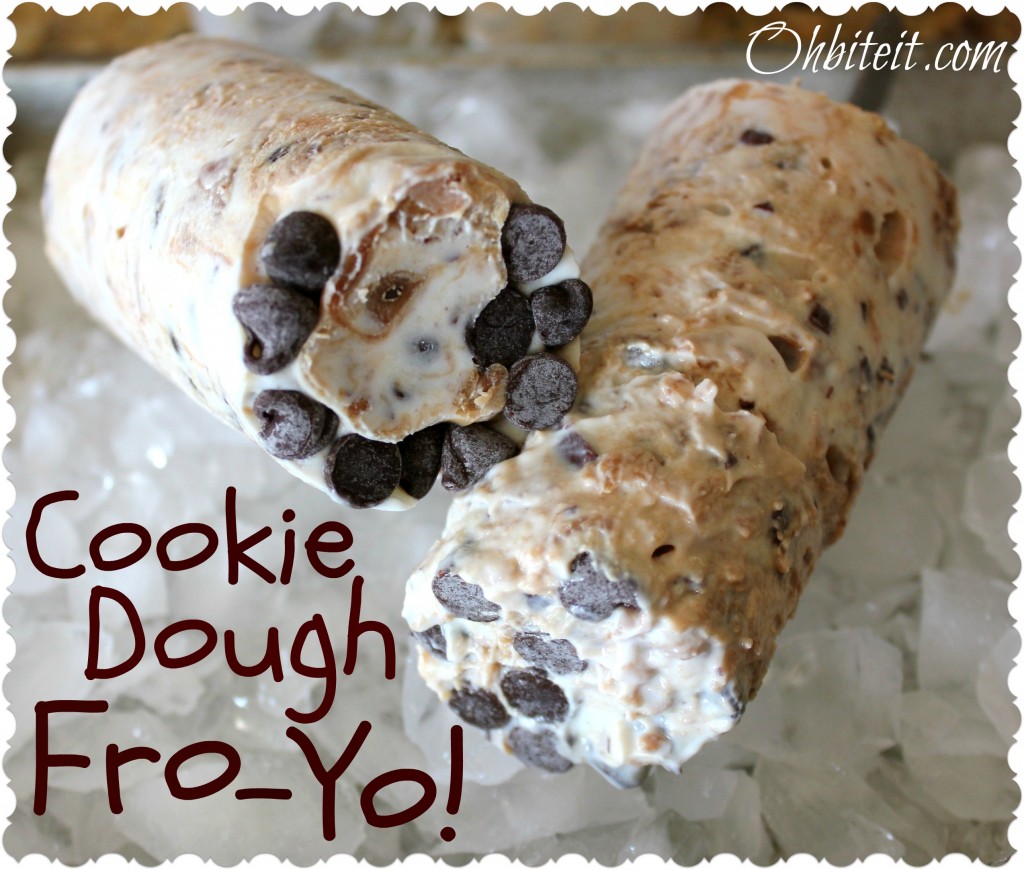 Whew, I'm trying to compose my-overly-excited-self as I type this post, so it's at least somewhat legible for you.  I'm beyond ecstatic to be sharing something that's SO long over-due, SO epic, and down right incredible that it has changed my life forever!  I've been waiting for a product like this for years.  And leave it to Chobani to step up and make this happen, they've made my dreams come true!  What is it, you ask?!  It's…Chocolate Greek Yogurt!  YES, it's real and it's spectacular..LOL!!
And of course I just had to go and create fun and unique treats with it..why not right?!  Starting with these Fro-Yo Ice Pops that were a total no-brainer!  Since I live on the surface of the Sun in New Mexico, I'm always looking for fun, tasty ways to cool down!  Is there anything more fun, or tasty than a sweet, creamy & cold Cookie Dough Ice Pop, made with tons of nutritional Chobani Greek Yogurt?!  NOPE..nope, and nope!  🙂
These delectable delights aren't too super sweet, the tangy yogurt balances out the Cookie Butter & Chocolate perfectly!  With each gooey lick, you'll swear you're enjoying ice creamy cold cookie dough! SO good!
Not only is this thick and rich Greek Yogurt studded with the most incredible Chocolate Chunks, but it's now available in super-sized 16 oz. pre-blended re-closable containers!  Large enough to share, but yummy enough to hide it not want to!  🙂
What you'll need for 2-4 Cookie Dough Pops: 
1-16 oz.  Container of Chobani Vanilla Chocolate Chunk Greek Yogurt
1 Cup of Cookie Butter (found at Trader Joe's)
1/2 Cup of Chocolate Chips
Popsicle molds..and sticks/spoons!
Directions:
In a medium bowl combine the yogurt, Cookie Butter and Chocolate Chips..
Gently swirl all of it together with a spoon, making sure NOT to over mix it!  Leave it "swirly"!
Add it to your molds and insert a spoon or stick..
Freeze them over night.
When you're ready to enjoy one, simply run it under some water for a few seconds to release them..
Savor each bite, and enjoy a healthy & fun instant cool down!
Guess what?? YOU can be a lucky ducky and win an entire case of these huge 16 oz. creamy, pre-blended containers of amazing Chobani Greek Yogurt, including the Sainted Vanilla Chocolate Chunk..OMG!  And then you can make tons of these incredible & easy Fro-Yo Pops and much, much more! 🙂
Just look at how huuuge these are!  You might even be able to share some..hahaha!!
For a chance to have these babies on your doorstep, simply follow the steps below!  🙂
1.  Like "Oh Bite It" on facebook, OR.. if you're already a fan..then just refer one new fan to the fb page, and name them in the comments below.
2.  Like "Chobani" on facebook.
3.  Share this post on any one of your fave social networks!
4.  Leave a comment below stating you've done the deeds!  🙂
This giveaway closes at Midnight on Sunday, August 19, 2012.  The winner will be notified by message and shout-out on Monday, August 20, 2012!  ~Goood Luck!  🙂