Sooo, I was gonna make those adorable Crackle Cookies that are literally Ev-Ry-Where right now, but I couldn't stand the thought of a naked crack (Oh STOP IT!..LOL)!  😉
In my opinion those cracks needed to be stuffed with just a little sumthin'- sumthin'.  Hmm..Glaze, I wondered?  No..cuz then you wouldn't even see the adorable cracks..lol!  What about Sprinkles, I thought to myself?!  Again..not crack friendly.  Then..like an angel guiding my eyes to the light, I glanced over at my daughter's candy stash.
Ahh- haaah~there they were, only the best candy-bars EVER..Kit Kats!!  I hope she forgives me for 'borrowing' them..LOL!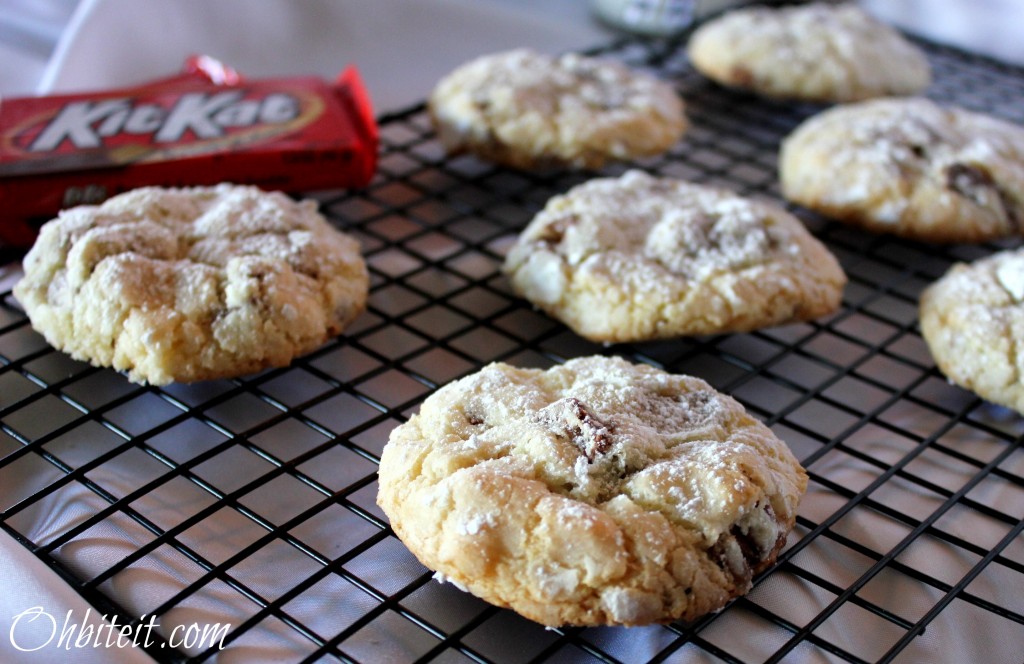 Heck, even if the Kit Kat's covered up those cracks..they're Kit Kat's so they can totally get away with it, right?!  ..RIGHT!  🙂
These cookies stay chewy and soft, and the Kit Kats add an incredible crispy crunch..like only a Kit Kat can do!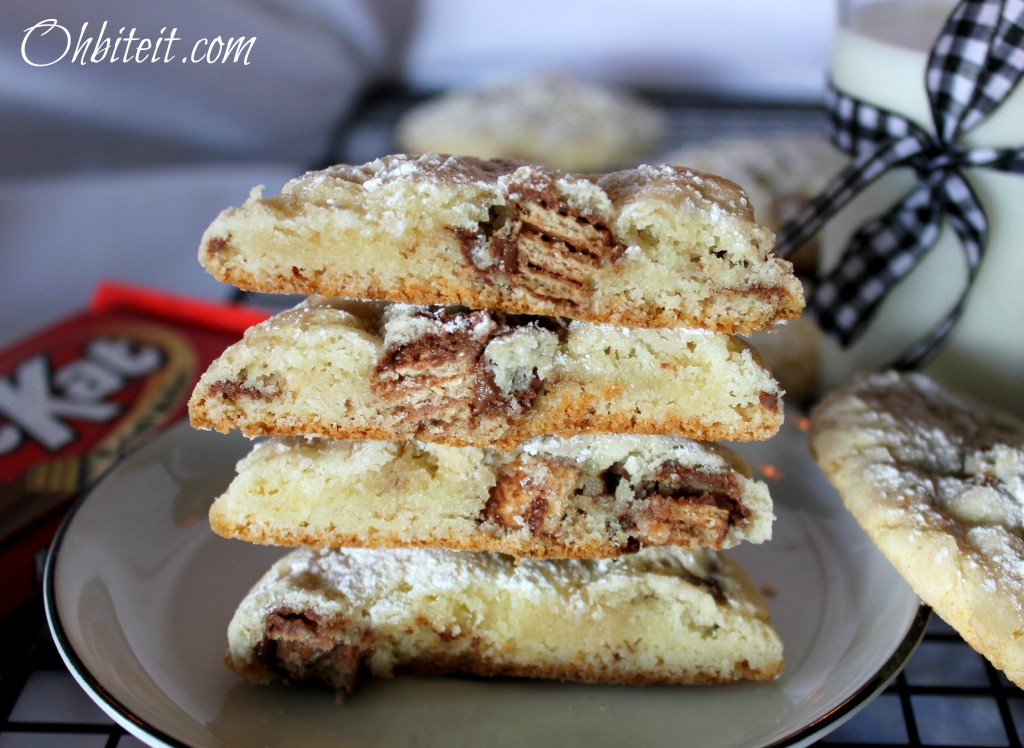 The Kit Kats totally knew what to do, and stayed perfectly suspended in all of that cakey cookie goodness!  These cake mix cookies couldn't be easier..getchyasome!  🙂
What you'll need for 16-20 Kit Kat Krackles:
1 Box of White cake Mix
2 eggs
6 tbsp. Melted & Cooled Butter
4 regular sized Kit Kat bars
1/2 Cup Powdered Sugar
Directions:
Coarsely chop the Kit Kats..eat a few!  😉
In a medium bowl mix the cake mix, eggs, butter to combine!
Gently fold in the chopped Kit Kats!
Grab about a tbsp. worth of the dough and roll it into a ball..drop it into the sugar and roll it around to coat evenly!
Place them onto a parchment lined baking sheet about 2″ apart, and bake them at 350 degrees, until the tops are cracked and slightly golden.  Grab a few while they're warm..and have a glass of cold milk handy! 🙂
The middles will stay chewy and beyond delicious!  Each crackle holds the Kit Kats nice and snug!
Each bite is Krazy good!  ~Enjoy!  🙂