Sometimes simply sitting down and enjoying a candy bar just isn't enough for me..lol!  My motto tends to be, "if it's good now, it'll be even better in a cake or cookie"!  I don't know why that is, but it sure does make for fun in the kitchen!  And lots of guilt-free spoon licking of course, because if it's melted onto a spoon then it's calorie free…duh!  😉
This recipe offers lots of calorie free spoon licking!
Anyhoo..I fell so darn hard for this creamy & chewy Toblerone chocolate bar, that I just had to celebrate it in the best possible way ever!!  And nope, that doesn't mean I fried it..haha!  Dare I say, I did something even better than frying it?!   ..it's true!
 I immortalized it in cake!  Even down to its signature triangle slices.  Warm Devil's Food Cake is filled with multiple melted Toblerone bars..Oh Mommy!  And then each slice is totally dripping with even more melty Toblerone greatness!  That famous Toblerone chew makes each bite of this moist cake extra special!!  If you love Toblerone, this 2 ingredient cake will change your life!
And as a bonus, this recipe makes TWO giant Toblerone cakes..enjoy one now, and then another one later in the day..lol! 🙂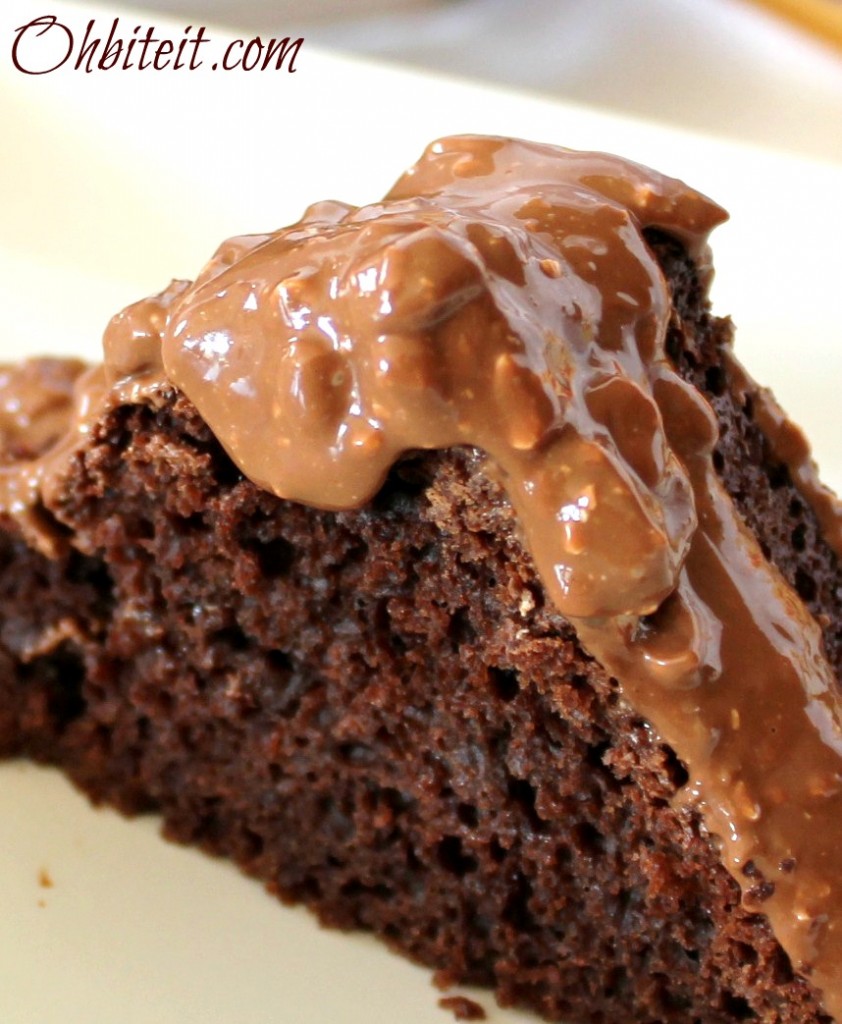 What (2 ingredients) you'll need:
1 box of Devil's Food Cake Mix
4 Toblerone bars
A loaf pan
That's it..Oh, and waay more willpower than you have right now, you'll definitely need that!  😉
Directions:
In a medium bowl mix up the cake batter according to the directions.
Chop up 2 Toblerones, and add them In a medium microwave safe bowl, nuke 'em for a few seconds, until they're melted.
Let it cool slightly and then add that melted Toblerone yumminess into the cake batter..stirring to combine.
Fill the loaf pan 3/4 full, making sure to leave room for the cake to grow..lol!  Bake it at 350 until it's cooked all the way through.
While the cake bakes, melt the other 2 Toblerone's in the microwave, Pour it into a jar & set it aside.
Lick that spoon, the bowl and your fingers!  🙂
Let the cake cool completely and then turn it out of the pan.  Slice it at an angle to create 2 triangle shaped cakes, like this…
Slice up each triangle cake & top each gooey slice with the remaining melted Toblerone "frosting"!
Dig into the biggest and best drippy, sticky, chewy Toblerone Cake you'll ever have!  ~Enjoy!  🙂