Do you like it spicy?..Do you like it sweet?..If that's a YES, then you'll love this cured meat!  ~Dr. Suess Amy 😉
Hold on to your hats people..Bacon just got BETTER!  I know, I know..it sounds impossible and totally crazy, but trust me!  This sweet, spicy and sticky Bacon is the BEST Bacon ever to cross my lips, and believe me..these lips have seen their share of Bacon..haha!
Not only could  I devour at least 4 pounds 2 pieces of it as-is, but I drift off to fantasy food dreamland when I imagine it on a jazzed up BLT, or all of the amazing goodies that can be lovingly wrapped up in this sweet & spicy bacon treat!
Ahhh…don't wake me up!
It might be the Southwest girl in me talking here, but this Bacon is delicious beyond words!  And it's SO easy too, but if "spicy" isn't your thing, no worries..you can glaze it up with any Jam you like.  It's such a yummy and fun way to jazz up Breakfast, Brunch, Lunch, Snackin' AND or Dinner!  🙂
What you'll need:
At least one pound of Bacon ( I used Maple flavored for sweet & spicy balance)..or as much Bacon as you'll want/need!
Red & Green Chile Jam..OR any Jelly/Jam you like!
Directions:
Lay the Bacon on a wire rack over a baking sheet in a single layer.
Brush the Jam onto the top side of each slice of the Bacon…
Bake it on a wire rack at 350 degrees, until it's golden, glazed and crispy!
Take a few peeks in the oven & watch it closely because the Jam can easily burn…
Be patient and let it cool..it will get crispy as it cools!
..Eh-hemm, hands off!  🙂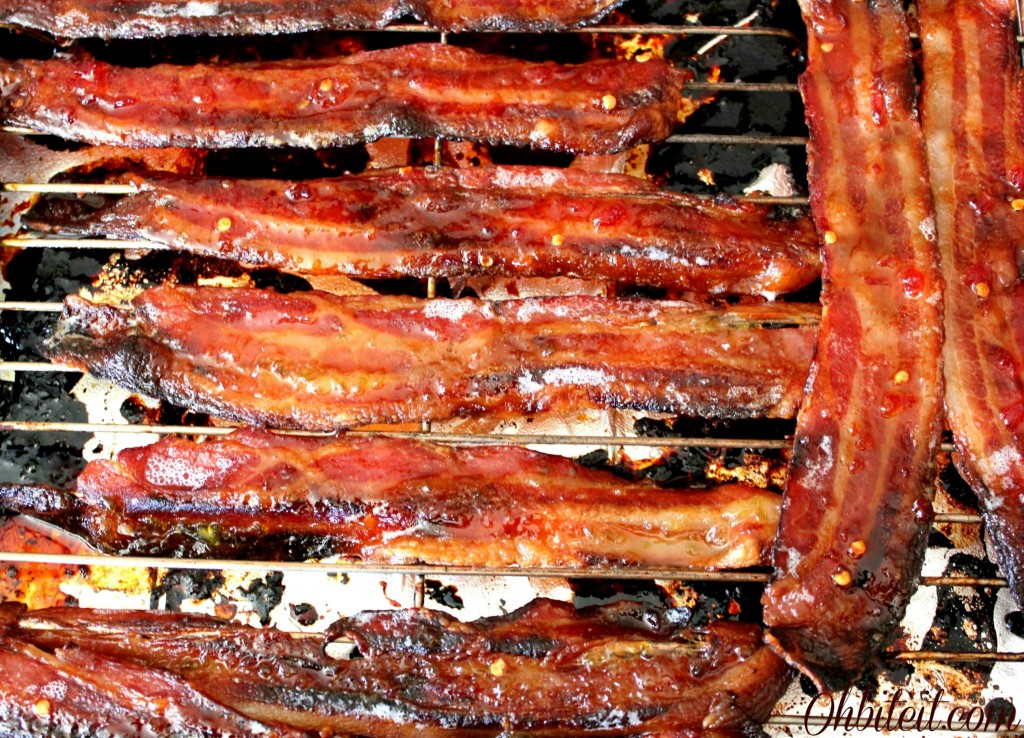 But Oh boy, it gets SOOO purrrtyful..WOWZA!
Nowww it may be touched!
Serve it up, and call everyone to the table!!  OR Oops.."drop a few slices on the floor"..wipe your lips! ~Enjoy! 😉